Interview by Visual Collaborative
September 2019 6 min read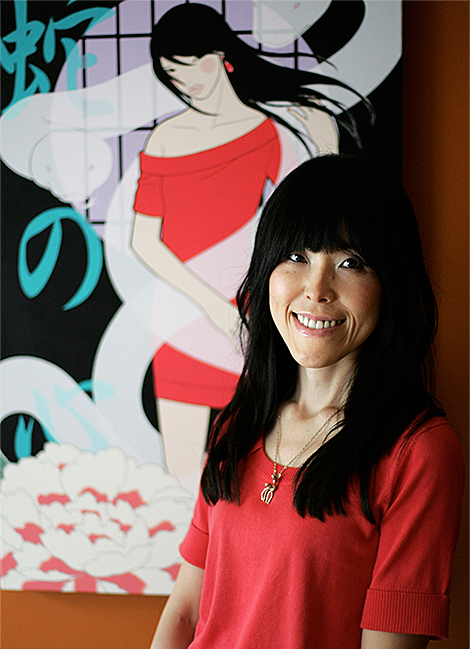 Photo courtesy of  Fumiko Yarita Photography
Yumiko Kayukawa born and raised in Hokkaido Japan, is an artist based in Seattle Washington. Her work has been exhibited in galleries and popups around the United States. Her love of animals and nature reflect has themes in her work, at other times utilizing modern and traditional Japanese motifs. As a feature in our Supernova interview series, Yumiko talks to us about her growth as an artist, present work, her life in Seattle and future aspirations. 
(VC) Outside all your impressive body of work and fanbase. Who is Yumiko Kayukawa?
(Yumiko) A painter raised by Wolves – That's what I describe myself. It's a half-joke, half-serious. I grew up with many dogs and I learned how to communicate with animals through them. Sometimes I feel my connection with them is stronger than humans. Drawing is my blood. My mom kept my oldest drawings from when I was 2. Any objects that catch my eyes are translated into my drawings and that is a way I represent my feelings. However, I'm awkward with new technology or changing my habits. I appreciate having time to just focus on my thing and that's my way to find peace. That's why I described myself "Raised by Wolves", or maybe even a "Country mouse".
(VC) We learnt about your work back in 2004 when you passed through Minneapolis. How has your work with Japanese motifs evolved since then?
(Yumiko) Thank you for following my work! My life has changed a lot since 2004. I live in the U.S now and speak English everyday. Japan is far away and fading from my life. I miss many parts but at same time, I feel I don't need them around anymore. At younger age, the motifs I chose for my work were very colorful. Just as flashy as Kimono flowers which I loved. I enjoyed a mix of new and old culture as an obvious collage. Today, I can see my Japanese motifs are a more subtle color, and focused on culture or older customs. I think one of the reason is because of my age. My taste has changed a bit. I ardor Japanese culture and history more than before since I came to live overseas.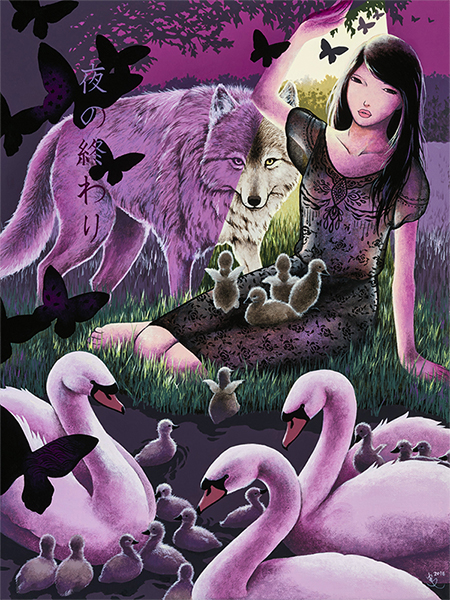 The End of the Night  – Acrylic on linen by Yumiko Kayukawa
I love wolves. I have sympathy for their mistreatment throughout history. I have this feeling for any carnivorous beasts as well. The Japanese wolf was driven to extinction a long time ago.
(VC) Tell us about your Japanese Wolf book and its apocalyptic, animal themes and swords.
(Yumiko) Japanese swords are a symbol of ancient Japan and I draw it often in my work. The publisher Kirk Pedersen from Zero+ Publishing gave me free rein for what I want for the book. I immediately chose the Japanese Wolf for the title, and the wolf painting for the cover. I love wolves. I have sympathy for their mistreatment throughout history. I have this feeling for any carnivorous beasts as well. The Japanese wolf was driven to extinction a long time ago. It's such a shame for a country that has no wolves. These sad wolves are a symbol of my love for animals.
(VC) What can you tell us about your upbringing in Hokkaido Japan and how it compares to your current home in Seattle?
(Yumiko) I grew up in a really small town and had a great childhood environment surrounded by nature. I had the freedom to playing outside. Everybody knew everybody and we never needed to worry about neighbors. I'm lucky to have this experience. Later I moved to Sapporo, the largest city of Hokkaido. Sapporo is similar to Seattle. A big city with a good balance of urban and nature. Seattle is a good-sized city for me, I enjoy life here.
(VC) Creatives professionals need some kind of business smarts, How do you engage as an artist in a very large market, do you have good lawyers or represented by any agency for your day to day engagements?

(Yumiko) My first manager when I started my career was a friend. It was very helpful for promotion. It was especially difficult for me to communicate with clients in English. So it was great to have someone in between who could speak English. Later I was able to manage myself. Luckily I have been able to develop relationships with galleries and clients who are sincere and respect artists. I always meet their deadlines and try to make myself easy to work with as much as I can.
(VC) At this stage of your career considering your present commitments, if you could work alongside any notable personality or creative company. Who would it be and why?
(Yumiko) I'd like to work for a film company making movie posters. I love action films. Especially martial arts films from the 70's and the 80's and I am still a big fan of Hiroyuki Sanada and Jackie Chan. It would be so much fun to design and draw a movie poster for them. Maybe I will just do it for myself!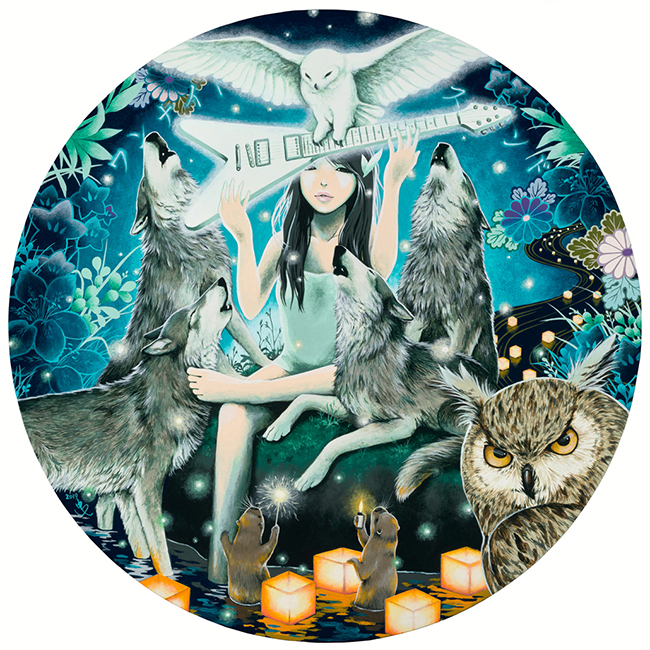 One Night Stand – Acrylic on wood by Yumiko Kayukawa
(VC) In your quiet or noisy moments, how does Yumiko stay inspired? What ultimately motivates you to work the way you do? Are you religious or spiritual like many creatives for muses?
(Yumiko) I'm not a religious or a spiritual person, but I love the fantasy created by another human's hand. I love what a human's imagination can make. Fantasies are based on real life. Life gives me every level of feeling from happiness to anger, and these are my motivations. Currently, I am involved in two different kinds of volunteer works. One is visiting a nursing home with my dog, the other is walking dogs at a local animal shelter. When my dog makes his elderly friends smiles it helps them forget about their illness and suffering. When a shelter dog who lost his trust in humans starts to trust us again, my heart moves and my imagination glows. Some people think that I'm willing to hang out with wild animals just like I draw in my paintings, but this is just in my imagination. It stems from my love for them. In fact, I'm strongly against physical contact with wild animals.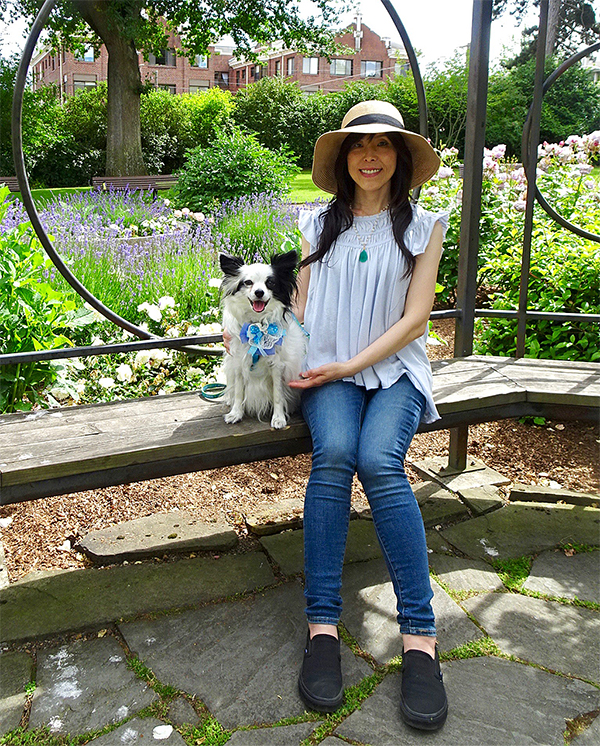 Photo courtesy of Yumiko Kayukawa
(VC) What can the world expect from Yumiko within the next few years?
(Yumiko) Well, who knows! It's been 18 years since I started painting for the public, and I never imagined it happening. My work now looks a little different from the beginning which I didn't expect, but it just happened. I'm curious myself about what will inspire me in the future. I can only say that I will still be an animal lover, and will be happy and sad for them. My feelings for them will reach into my work. And my art represents my love, just like it always has since I started drawing at 2 years old.