Interview by Chief Editor
September 2019 5 min read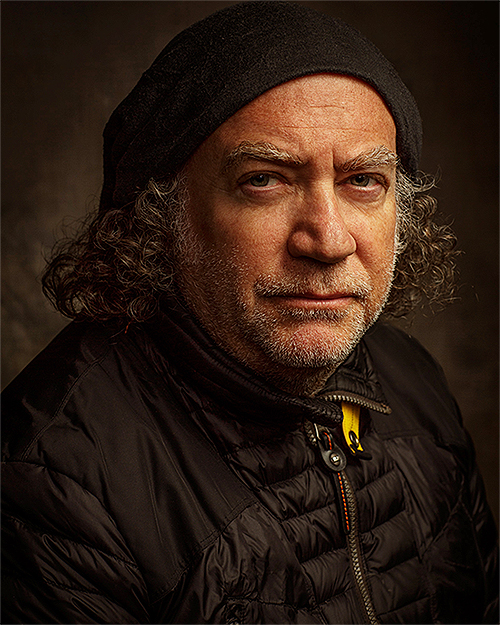 Photo courtesy of  William Coupon
William Coupon is a photographer from New York City. His photography work are portraits of tribal people, powerful politicians, American presidents, and celebrities from around the world. As a special feature in our Supernova interview series, Coupon discusses his transitions as an artist, forthcoming book Social Studies with ethnographic imagery, his life in New Mexico and timeless advice to aspiring creatives and photographers. 
(VC) You traded the jagged skyline of New York City for some peace and scenery in New Mexico – a BIG difference. Had this transition been in the works?
(Coupon) I lived here in New Mexico in the mid-90's so it was not unfamiliar territory for me. I am with the same gallery ~ Gerald Pewter's. I've always been obsessed with travel. I suppose I suffer from some form at visual ADD! So being here gives me different opportunities I did not have living in New York. I found an amazing house that is also my studio. I call it my "Glass Palace". There were several factors involved in moving here. Firstly, the photographic business, at least in the commercial end of things, became quite contracted. New York's photo world diminished in strength. The art scene was always my future intent anyway, so Santa Fe provided a great environment for that. I can always travel to New York, which I will do tomorrow. I am doing a slide show at the Burchfield Penney Art Museum in Buffalo. I don't need constant stimulation that New York provides. I wait and I watch more now. Nothing needs to be rushed.
(VC) You have photographed numerous Time Magazine covers that included former U.S presidents Bill Clinton and George Bush (43), among many American celebrities such as Jean-Michel Basquiat and Miles Davis. What was or is the most challenging part of working with people of prominence?
(Coupon) Probably the fact that celebrities or those more familiar with posing for a photographer, have pre-conceived positions or stances that they immediately go to, as they are familiar with those visuals. It's difficult to get them to appear "outside the box" as it were. This is the difference from those unfamiliar with being a model. I like the range.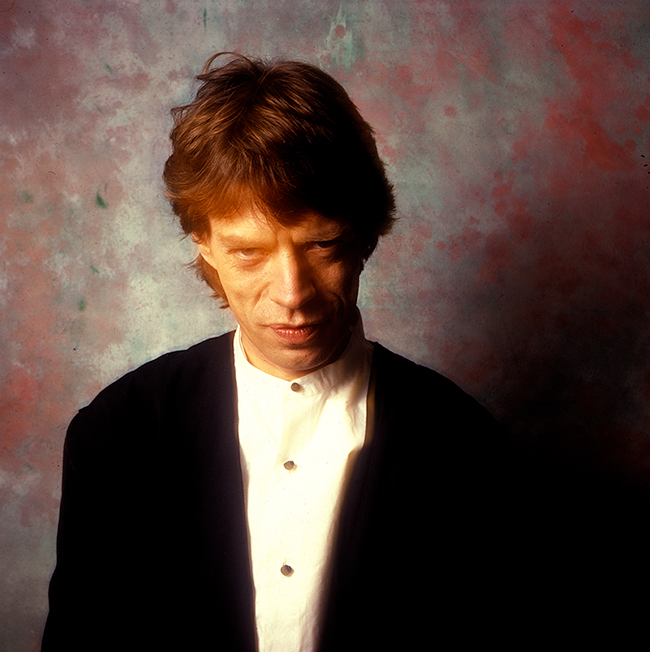 Mick Jagger photo by William Coupon
(VC) We have witnessed lots of manipulation through technology on images or other peoples works online. Copyright laws do not move as quick as the industry has evolved. What are your general thoughts on this?
(Coupon) I think it is horrible that a photographer's work can be manipulated by someone else and subsequently not be the owner of the work.  I am not such a big fan of manipulation.   I like to keep it raw and simple. I am not, nor am I interested in being a technician.  I know simple math.
I don't rush any of the images, although I do make u turns when driving if I miss something. These days I am more of a street photographer, and that is ok with me. It feels right.
(VC) There are many types of devices to use for optics this day and age, What are your own cameras of choice and what kinds of photography do you see standing out as the 2020 decade approaches?
(Coupon) There is a surge in "lifestyle", or very spontaneous imagery now.  I do the opposite.   I am used to lighting the subject. With digital, the cameras are much more forgiving, so there is not the necessity for lighting or assistants, for that matter.  It is very "off the cuff" and very fleeing moment.   My moments are moments within something "staged" as in "staged naturalism."  I use medium format cameras.  I loved my Rollei 6006's, analog.  I just bought a Hasselblad 50MP digital camera.  Still getting used to it.
(VC) The quality of your work has clearly been impacted by a diverse set of clientele and experimental projects globally, the same way you have impacted people and many fans alike. In your reflective moments, how do you stay inspired? Are you religious or spiritual like many creatives for muses?

(Coupon) I need constant visual connections.  I insist on a window seat. I love to take road trips. I love music. I work alone. I watch. I listen. I take my time. I don't rush any of the images, although I do make u-turns when driving if I miss something. These days I am more of a street photographer, and that is ok with me. It feels right. I always said, " it's more important to see a photo than to take one, but if I don't take one, I can't share it."
(VC) Congratulations on your forthcoming book Social Studies. Its a huge portfolio yet to be published. Obviously a large undertaking, how excited or nervous are you?
(Coupon) It was a long time coming. Damiani did a wonderful job printing the book. I am mostly interested in my next book, Social Studies, which would contain my better ethnographic imagery. A modern-day Edward Curtis if I could say so.
(VC) If you were given a one-minute photo montage spot during the Super Bowl, FIFA or any global event, what would you show?
(Coupon) My tribal people from the world over as one world.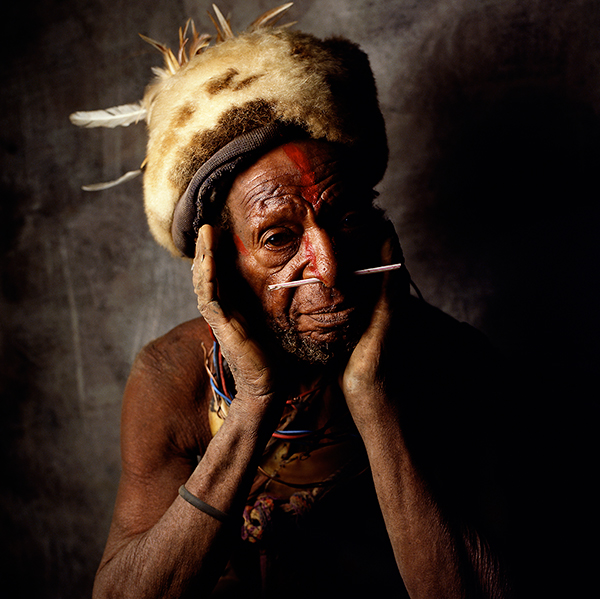 New Guinea Tribesman photo by William Coupon
(VC) As a seasoned Creative professional with decades of quality work in the industry, what can you candidly tell the aspiring young photographers, artists or production personnel about success and risk?
(Coupon) You have to do what you love, what you love to document and see. It cannot be about money, or you would be following the wrong path.
(VC) You were active during the times of Studio54 which will always be a legendary staple in the American timeline. But if you could time-warp to any time era before or after that period, when would it be and why?
(Coupon) I love watching movies from the '50s.  I love 50's imagery and esthetic. If not that time, then the early 1800's ~ 1820's. Classicism.
(VC) Thanks very much for your time. Is there anything else you would like to share with our global audience?
(Coupon) I had begun my career so excited I thought I would photograph everyone in the world. I got off to a pretty good start, but it became a much more daunting task than first imagined.