Interview by Chief Editor Ade Olufeko
October 2020 11 min read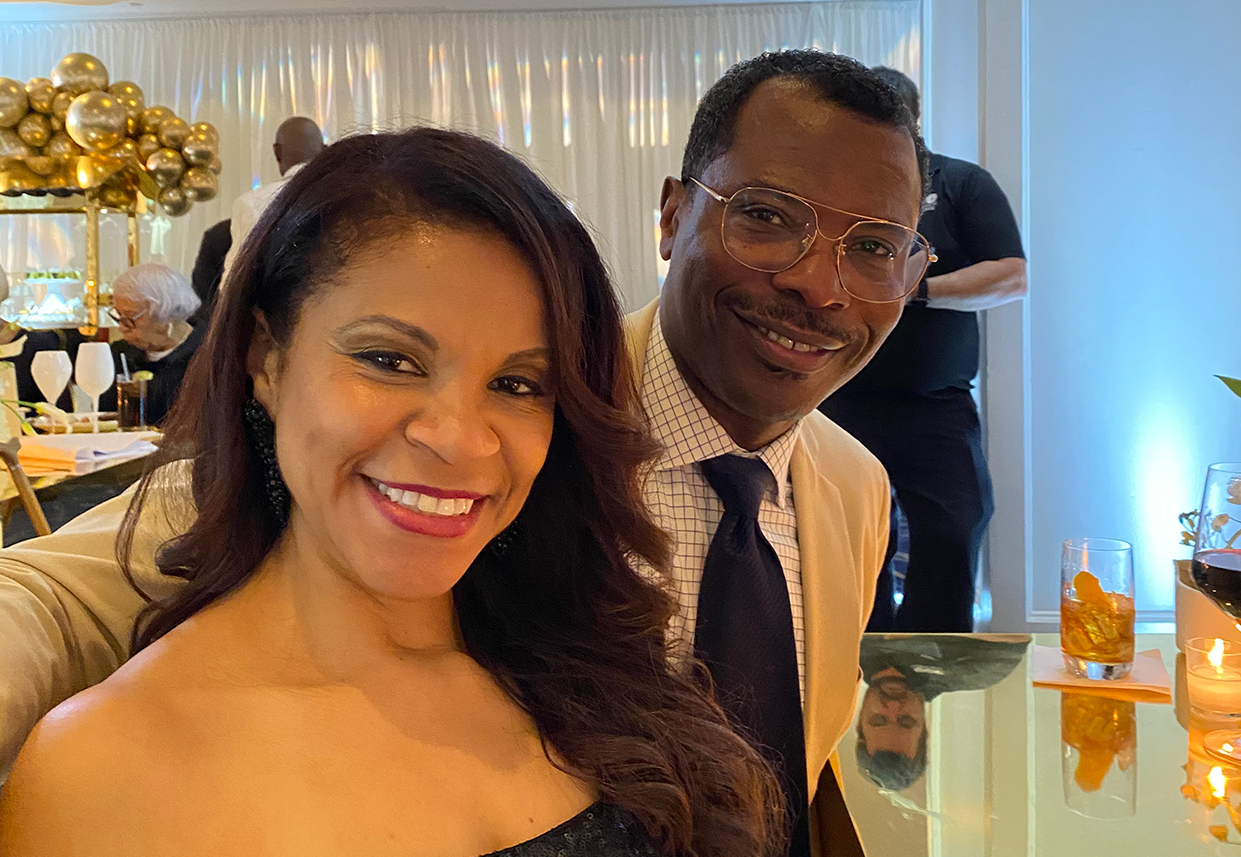 Telesa Via and Elliott Ferguson
Telesa Via, Vice President of Sales for Kimpton Hotels & Restaurants, with Elliott L. Ferguson, II, President and Chief Executive Officer of Destination DC, have a combined C-level experience that would easily be an educational volume of learning for the inspired. As the main features in our Eta Carinae interview series, Telesa and Elliott give astute insights into an industry in flux, and their perspectives of what it truly takes to operate at an optimum level of impact with a competent team. Finally, they share practical advice to people on similar trajectories.
(VC) In the world today which so much is in flux, what music are you streaming or listening to at the moment?
(Telesa) I'm always streaming Celine Dion, her voice gives me chills! Recently though, I've found myself playing songs that give me power plus strength to take on my day, in my workouts, or during my day to remind myself what we are doing is important. I'm loving Stand Up by Cynthia Erivo and Rise Up by Andra Day. One of the reasons why I love working for Kimpton is our love for music. Our Director of Music curates custom Spotify playlists to match any mood you're in – her newest addition is a BLM playlist full of songs to start your day with power.
(Elliott) Andrea Bocelli on one spectrum and Bill Withers on the other.
(VC) When it comes to hospitality and travel, the industry has taken a hit due to the global COVID pandemic. What kind of long term impacts do you see happening to its consumer markets?
(Telesa) COVID shook the hotel industry upside down, almost literally. Leisure travelers are facing their own economic struggles as thousands are facing unemployment or cutbacks on hours, which has changed the way people view spending their money on travel. We are seeing people desiring experiential local stay-cations and school cautions that range anywhere from a single traveler to a family. I think long term, we will see the average leisure traveler stay within an 8-10 hour drive of their homes, and as far as meetings plus events go, I think the hybrid virtual/in-person meetings will stay the trend well into 2021.
(Elliott) The highly coveted international leisure market will take 24-36 months to recover however the domestic market, though compromised will recover in hopefully half of that time. The meetings market is eager to get back on track but also remains compromised until a vaccine is developed.
(VC) You have had the privilege of living or visiting the different coasts in the United States. A perfect world does not exist, but if one did, what core values would you make a staple in the immediate community and your sphere of influence?
(Elliott) True cultural diversity would be a key component for me. One that celebrates all aspects of the American community be it through food, music, art, culture as well as an opportunity for us to talk about the impediments tied to understanding America's painful past. In addition, a temperate and scenic climate with close proximity to other major cities would also be in my wheelhouse.
(VC) A perfect world does not exist, but if one did, what core values would you make a staple in the immediate community and your sphere of influence?
(Telesa) Respect, Authenticity, and Kindness. Respecting your community, respecting your neighbors, being the best authentic version of yourself, and treating people with kindness can go a long way. It is important to be ready when the curtain of life opens and you are solo on stage. The best of you must be experienced whether you are under the spotlight or when the lights go down. What you give, comes back full circle. This is my life motto.
(VC) How does your role and company create opportunities for the advancement of Black People and People of Color in the context of your Kimpton Hotels & Restaurants?
(Telesa) We all know that the systemic racism in this country is not something new. This year of social change has only just exposed the inequalities Black people and people of color have endured for years. That being said, I am so proud to not only work for Kimpton as a Black woman in an executive leadership role but to also know that Kimpton is just as dedicated to stopping racism and to make REAL change at home. In response to the Black Lives Matter movement, I along with our CEO, Mike Defrino, have launched an internal committee within Kimpton, Black Lives Matter: Act to Action. Our mission is to create a Kimpton culture that is anti-racist, and a system of enduring equality for our Black employees, guests, and communities. What's important to me about this committee is that it is not something that we on the corporate level are rolling down the ladder to our property leaders – this committee is made up of members of our Kimpton family with all different backgrounds, experience levels, and positions within Kimpton.
We are creating a platform within Kimpton at all of our hotels for our Black employees to connect, network, and grow within the company and in their personal lives. In addition to the work we are doing with our own Kimpton family, we are taking it a step further to seek out and partner with Black-owned businesses and adding them to our preferred partner list

– Telesa
Our first focus area as a group is Attraction, Recruitment plus Growth of Black People and People of Color. I'm proud to say that since launching this committee in June we have already made strides in this category. We have begun forming partnerships with local HBCUs (historically black colleges and universities) with a goal to tailor our existing manager in training program to match the requirements of college internships to attract students to Kimpton. We are creating a platform within Kimpton at all of our hotels for our Black employees to connect, network, and grow within the company and in their personal lives. In addition to the work we are doing with our own Kimpton family, we are taking it a step further to seek out and partner with Black-owned businesses and adding them to our preferred partner list. We recently partnered with a small Black-owned mask business out of Florida, which is now our preferred vendor for all employee masks at all of our hotels. At Kimpton, we love our food plus drink, so of course, our second partnership is with a Black-owned rosé company. Their rosé wine will be added to our Core Beverage Program and will eventually be available at all of our Kimpton hotels.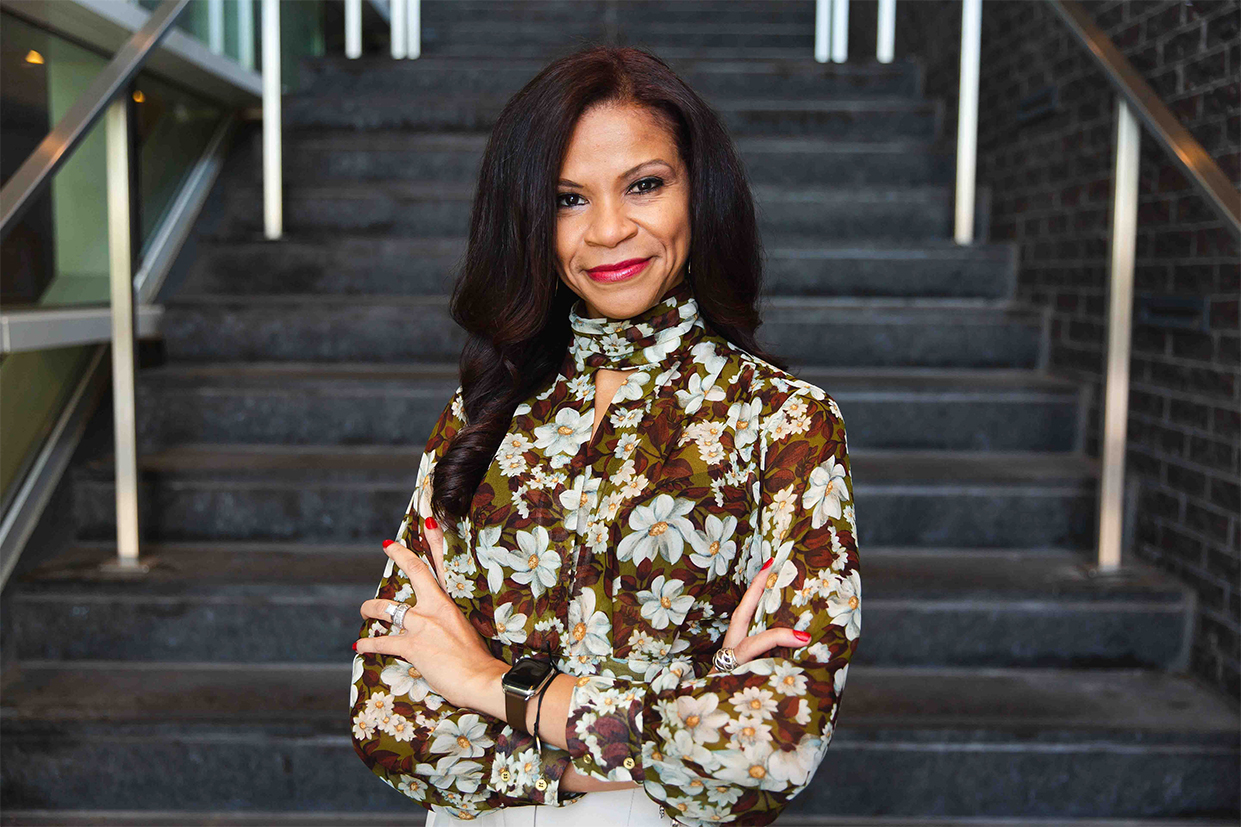 Kimpton Vice President of Sales – Telesa Via
(VC) As a female leader in your field, are you more critical about your career given the present times' trajectory or optimistic, given that there are more opportunities for women?
(Telesa) I am optimistic. 'Women Supporting Women' is a phrase near and dear to my heart and I make sure to live by that in my role with Kimpton as VP of Sales, but also as a Black woman in my personal life. Within Kimpton, I am led by a female Chief Commercial Officer, and lead a powerhouse corporate sales team of all women. Throughout my professional career, I definitely experienced discrimination as a Black woman in sales, which has been a  predominately male-driven industry. As a leader, I make it a goal to directly connect one on one with as many of my female sales professionals as possible to provide mentorship and create more connection opportunities. I am all about exposure and leaning on my female connections to create lasting professional partnerships, but also genuine friendship. In my personal life, I sit on the board of the Cinderella Foundation, a cause near and dear to my heart, aimed to engage plus motivate young girls in the DC metro area to overcome personal setbacks and build their own future. As a woman raised by a single mom from a small town in Virginia, I know the importance of supporting girls at a young age to make them feel like they can do anything they want, and that they are supported by their community.
(VC) The media shapes society's perceptions of awareness. What does self-awareness mean to you interacting in so many high-level partnerships?
(Telesa) You can ask anyone on my team and they will tell you what I tell them daily – the minute you think no one is watching you is when people form their perceptions of you. Self-awareness in today's society and with social media is so important. For myself and for my peers who also hold leadership roles, it has never been more important to be aware of your own impact on other people. We as a society crave authentic and meaningful connections that can translate into professional partnerships. It is important to have the ability to align your actions with your own internal standards – and to most importantly hold true to those standards. 90% of my day is spent on the phone with internal and external partners. While my priority is to cultivate these partnerships to ensure Kimpton's success as well as our partners' success, I am always hyper-aware of my actions and words to make sure what I am doing is aligning with my values and Kimpton's values.
(Elliott) Using the media as a source for information but not the only source is key.  There is a passage in the Bible that says "Study to show thyself approved". Growing up my family like many would say "don't believe everything you read or hear"  That should be everyone's mantra in my opinion to further understand each other as well as develop meaningful personal and professional partnerships.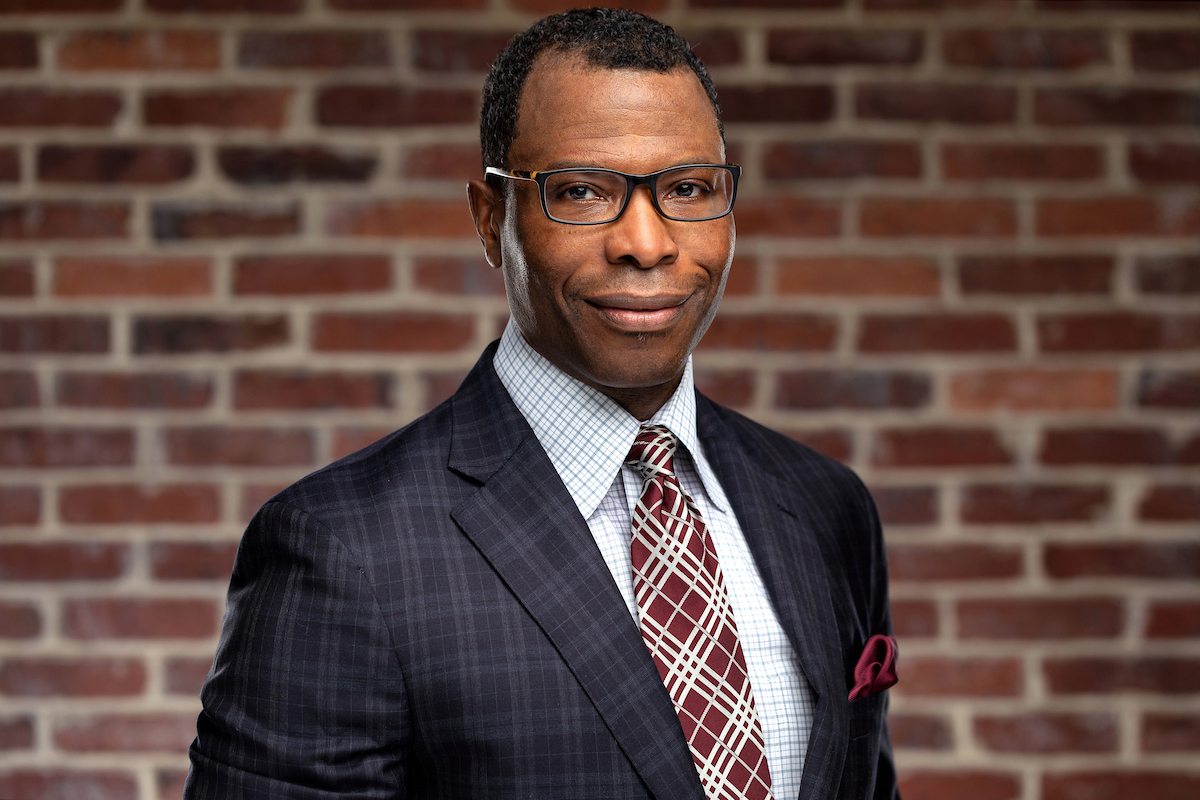 Elliott Ferguson – President and CEO of Destination DC
(VC) When it comes to creating hospitality and generating economic impact, do you lean on your leadership abilities or suggested milestones by a board of directors each fiscal quarter?
(Elliott) I lean on my leadership as that is my job however I gain insight from my board of directors as well as stakeholders in the community and what I learn from my peers globally as to how they go about creating economic impact through hospitality.
(VC) Does your current work or observations align with any UN's Sustainable Development Goals?
(Telesa) Kimpton's longtime partnership with No Kid Hungry aims to fight child hunger and ensures every child in the US has access to healthy food. Right now through April 2021, you can book a reservation with Kimpton under our No Kid Hungry campaign and $10 for every room night booked will be donated to No Kid Hungry. Kimpton was one of the first brands to make the jump from single-use amenity items like shampoo and condition to bulk amenities, significantly reducing the use of plastic in all of our hotels. Along with our effort to reduce plastic in our guest rooms, we have partnered with Clean the World to recycle our gently used or unused bars of soap. Clean the World is an organization that sanitizes plus recycles soap and distributes the recycled materials to impoverished communities around the globe to prevent the spread of disease.
(Elliott) Our assets as a destination management organization are our people and our ability to share the proper messaging that align with Sustainable Development goals.
(VC) Considering your current commitments, if you could work alongside any notable personality, brand, or company at this stage of your life. who would it be and why?
(Telesa) This is a tough question, only because my love for these two women are equal! Oprah and Mel Robbins. If I could ever have a partnership or work alongside either (or both!) of these women, that would be a dream. Oprah's goal to support other women and lift them up is one of my favorite things about her. Mel Robbins would be a dream business partner. Her books and tv shows have helped improve my life over the years, and her story of how she overcame all of her obstacles in her life is truly inspiring.
(Elliott) I would love to work amongst a team (much younger than me) such as Google or Facebook or even Apple as these are companies that are relatively new and have to remain innovative/competitive to maintain market share. I love non-traditional methods that they use to execute a plan as thinking out of the box and not playing it safe is extremely important and refreshing and is what has led to the success of these brands.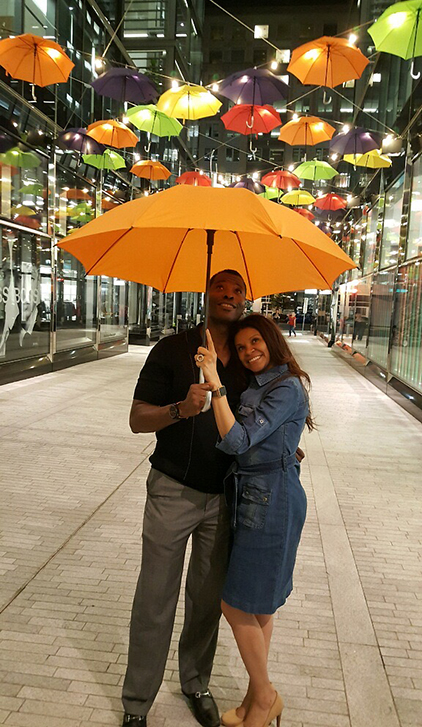 Telesa Via and Elliott Ferguson
(VC) Telesa and Elliott, thanks for joining us for this sitdown. Is there anything you would like to share with our international audience?
(Telesa) During this unprecedented time, life offers silent messages and reminds us all of what is most important. Continue to stay human and to always pay it forward. Life's best gift is the smile in someone's eyes when knowledge is shared and new doors are open.  As they say, give me a fish and I will eat for a day but teach me how to fish and I will eat for a lifetime.
(Elliott) Being a DMO professional affords me the opportunity to travel the glove and interact with a global audience which I have missed doing during COVID. The opportunity to appreciate our differences and celebrates our likenesses is key to tearing down stereotypes and biases created by not having personal experiences that shape your perspective. That's why I love this industry and solidifies in my opinion the importance of travel both domestically and internationally.