Photography by Nikolai Yurievitch
Interview by Visual Collaborative
May 2020 5 min read
Sarah Filleur, better known by her stage name Sarasara, is a French singer, songwriter, and electronic musician. Her album
Amor Fati's sound and digital imagery covey depths of messages and eclectic experiences.

 Sarah's extended play album attracted the attention of Björk's record label, where she eventually got signed. As a feature in our Amplified interview series, Sarasara speaks with us about her musical style, influences, collaborations, philosophy, and life transformation.

(VC) What do you tell people coming across your music for the first time who Sarasara is?

(Sarasara) I make music, magic, and code. Technopagan is the term.

(VC) An album titled Amor Fati, you must enjoy philosophy and stoic influences such as Aurelius and Nietzsche. Did you go through a dark night of the soul phase in your own growth?

(Sarasara) Yes, I've been on the "hero's journey". I've looked into the abyss. I was forced to look at my own soul and confront my demons. I've been through Hell, literally, I died and I left my ego and my old patterns there. And then, somehow, from the ashes, I was reborn, a totally different person, transformed. I was still me, but brand new. I kept going. It hasn't been long since I realized I was back and I actually went through this.

I speak in metaphors and it sounds poetic, but it is the only way I can describe it. This shit is real. It is a very well documented phenomena in philosophy and spirituality. Carl Jung wrote about it a lot too and describes it as "the birth of consciousness". He says " there is no coming to awareness without suffering, again and again until the ego dies". I understand what it means now.  I also understand that when you are brave enough to let your ego die, you are given the gift. The wound is the gift.

I'm able to look back and I feel grateful for it, weirdly peaceful about it all. 

I'm in a safe place now, gently and slowly recovering, reconnecting with myself, and preparing for the next adventure.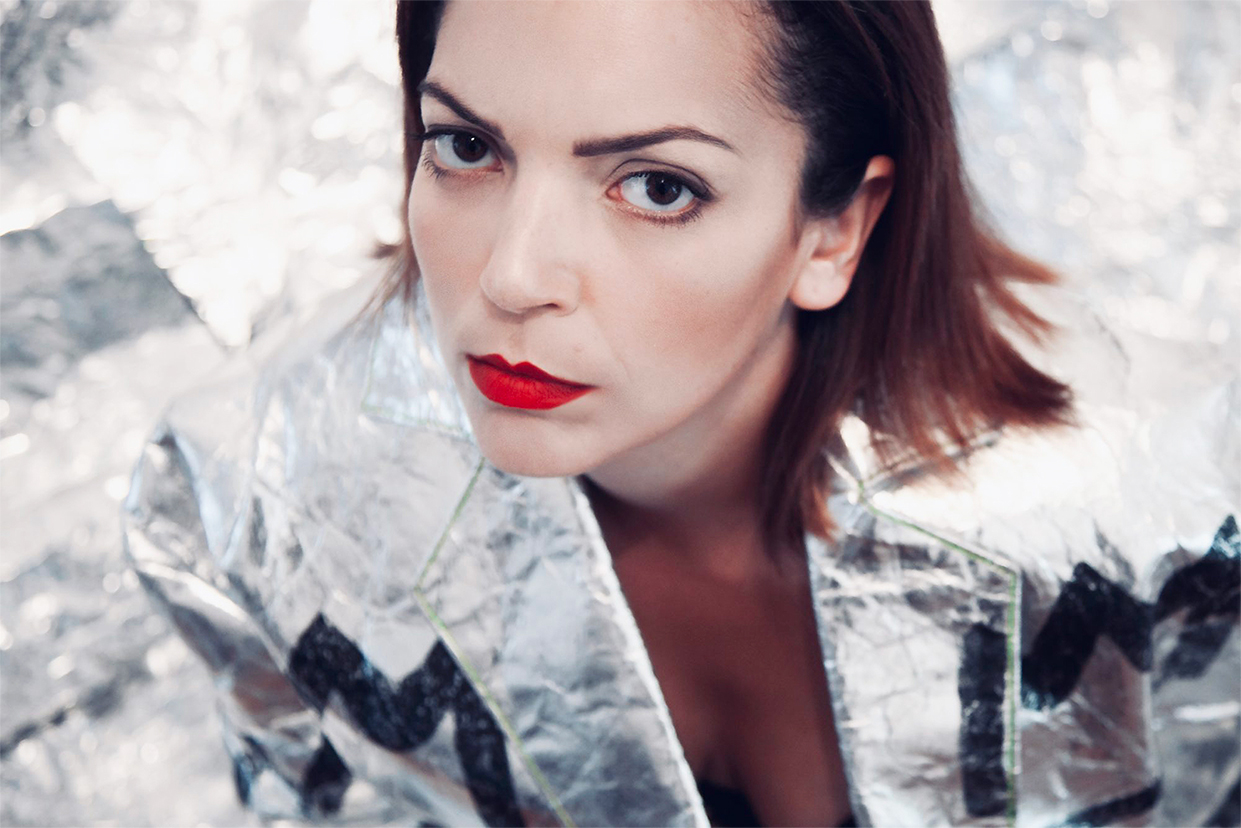 Jacket by Erin Laurel Hayhow
(VC) Before COVID-19, did you still go DJing in the city just like when you did during your La Bush times in Belgium?
(Sarasara) Funny you ask this. I've sort of given up a couple of years ago to focus on music production, songwriting and touring, etc. And lately, for some reason, I've been listening to old sound from Belgium again, like a lot, and it made me realize how much I miss it. I miss the spirit, I miss the community, I miss the sound. I just started to buy a couple of vinyl again, a couple of rare old stuff on Discogs. Maybe I'll do it again if the opportunity presents itself.
I surround myself with like-minded people that share my dreams and core values. I always look out for mentors. Whenever the student is ready, the teacher appears as the Shaolin Monks say
(VC) What is your go-to approach or practice today in terms of reclaiming your creative power?
(Sarasara) I practice minimalism in all areas of my life, literally. My life is a constant decluttering process. Clutter is my archnemesis. I practice channeling. The physical body is a receptor, a vessel, the mind is the OS, intuition, and creativity is the data. Obviously, you have to take care of the system, keep it pure as much as possible in order to get the downloads.
I try to go with the flow of energies, as much as I can. I plant seeds here and there for projects. Sometimes they grow, sometimes they don't. I surround myself with like-minded people that share my dreams and core values. I always look out for mentors. Whenever the student is ready, the teacher appears as the Shaolin Monks say.
(VC) Your digital imagery has diverse influences. What does the phrase Visual Collaborative mean to you?
(Sarasara) I would say it's when several disciplines, things or minds, melt and mute into something new.
(VC) Most forward-thinking societies or cultures would agree that language is the key to integration. When it comes to creating music do you lean on your vocal instincts or musical experiments?
(Sarasara) I think there's no difference to me, they are the same and unique language. Whether I start by writing beats, or melodies, or lyrics, it is just about finding the "feeling of knowing" that there's something there and you should follow it like the white rabbit.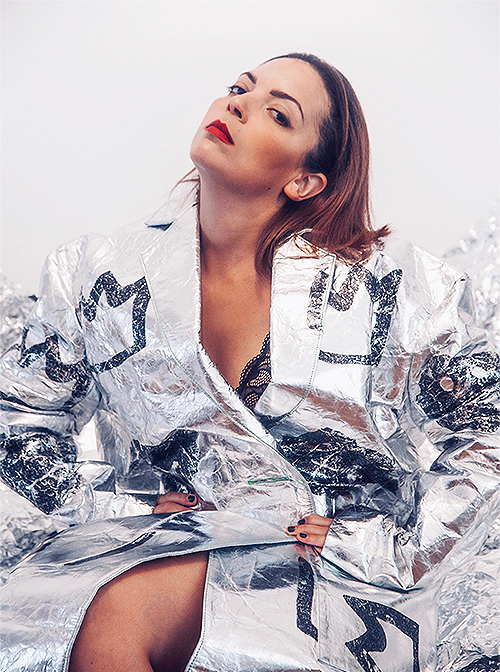 Hair & Makeup by Marta Merlo
(VC) Some mention different historical times as a period they admire for affluence or culture If you can time-warp to any era to collaborate with its culture, what time would it be and why?
(Sarasara) I would definitely go back to 300 BC, in Antique Greece, spend some time with Epicurus, eat some homemade goat cheese and olive bread, talk about philosophy, and write some lyrics.
I would stop at 50 B.C., switch bodies with Cleopatra just to say " Feed him to the lions, and prepare me a bath of coconut milk ". The huge scale of things, the architecture, the mythology would probably be inspiring for beats and some visuals.
Then I would go see the future, maybe 2500, see if the human race is still alive and if we built buses to go space, maybe do a show on the Moon.
(VC) At this stage of your career considering your commitments and accomplishments, if you could collaborate with a specific enterprise, or individual over the next 24 months, who would it be, and why?
(Sarasara) I know exactly but I can't reveal it, I don't want to jinx it. You'll have to ask me again in a year's time.