Interview by Visual Collaborative
June 2019 6 min read
Loubna Fakhri-Baker of Lebanese descent grew up in Senegal, is the co-founder of Craft Gourmet and the forthcoming Kaly Restaurant and Bar Lounge based in the city of Lagos. As a feature in our "Vivencias" interview series, Loubna talks about hospitality, her roots in sub-Saharan countries, and expansion of businesses ran by herself and husband Tarek.
(VC) The concept of your co-founded restaurant Craft Gourmet mostly comes from a hospitality background, you assumed the role of head Chef almost right away. Has the city of Lagos embraced the overall concept the way you envisioned it?
(Loubna) As soon as we opened, we were fully booked. But customers were always asking for more. They were complaining that the concept was not adapted to Lagos lifestyle. When we first opened, the concept was Open kitchen cafe, a deli and takeaway. That's what I really wanted: an open kitchen/ deli. And what I wanted as well was to have a "normal life" which was for me: me and my husband working from 8 to 6pm from Monday to Saturday and the Sunday with my children. So we were opening from Monday to Saturday, from 9am till 6pm. The lunch was served till 4 pm. The tea time menu was then given to the customers.
The food was made in the morning and exposed in the displays in nice stands. This didn't work. Some customers were sometimes insulting us of letting them parking their car in the parking, taking the lift till the 3rd floor of the mall and walking till Craft Gourmet to find out that we were about to close or that we couldn't serve them proper meals after 4pm. We stopped the "deli" part. We started opening on Sundays. Few months after we started opening by night till 10pm. We had to make the concept evolving to: Open kitchen bistro, catering, delivery.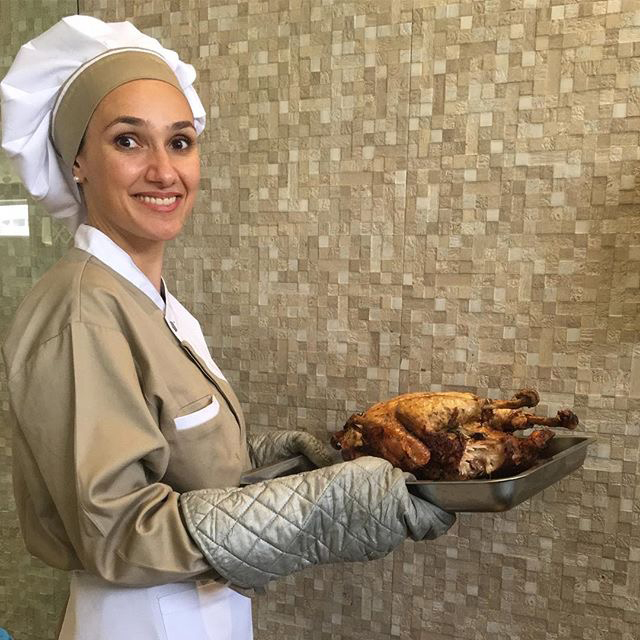 Loubna Baker – Photo courtesy Craft Gourmet
(VC) What is your first memory with cooking and your experience presenting a family gourmet heirloom (Recipes) to the public?
(Loubna) My first memory of cooking was with my mother making a cake that we now serve at Craft Gourmet, that I called Mom's cake. The first family gourmet recipe that I presented to the public was the seven hour leg of lamb, my Mother's recipe. I was happy to present it to them but most of all happy to see that they've loved it. I then created a recipe with the same seven hour leg of lamb, the signature pulled lamb burger. They've been in the menu for more than 3 years and will stay as "Craft classics" in the menu
(VC) Having a financial controller as a husband and then your hospitality background could be a perfect partnership. Given your different disciplines, as co-owners when did your develop the right method or style of working together?
(Loubna) We are still learning to find the best way to work together.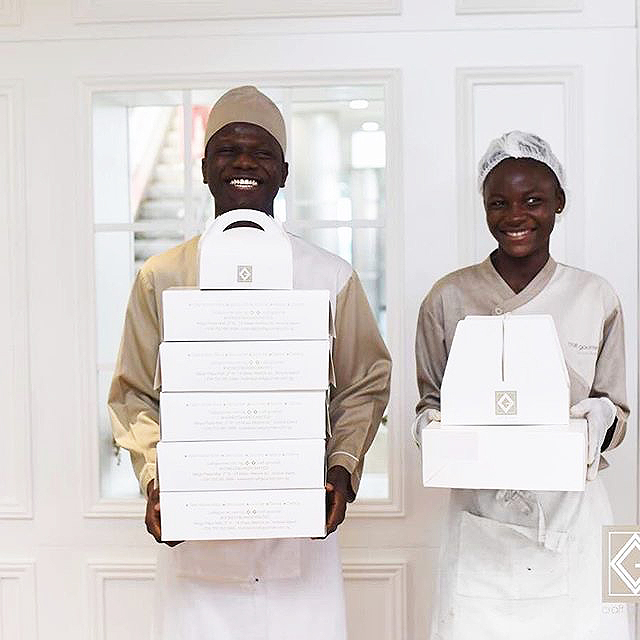 Staff – Photo courtesy Craft Gourmet
(VC) You were raised in Senegal but Lebanese by blood and now operating in Nigeria. Do you feel like perpetual outsider when interacting with all these cultures?
(Loubna) As a third culture kid, I never felt home anywhere. But that's a feeling that I didn't have before during my childhood and teenage-hood in Senegal. I think that it started when I left Senegal to study in Switzerland. I had to answer to the question"where are you from" and my answer was "Senegalese from Lebanon" but this was very confusing for each person that was asking me this question. I also had very good "Lebanese friends from Lebanon". This expression made me start feeling like a real outsider. I had to justify myself as a Senegalese, because I didn't "look" Senegalese and I had to justify myself as a Lebanese, because my accent was not "Lebanese enough" and because I haven't been living their reality. Now that I'm in Lagos, I meet a lot of Nigerian people and expatriates. Many of my Nigerian friends tell me that they went to boarding school in London and that they feel that they don't belong to here anymore, as if they experience a culture shock. One of my French friend that was born in Paris and lived almost all her life in France never actually felt that she belongs to that culture. She has Italian origins from her grandparents and always felt more Italian than French. Nigerian believe that I'm an expat. But expats don't plan to live in a country for as long as me and my husband have. [Loubna Smiles]
We were also often experiencing fuel scarcity. But customers were still making it in. I think seeing Craft Gourmet successful in hard times like these made us become very optimistic
(VC) Observing the rising despondency of political movements in Nigeria and some places in West Africa, as someone in hospitality are you more critical about your own businesses or more optimistic given the movement of the times?

(Loubna) We opened in February 2016, after the devaluation of the Naira (Nigerian currency), during that crisis and sometime after the Ebola scare, when we were at Idowu Martins street (our restaurant's street) while under construction, the ladies in high heels had to cross a small piece of wood to get to the mall where we are. And during the rainy season it was a real adventure to get to our place. Due to the city's infrastructure, there was flooding everywhere around us. We often experienced fuel scarcity as well. But customers were still making it in and making reservations. I think seeing Craft Gourmet successful in hard times made us become very optimistic.
(VC) At this stage of your enterprise and collective accomplishments, considering your present commitments If you can work alongside any personality or company. Who would it be and why?
(Loubna) It would be Nere Teriba, a Nigerian entrepreneur and friend that is building Nigeria's first gold refinery. She had some complex dynamics of pioneering a business from being a young woman from a Southern minority tribe dealing in a male dominated field with minerals mostly coming from Northern Nigeria. But she believed in it and persevered through to the challenges and six years after she is achieving success.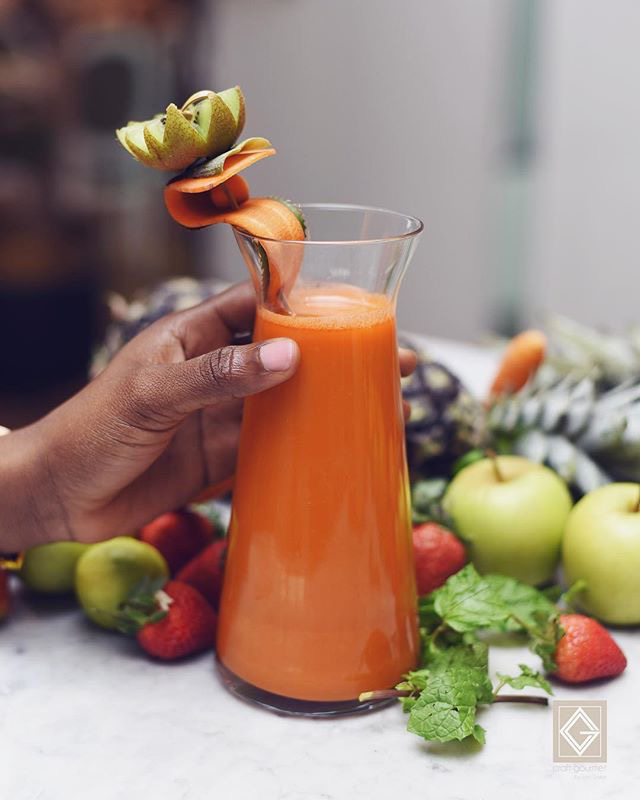 Photo courtesy Craft Gourmet
(VC) Hospitality management is a kind of a Visual Collaborative art form, do you have any relationships to the arts industry?

(Loubna) I'm the creative director of our group Hedonista Hospitality Group. From creating the concept, to designing it and taking care of the interior design but also from creating "edible works of art" to taking an artistic picture of them, I do believe that I have a strong relationship to the arts industry.
(VC) What kind of innovative cuisine concepts can Nigeria and the world expect from Loubna Fakhri-Baker within the next 12 months?
(Loubna) We are opening in few months a new concept in Victoria Island Lagos, a trendsetting and fine dining restaurant and bar lounge. We will offer modern cuisine. There will be an executive chef to hand over to. I will still influence the choices that are made in the kitchen but I won't be the head chef anymore.