Interview by Visual Collaborative
June 2019 11 min read

Photo courtesy My Temple Wellness
Deborah Johnson is an American community nutritionist and founder of My Temple Wellness based in New York City. As a feature in our "Vivencias" interview series, Deborah shares insights about the wellness and health industry, talks to us about Big Pharma, alternative nutrition in whole food lifestyle, her faith and probable business collaborations.
(VC) How much of your practice and offerings would be classified as Vegan Gastronomy or a part of it?
(Deborah) I would have to say a very large part of my practice would be classified as Vegan Gastronomy. Ultimately it's really about the food we eat. What we eat can either heal or harm our bodies, it can also determine our lifespan and the quality of our lives. I have proven this with my personal experience, when I made the change to a whole-food plant-based (WFPB) diet or vegan diet, a few years ago. Making the change was not easy for me, especially in the beginning with all the cravings, however, what I've learned and now teach others is to take small deliberate steps which ultimately leads to success. On this diet, I have an increased energy level to enjoy my life, especially because I'm no longer sick with frequent colds, "bellyaches" and allergies, which by the way, has completely disappeared since I started the WFPB diet. In addition to my own experience, studies have proven that a plant-based diet reduces the risk of Type II diabetes and even heart disease, two of the leading cause of death in the world.
On the other hand, I understand that our cultures are a huge determining factor of what we eat. Most of us have inherited recipes from our parents, aunties, and grandparents and this ultimately means we tend to also inherit the food-related illnesses that might have affected our families, and the cycle continues. Vegan gastronomy in addition to nutrition education is pivotal in addressing this very sensitive topic of what we eat.
(VC) It has been mentioned by many health practitioners, that Bali is one place on earth that has some of the most powerful energetic points and currents for health, healing and wellness. Is this the case when you had a restaurant there or its all hype due to the saturation of the industry?
(Deborah) I can truly say that there is indeed something very special about Bali the "magical" island that lies in the Indonesian Archipelago. When I first visited 10 years ago in 2009, it was to see my sister who had been living there. I fell in love with everything the Island had to offer. So I made mental plans then to move to the island. I intended to get away from the stressful corporate America "rat race" that I felt trapped in. By the year 2012, only 3 years later I was living in Bali.
I do believe that these health practitioners are right, because of the incredible amount of focus that is placed on health and wellness. The Island provides quite a bit of opportunities for one to focus on health.
From 2012 to 2016 I lived between Bali and New York and was a restauranteur for Irie Vibes Jamaican Cafe. During my time in Bali my experiences were not just filled with the work in opening and running a restaurant but it was also filled with; the kindness of the local people, the unending beaches, the pilates, yoga and wellness studios, healthy eateries, markets packed with fresh exotic fruits and vegetables being sold for "peanuts" the beautiful sunrise and sunsets, and the freedom just to be oneself. No corporate attire was ever necessary just a friendly smile, no makeup, no high heels, because t-shirts, flip flops & jeans was the standard dress code (even at business meetings). How could anyone resist such a place when you are in search of healing and wellness?
Over the years Bali continues to be saturated and the cost of living continues to increase so the hype is very real, however, so are the opportunities to find your "zen." Bali is certainly a place that fosters wellness in the mind, body, and spirit because the atmosphere provides a slow pace and also all the other commodities that money cannot buy. So I do believe that these health practitioners are right, because of the incredible amount of focus that is placed on health and wellness. The Island provides quite a bit of opportunity for one to focus on health.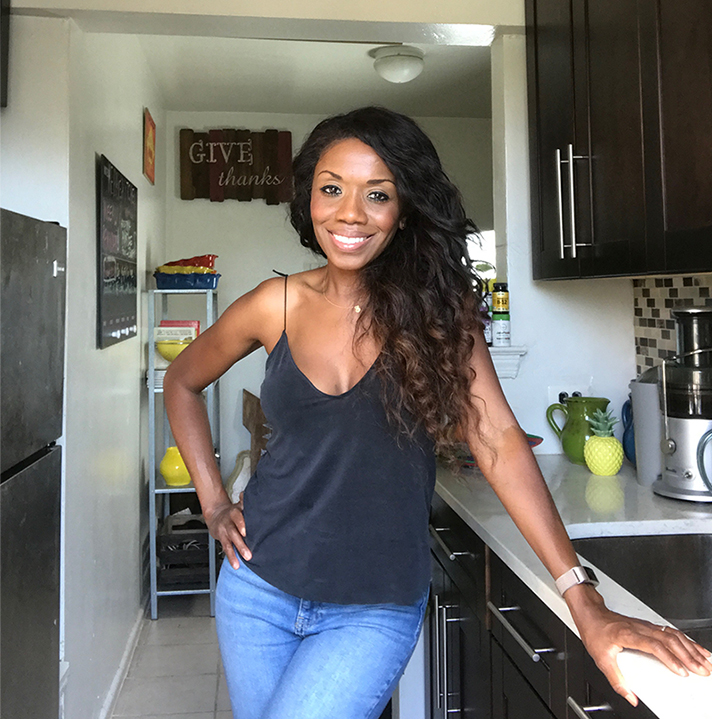 Photo courtesy My Temple Wellness
(VC) Observing the rising despondency of political movements in the United States, as a business owner and a woman, are you more critical about your own company My Temple Wellness or more optimistic now given the trajectory of the times?
(Deborah) Great question! First let me say that the rising despondency due to all the selfish political agendas or movements, is extremely unfortunate and disappointing, to say the least. Especially for such a great country and it's people who call these United States home. As a female entrepreneur striving for success and excellence in my new company My Temple Wellness, I feel very optimistic. Not only because of the values I was taught by my parents to persevere and fight for what I want, but also because I rely heavily on my faith and trust in God to carry me through all obstacles that might arise along the way. I am not doing this on my own. Also, I believe that the world is ready for this type of business. There has been a lot of progress in the health and wellness industry recently. And since we are speaking about women, let me refer to my role model, former First Lady Michelle Obama. Her dedication toward helping America to move and raise a healthier generation through her "Let's Move!" initiative gives me great hope, even with the given trajectory of the times.
(VC) Food and general nutrition is a kind of a Visual Collaborative art form, do you have any relationships with the creative industry?
(Deborah) Yes, I do actually. During the years I live in Bali, I also designed clothes and created a clothing line called Bee Free. While the restaurant was in the build-out stage, I had some free time so I went after a dream i always had and created a fashion line for women. With my knowledge from only two semesters of training at FIT coupled with what my mom (Dressmaker) and dad (Tailor) taught me, a business was formed. This took a lot of hard work and courage and although I've moved on from Bee Free, you can expect to see a sprinkle of that industry in My Temple Wellness in the form of positive t-shirts designs, etc.
(VC) Coaching people one on one with the right credentials and training proves for results. What are you thoughts on alternative healing as an add-on solution outside the FDA?

(Deborah) This is one of those questions that could have me talking for a very long time, but I will attempt to keep it short. I am very concerned at the number of coaching practices that are popping up all around us. Especially with the growth in social media sites like Facebook, YouTube, and Instagram that carries over 5 billion subscribers combined to date. We live in a microwave generation, where people want everything to be fixed immediately and there are people out there offering "quick fixes." People who are ill, are often vulnerable and desperate for a way to get better and so they fall prey to these opportunists who are not in this business for the right reasons. On the other hand, I strongly support those who have credentials and the proper training and those who also have good intentions towards helping and healing others.
I suggest a system that's willing to look at the scientific research and case studies that have been done over the years and accept the truth, and that is, we do not need all these drug companies to care for us with their drugs
The alternative healing options available nowadays are certainly an excellent option for what we were once told was the only option. And this spans from mental health to physical health of the individual. For example in the mental health industry, some people suffer from anxiety and panic attacks and are still being prescribed the FDA approved drugs Xanax also known as Alprazolam & its competitor Valiuma benzodiazepines form of tranquilizer or sedatives to put it lightly. These drugs are in the top prescribed drugs for mental health issues, however, they are extremely addictive and individuals who take them have been reported to have experienced seizures, hallucinations and even thoughts of suicide. Now, I'm not saying that if someone is in desperate need of drugs that they should be denied, however, I hope for a health care system that seeks to get to the root of the problem and deal with the actual cause rather than just treating the symptoms.
In the case of physical health, it has been proven that Type II diabetes and heart disease can be completely reversed with a whole food plant-based. But can we tell that to the pharmaceutical company selling FDA approved Lipitor that treats cholesterol by reducing the chance of having a heart attack and stroke? I suggest a system that's willing to look at the scientific research and case studies that have been done over the years and accept the truth, and that is, we do not need all these drug companies to care for us with their drugs, we can find everything we need in the earth.
(VC) How does Deborah define faith. Can you tell our readers what self-awareness mean to you?
(Deborah) My definition of faith is moving forward and taking action while trusting and believing that a way will be made even if I cannot see it. My faith is rooted in the idea that I never give up even when it seems hopefulness. I live in a state of expectancy. Self-awareness to me is the ability to stand in my truth whether they are good or bad. The idea is, to be honest enough to own and be aware of those opportunities for growth. Owning our imperfections is just as important as owning our outstanding qualities.
(VC) What kind of innovative nutritional concepts can the community expect Deborah Johnson within the next 36 months?

(Deborah) As they say in marketing it's all about Location, Location, Location, well in the "nutrition world" we say Education, Education, Education. I believe in simplicity and so I will not be reinventing the wheel too much in the coming 36 months. However, I will be pursuing all avenues available to me to get the word out and education people about the importance of proper nutrition, especially in the low-income areas in NY. This will be done through partnerships with community organizations like schools, community centers, department of health and churches. I plan to continue hosting educational and practical health and wellness workshops. I also plan to launch a talk show called "Green Table Talks" where myself and guest will get the opportunity to share information to the masses and also dispel the confusion that surrounds nutrition. I know and trust that God has big plans for My Temple Wellness and so I will continue moving forward without limits.
(VC) Does your Jamaican heritage play a significant part in your business decisions or would you consider yourself more of an Jamaican-American with a western outlook?
(Deborah) Yes, my Jamaican roots do play a significant role in my business decisions. I was raised to have good work ethics on an island known as "land of wood and water." Living in Jamaica with my family on a farm, we grew our food and raised livestock. This farming experience gave me a window into the world of farming which plays a huge role in nutrition today.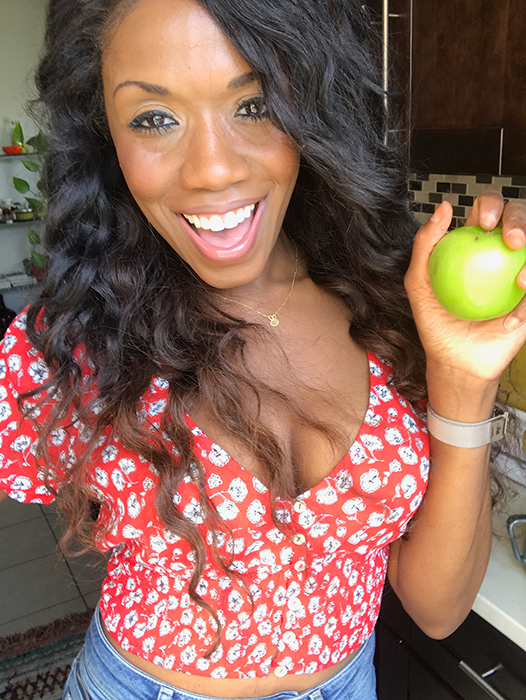 Photo courtesy My Temple Wellness
(VC) Is there anything else that you would like to share?
(Deborah) Thank you! Thank you! I am truly grateful for this opportunity to share a bit about my story and my business. This phenomenal platform that Visual Collaborative has put together is truly inspirational. I am also grateful that God has trusted me with this very important purpose of being a community's Nutritionist to the world. Something I take very seriously. This is a life and death situation, especially in times where the processed food industry and big pharma seems to be deciding the fate of our lives and our loved one's lives. Let's take back the power from these large organizations and go after a healthy lifestyle with everything we've got. I am here to dispel all the confusion and get us all to a place of "knowing" because knowledge is power!