Interview by Visual Collaborative
May 2019 9 min read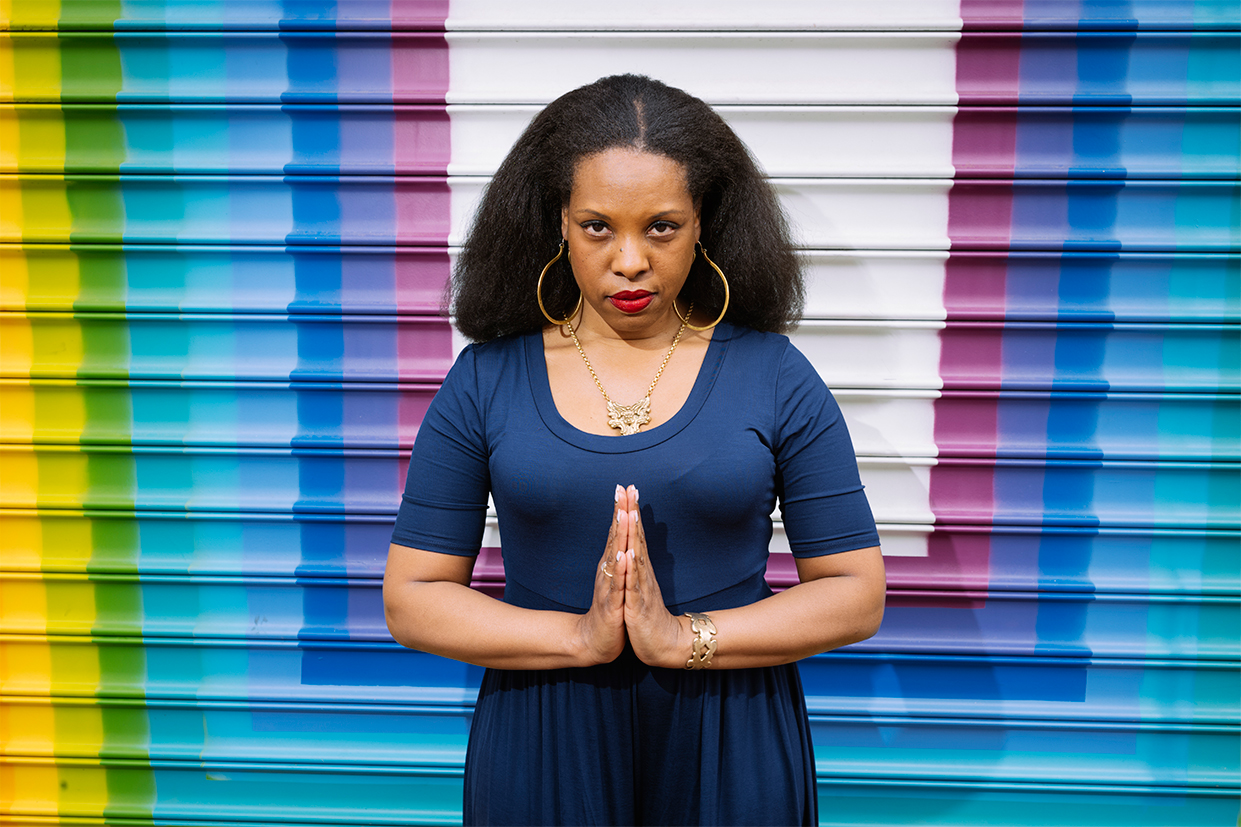 Photo courtesy of  Matailong Du
Kaia Black is a Washington D.C based jewelry maker and owner of  the Brand Bedizen, She also serves as a Museum Project Manager for the Smithsonian National Portrait Gallery. As a feature in our Voyager interview series, we look at her background in the arts, experiences from New York City and her journey as a black American to Ghana embracing its culture.
(VC) You have spent quite sometime in the melting pot of New York City which has its own fashion culture and Avant-Garde attitude. Is some of this expressed in the Bedizen branded jewelry you produce or would you say that chapter of your life is now a story in time?
(Kaia) I think people pull from their past experiences. When I lived in New York, I took in everything around me. I was wide-eyed and bushy-tailed! I sought and craved inspiration. I was finishing my graduate degree in Museum Studies and I was completely engrossed in the art and culture of the city. New York city taught me how to grind while embracing the uniqueness and boldness of the city. My pieces are influenced by distinct cultural and stylistic elements that are often a hybrid of contemporary pop culture, African motifs, and patterns as well as other textural components that can be created with manipulating metal and other materials.
(VC) You spent numerous years in the art scene and have been pivotal with archiving loads of art collections, what best practice would you recommend to someone getting into the field?
(Kaia) I have catalogued, re-housed and took care of established institutions and private art collections for the better part of my career. The art field can be tough to break into. These days you need more than just education, internships, and fellowships. You need to have ambition and make connections—the art field is so competitive. People will certainly open doors, if they see potential.
It's refreshing to see younger people interested in creating, contextualizing, re-defining, preserving, and chronicling art, culture and history.
However, I love the fact that I am seeing more young people of color wanting to become artists, curators, registrars, and art educators—they are interested in breaking out of the conventional mold of professions. It's refreshing to see younger people interested in creating, contextualizing, re-defining, preserving, and chronicling art, culture and history. These fields have not traditionally been diverse.
(VC) You have visited the African sub-Sahara, Ghana specifically. What can you tell us about your experience, or more importantly what would you say to other African-Americans who are interested in spending time on the continent?
(Kaia) Ghana was awe-inspiring. I felt an immediate kinship to the land and people. I honestly wanted to stay and not return to the States. The artistry was amazing—from Kente cloth weaving, casting brass and other metals, making glass beads, and beading. There are so many motifs and patterns that are intrinsic and representative of the various ethnic groups and their multi-faceted histories.
Traveling to the Gold Coast was an experience unlike no other. The landscape is beatific, but the history is horrific. I had a strong visceral reaction when I visited the castles and fortresses. I stepped below into the dungeons where enslaved Africans were chained and kept in darkness, in unbearable heat, and stench—waiting for their fate. It was difficult to be in that space, but it was important to honor my ancestors and those that lost their lives to such inhumanity and barbarity.
I guess I bring that up to say, that my connection to the land was truly heartfelt. I've never felt that way when I visited other countries. I experienced a similar feeling when I traveled to Cape Verde– I believe there are innate nuances and cultural signifiers that are present in my practice; that is central to my lineage.
I can't wait to go back and see more of the continent—I want to travel through the west coast and see Senegal and the Ivory Coast, as well as going east, to Ethiopia and Kenya. Morocco and South Africa are on my list too. It's a huge continent with so much to see! I would tell African Americans and anyone from the Black diaspora to go home.
(VC) Outside the political scene in the Western hemisphere especially in the United States, there are several movements making room for women entrepreneurs and progressive women rights. Do you personally feel the impact of these movements or what more would you say can be done?
(Kaia) I live in Washington DC area, so it can't get any more political than that.  DC is an interesting city—a district with no statehood rights, where residents pay some of the highest taxes in the country.
There's also a lot going on in the city with gentrification (but this is happening in all major cities). I have no issue with upward mobility and more amenities in communities, but when black/brown communities and people of color cannot take advantage of the changing cityscape due to economic disparities—that is a problem.
We've made in-roads, but hegemony and social constructs in relation to privilege is still very present and one-sided.
Beyond that, I do think DC is paving the way for women entrepreneurs and progressive women. It's awesome to have a two-termed African American woman mayor—Muriel Bowser. We are also witnessing history—with a surge of congresswomen being elected to the House of Representatives. It's refreshing to see women leading and using their voice for change. Furthermore, as we approach the centennial of women's right to vote in 2020, it's interesting to take a look at history and see such overt omissions—particularly of women of color. We've made in-roads, but hegemony and social constructs in relation to privilege is still very present and one-sided. The more women speak out and raise their voices for equity and equality, the very social structures that have divided, oppressed, and hindered opportunities for women and minorities will further be dismantled. We are making strides, but we are not there yet!
(VC) As a black woman in America who is well traveled and perhaps a little privileged, what do you tell the aspiring young woman or entrepreneur about success and risk? 
(Kaia) I have been fortunate to have parents who were able to afford me things that they did not have growing up. They worked hard to do better than their parents' generation. I don't consider myself privileged, but my parents did the best they could to ensure they provided their family with stability and love.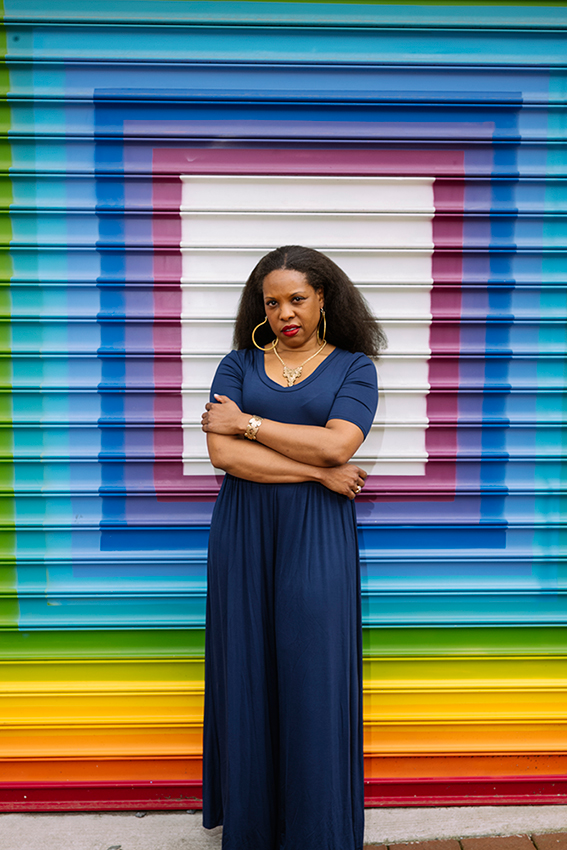 Photo courtesy of Matailong Du
My advice is not be your own worst critic. There are many people out there that will criticize or speak negatively about your ideas, goals and what you are trying to attain. Embrace your worth and know that nothing comes easy. You have to work hard and sometimes you will fail. But failure, is not failure, it is a teachable moment.
If things were made easy, we would never appreciate our experiences and we would not find growth. Always reach for the unattainable—nothing is truly unreachable, but you have to try. You also must be open to blessings when they come. Don't close the door before one opens.
(VC) In your quiet or noisy moments how do you get inspired? What makes you create the work you do? Do you solely seek religion or get in a psychological space like other creatives for inspiration?
(Kaia) I'm inspired by what I see. There are moments when I dream about an idea. Occasionally, an image may pass through my thoughts triggering a design. When I am in a creative mood, I will sit in front of my jewelry bench with various stones, and metal fragments from recycled projects and metal to play and ideas with how things fit or don't fit, or I use my coffee table to sketch ideas. More often, I will have a vision come out of nowhere.
(VC) Some mention the renaissance as an art period they admire. If you can time-warp back to any era what time would it be and why?
(Kaia) I would say the Harlem Renaissance—1920s to the mid/late 1930s. It was a burgeoning moment of intellect and creativity for African American writers, artists, musicians, and dancers. It was a period when African Americans were reflective and sought out self-representation. In my opinion, the creative output is unparalleled. People were so stylish and went against traditional norms. It was time of the 'New Woman' and the 'New Negro'. It was all about having dignity and defying restrictive social norms. For African Americans, it was about breaking free from the racial and segregated Jim Crow laws that limited freedom, even if it meant returning to Africa (Pan-Africanism/Garveyism). It was all about self-representation.
(VC) At this stage of your professional career and accomplishments, If you could collaborate with any brand or public figure in business who would it be and why?
(Kaia) It would be a dream come true to create jewelry for a film—it would test my ability to create a collection of work that is not necessary in line with my aesthetic, but in relation to a time, era, or place. If I could collaborate with any brand or designer, I would say Haitian-Italian designer Stella Jean. Jean has this way of merging elements from her Haitian background with elaborate patterns, and simple lines. She has keen sense of detail and the ability to merge pops of color with wearable and fashionable pieces. It think it would also be fun to partner with a shoe brand e.g. Loeffler Randall to do a line or jewelry. To me, it's all about accessories! You can change a simple outfit with a great pair of shoes, a bag and a statement piece of jewelry.
(VC) What does growth mean to you?
(Kaia) Going through challenges, learning from them, and applying what you learned to next set of hurdles. It's all about how one navigates and moves forward.
(VC) What kind of work can the world expect from Kaia Black within the next 5 years?
(Kaia) The power of self-expression is important and staying true to myself. Hopefully, Bedizen would have grown into a viable brand that caters to those who embrace self-adornment and relish accessories.