Interview by Visual Collaborative
May 2019 4 min read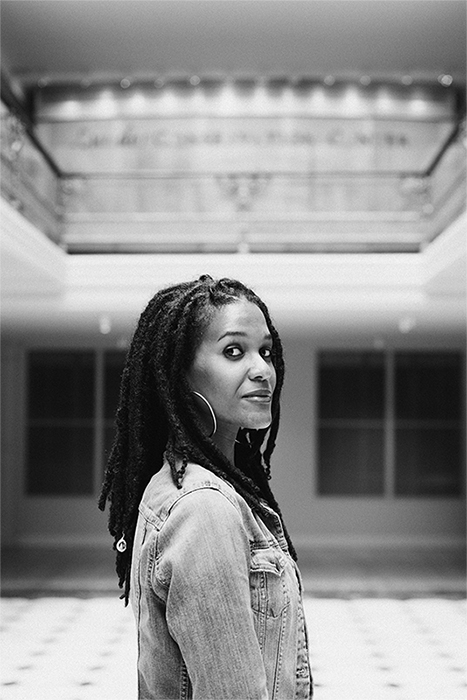 Photo by Danielle Scruggs
Yodith Dammlash is a professional photographer based in the Washington D.C area. As a feature in our Voyager interview series, we discuss her career in photography, work ethic and Ethiopian heritage.
(VC) Tell us about your upbringing and how it relates to your creative perspective of Washington D.C. Have you always been a resident?  
(Yodith) I was raised and lived most of my life minutes away from Washington, DC in Prince George's County, MD. I grew up in an Ethiopian home and being so close to the city allowed me to have easy access to my culture while still exploring other cultures. Being exposed to immigrant narratives but not seeing as much art about the immigrant narrative, fueled me to create the work I wish I saw more of growing up.
(VC) Your received a BFA at Corcoran College of Art and Design, you also have an impressive background working across many industries. Was this a natural career progression for you or it all happened according to a specific plan?
(Yodith) It was a bit of both. The plan was to study photography in college. Everything after that was natural career progression.
(VC) Tell us about the photo series "The Names We Bear". What was the major catalyst for the subject matter?
(Yodith) The Names We Bear is an ongoing series of digital collages using photographs of mostly my mother's family in Ethiopia dating back as early as the 1940s to the 1970s. Growing up, I'd always been interested in my family's history and the old photographs we had. When my mother returned from a visit to Addis Ababa some years ago with a bag of slides and negative film, a new way of seeing my family and hearing those stories opened up to me. I considered myself fortunate to have such a treasure trove in my possession, I wanted to create with it.
(VC) At this stage of your career considering your present commitments, If you could work alongside any notable personality or enterprise. Who would it be and why?
(Yodith) I would love to hone my photo archiving skills at a Smithsonian Institution. The Museum of African American History and Culture, The Museum of African Art, The Air and Space Museum, I'd love to dive into the archives of any of them.
(VC) You are clearly passionate about imagery, photography and creative direction, what are your cameras of choice or do you delegate that part to freelancers?

(Yodith) I'm a Canon user but love to explore any and all cameras I get my hands on. As far as freelancers, I do not delegate their equipment. I trust their selection but more than that, I believe the equipment is merely a vessel for the eye and creative mind.
The opportunities will come and thus so will the risks. But the opportunities are useless if you or the work are not prepared for them.
(VC) As a beautiful Ethiopian woman in America who maybe considered privileged based on your professional experience, what can you candidly tell aspiring young women or entrepreneur about success and risk in business?
(Yodith) My advice has always been to just do the work. The features, the exhibitions, the jobs, will come eventually. The opportunities will come and thus so will the risks. But the opportunities are useless if you or the work are not prepared for them. Almost every opportunity has come my way while I was minding my own business and honing my skill, preparing the work.
(VC) Some mention the Renaissance as an art period they admire. If you can time-warp back to any era, what time would it be and why?
(Yodith) The Harlem Renaissance. I've always loved the artwork from that era, from the writers and thinkers to the visual artists and musicians.
(VC) What kind of work, commercial or personal if any can the world expect from Yodith Dammlash within the next 5 years?
(Yodith) I don't know. I try to live more in the moment than anything else. I definitely have dreams I am still hoping to see through. At the same time I accomplished more this past year, all in the last half of the year, than even I imagined, personally and professionally. So I try to remember that you never know how things will shake out. Just keep your head on your work in the meantime.