Interview by Visual Collaborative
August 2020 12 min read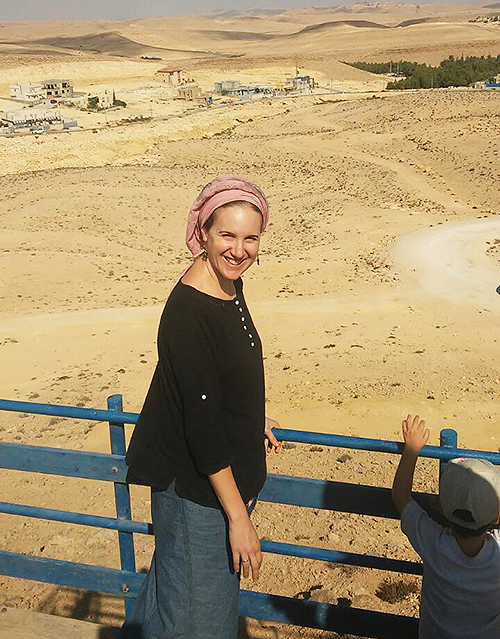 Photo courtesy of Sheva Sabag
Sheva Sabag works as a creative, writing novels and scripts drawing on her interactions with many people, G-d, and her faith as an orthodox Jewish woman. As a feature in our SOURCE interview series, Sheva talks to us about scriptwriting, self-awareness, and unique perspectives on life through her lens as a Rebbitzen. She also talks about women and the adjustment of the world to Covid-19.
(VC) What type of scriptwriting do you do, and is this tied to work you have authored?
(Sheva) I have always been intrigued by how difficult or strange experiences can not only transform a person but enable him or her to transcend what they know of themselves. After I finished my novel, I realized that although the main characters in the book and the movie were completely different in every way, they had this trait in common. The scripts I have written until now have been mostly drama. I believe that to navigate life's challenges, and humor is essential. I, therefore, make sure to pepper humor throughout my writing. On a personal note, I have just finished writing a script on its way to production. Now, with Covid-19, I don't know what is going to happen, and I am trying to utilize that "humor maxim" to its fullest.
(VC) You are connected to a Rabbi by marriage, and this is a vital role, more so as a mother. Do you feel any burdens or weight when people approach you with their deepest concerns?
(Sheva) I feel honored that I can be in a position to help people. It has also been a very humbling experience. When I was younger, I did not understand the gravity of that responsibility nor my own limitations. Unfortunately, I made some serious mistakes. I have learned to check all avenues and consult with professionals. Before I answer anything, I pray to G-d that I will know what to say and be helpful. With all that, I have lost many hours of sleep trying to figure out how best to approach a situation or concerned that I gave the right advice even after consulting professionals. What is frustrating is how often that same person to whom you have extended so much energy trying to help will forget to let you know when their problem is resolved.
(VC) Outside of society's distorted perceptions about awareness, what does self-awareness mean to you specifically?
(Sheva) Self-awareness is connected to many dimensions. In Judaism, there is a great emphasis on study and learning. Study opens us up to a deeper understanding of many realms. With that, in Judaism, there is also an emphasis on putting the study into practice. It is nice to understand things, but if one is not ready for a practical and internal switch, the knowledge studied is never actualized.
I have been teaching Torah to university students for over ten years. Teaching keeps me up on my own studies. Study is an infinite source of understanding. I try to learn all the time. I study many different topics. But it is Torah study that significantly enriches my spiritual and practical world. But I also study psychology, history, and other realms to actualize what I learn.
Awareness is the entry into the world. Breaking out of one's own boxed in thoughts happens from discussion with others. When I hear other opinions and how others analyze events differently than I do, it causes me to view the matter from a new angle. It amazes me how people view the same situation differently and arrive at such different conclusions
Awareness is the entry into the world. Breaking out of one's own boxed in thoughts happens from discussion with others. When I hear other opinions and how others analyze events differently than I do, it causes me to view the matter from a new angle. It amazes me how people view the same situation differently and arrive at such different conclusions. It brings me to evaluate myself and my environment in new ways. I try to talk to people daily. Not only friends and family. Even strangers on the street. I enjoy starting conversations and am rarely disappointed. In my eyes, part of human interaction is connected to reading stories and watching movies and serials. People are seeking to learn about each other and to understand themselves and their environment. A movie, or a good serial, will always provide you with an array of characters and an aroused understanding of existence. Sometimes, when studying with university students, I enjoy comparing clips from movies with stories from the Bible and Talmud and using both what is common and what different.
(VC) As an observant Jew coupled with your role as a Rebetzin, what is your view on Covid-19, and how it has affected the world?
(Sheva) True, I am a Rebbitzen, and a religious and believing Jew. Despite this. I do not have answers to all the tragedies and general events that befall our world. Covid-19 caught all of us unprepared. All of our plans fell through, whether wedding arrangements, film shootings that did not take place, and more.
Since the day my oldest son was born, I have been planning and imagining how his Bar Mitzvah will be. But when the time arrived, almost nothing was done to celebrate the event. It came out during a national lockdown. He read the Torah portion at a minyan of 10 men in the synagogue courtyard, with the wider family looking on by Zoom. When we got home, we had the equivalent of a regular birthday cake. Not at all what I had been planning for years.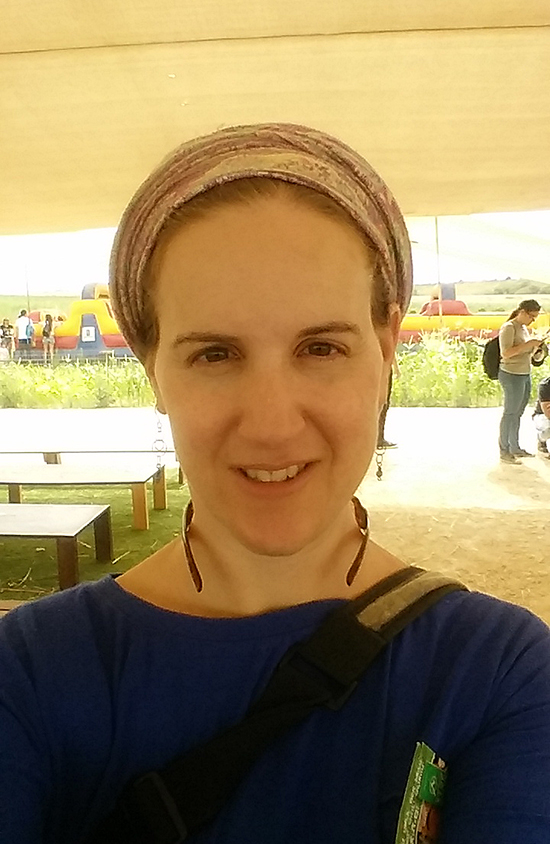 Photo courtesy of Sheva Sabag
In the future, doctoral students will investigate what effects Covid-19 had sociologically, economically, and politically. Looking into ourselves, Covid-19 teaches us how interdependent all of humanity is, and how concerned we should be regarding maintaining a healthy and natural environment. If until now, people scorned the possibility of their affecting others' lives, today, it is clear that one can be responsible for other people's death through simple negligence. This is a very powerful lesson. If only this understanding will bring us to good things in the future. I am very pained by the social distancing necessary today in society and the world at large. And I am very worried about how the world of culture will look with artists unable to present their works, and sometimes not even to create them. As I explained before, I see in culture, a place where people may find themselves and achieve new understandings and truths about themselves and existence at large. More than any other time, in this environment, many of us need the Arts to express our emotions and allow for a new perspective on existence.
I pray a great deal about the current situation, and I am sure I have many "partners" in my prayer, that a remedy is found for this illness to return to and value our regular simple lives once again.
(VC) The Zohar is unique literature compared to the Talmud / Torah, and by the account of some scholars, compelling material. What are your thoughts on this as it applies to the few who try to understand it?
(Sheva)  I am quite surprised to receive this question. Few men study Zohar and even fewer women. I was responsible for typing the lessons given by Rabbi Uzi Schweitzeh on the Zohar. As a result, I indirectly studied it. Studying Zohar today is in style. Several famous people are studying it, and I understand why. Confronting the Zohar is like looking out at sea. One immediately realizes its power, beauty, and infinite quality. But the Zohar is not meant to provide its reader with a pleasant life. It is meant to reveal the mystical foundations of the Torah and the Universe. To properly understand the Zohar it is necessary to be well-grounded in conventional Torah study, namely, the Bible and Talmud. Without a proper understanding of the Bible and Talmud, studying Zohar would be like learning calculus without knowing arithmetic. I gained a great deal of understanding when typing Rabbi Schweitzeh's lessons on the Zohar. But I must admit that frequently I  had no understanding whatsoever of the material. Sometimes when I have writer's block, I open the Zohar and read its Hebrew translation. I rarely understand what it says, but I find myself inspired nonetheless, and ready to continue writing.
(VC) Some mention different historical times as a period they admire for affluence or culture. If you can time-warp to any era to speak with its culture, what time would it be and why?
(Sheva) I am happy to live in the current era and time, and have no desire to live during any other period. From the perspective of literature and general knowledge available to us, all generations before us could only be envious. As a woman, there were never more opportunities than today. Nonetheless, there were historical figures I would have liked to have met, and books no longer available I would have liked to read. One woman I would like to have met was Queen Esther. Esther was the last of the Hebrew women prophets. I believe a special tradition of mystical knowledge passed down from one woman prophet to the next, and Esther was the last depository of that tradition. It is possible this was because she was married to a gentile emperor. If only I could access her and receive this tradition.
(VC) At this stage of your professional accomplishments and milestones, If you could collaborate with any company, brand, or individual, who would it/they be and why?
(Sheva) As time goes on, I find that TV serials deal with important and complex topics with sensitivity and depth. Commercial film, on the other hand, is trailing behind. Therefore, I am currently more interested in writing for TV than film. Of course, no one knows what lies in the future. It is possible that TV will want to serialize the books of Robin Hobb. That is a project in which I would love to be involved.
(VC) As a woman in a male-dominated world, what can you candidly tell the youth about success and risk in their professional lives?
(Sheva) There are many reasons men dominate our current world. One is that women bear children. Many of us would like to raise our children and not leave that responsibility in others' hands. Quite a few of my friends have difficulty dividing their life between their role as mothers, their role as wives, and their desire to be professionally creative. I am in this quandary as well. I would probably be much more prolifically creative if not for being a wife and mother. But I would never sacrifice my marital relationship or opportunity to raise my children on the altar of creativity. When I was in high school, I studied film. I wanted to continue in this direction professionally. But I had many concerns. I knew I wanted to have a family and many children. I felt it would be impossible to do both. I went in the direction of teaching but did not find it fulfilling. I asked my mother for advice. That conversation with her guides me from then on.
First of all, she told me about the famous painter, Grandma Moses, who began her career in painting at the age of 70, and continued as a painter until she passed away at 103 years of age. "You never know when you will fulfill your potential. Perhaps while you focus on being a mother, you will not manage to be creative and famous. That is not a reason not to study something you would love to learn. And you never know where life will lead you". At that time, my mother was working in a high tech company. She told me about a colleague there by the name of Zivah, a smart and capable woman. Zivah had always wanted to be a doctor but felt she could not navigate raising a family with her medical study. She buried her wish to become a doctor and studied computers instead. At age 38, she was still single. The frustration and disappointment of sacrificing the career she truly wanted for a family that did not materialize pained her to no end. "I could have finished medical school twice over," she told my mother. A year later, she did get married and had two children. But she never fulfilled her professional dream. My mother asked me not to give in before I start. We have no idea where life will lead us. (COVID -19 has eminently shown this to us.) We should feel a personal responsibility to try to fulfill our human potential.
(VC) From your perspective, what advice would you give an individual to focus on or spiritual wealth or material legacy for forthcoming generations?
(Sheva) Material wealth is quite helpful. But I would never put the bulk of my efforts towards that goal. Today more than ever before, it is clear that wealth can evaporate before one's eyes. I once thought that spirituality and wisdom that we acquire escort us throughout life. Today I feel we are unlikely to lose these, but it is not impossible.
I once met a woman in the street, who opened up her personal story to me. It was hard to put together what she said, but I eventually understood. She explained she had once been a very successful person. Unfortunately, she was in a car accident and suffered a brain injury that reduced her intelligence and mental capacity. It was to the point that she could no longer remember what brought her success before the injury. This encounter made me realize that even our intellect and spirituality may be lost.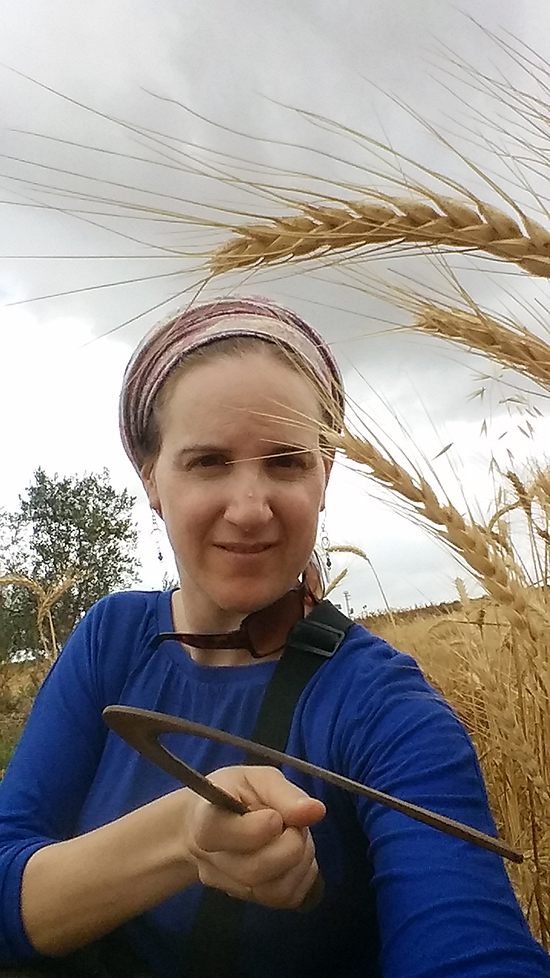 Photo courtesy of Sheva Sabag
Therefore, what is most important is to do good things for each other. Our action lasts. Every person has a different role in this world. I am drawn to spirituality and creativity. But a person of material wealth may succeed in accomplishing in his way more than I could.
(VC) Thanks for your time Sheva, is there anything else you would like to share with our international audience?
(Sheva) I would like to wish everyone health, success, and all good. May we all get through this period in peace.