Interview by Visual Collaborative
July 2019 5 min read

NKWO is an artisanal fashion brand based in Nigeria and one of the few establishments at the forefront of the sustainable fashion movement in Africa. By experimenting and exploring modern innovative techniques,
NKWO

aims to harness the capabilities of technology as a sustainable way of preserving traditional African craft skills. In our "Vivencias" interview series, Nkwo joins us to talk about her industry sustainable fashion and forthcoming projects.

(VC) Fashion is always in a stage of flux and re-emergence in a rapid consumerism world, your brand has a sustainability component to it, Is the flamboyant fashion world responding at the rate you want it to?

(Nkwo) The fashion world has always had different tribes, we found ours early on, it was small but it was loyal. Suddenly, we find ourselves in a world that is buzzing around 'sustainability'. As one the leading sustainable fashion brands in Africa, we have become a part of that buzz and are definitely happy with the response we are getting now.

(VC) As an African woman who is well traveled and exposed to quite a lot, beyond the buzzwords of being an entrepreneur, what do you tell the aspiring young women about success and business risks in a patriarchy?

(Nkwo) Some of the most successful business owners I know in Nigeria are women. In a country where jobs for the youth are scarce, gender plays less and less of a role in business and/or success. I tell young women to go for it as long as they have the passion, the focus, competence and are prepared to work hard.

(VC) Congratulations on being a recipient of the Phoenix Award presented by the Mayor of London's office among others, can you tell us how that came about and what it means for others whom you may be an inspiration to?

(Nkwo) Thank you! The Phoenix Award was the prize for the best designer at an event called Kulture2Couture, a showcase of the best of Black British fashion talent. As the event was part sponsored and held at the Victoria and Albert Museum in London, the selection process was very rigorous. I had unsuccessfully applied the year before and when I got the call from one of the judges to say that I had not been selected, I asked why. The feedback she gave me was invaluable – she told me that what I had presented was a set of beautiful clothes that did not work together as a collection and that I needed to find a style and a story that was unique to me. It worked, as not only was I selected for the next show, I won the award. What I would like anyone who is inspired by me to take away from this is that it is very important to find your own voice in this very competitive fashion space, be consistent, work hard, ask for feedback and know that you can turn your challenges into opportunities.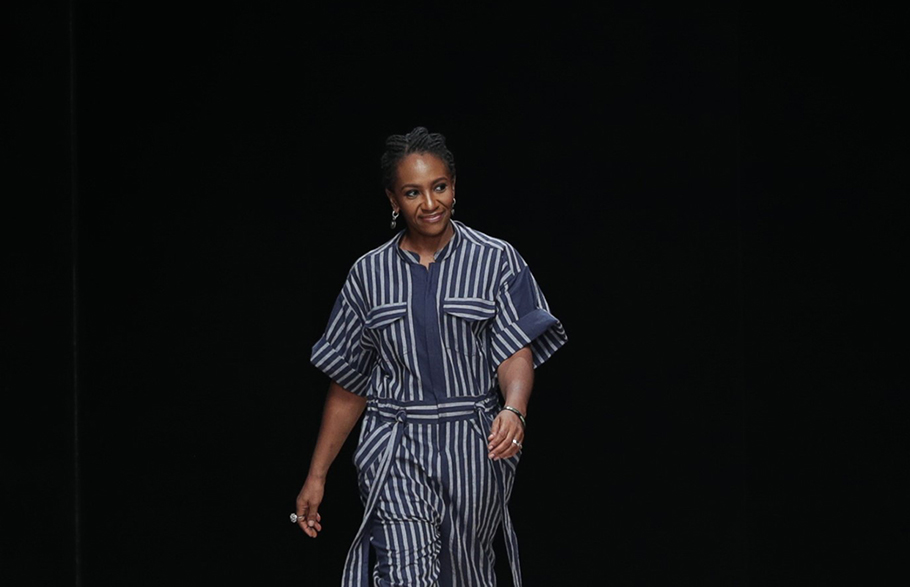 Photo courtesy of Nkwo Onwuka
As a brand we have always used our rich history, culture and traditions as a reference point and have been at the forefront of creating a renewed interest in African traditional hand craft skills in the fashion industry.
(VC) There is much being said about the African renaissance, But many informed patrons of the arts would say that the term "renaissance" is not originally African. What are your thoughts on this?
(Nkwo) There are many terms we use today that are not originally African. The term 'renaissance' has various definitions and does not just refer to the European revival of the classics that influenced the culture, style of art and architecture in the 14th and 16th centuries. It can also be used to describe a renewed interest in something and Africa is in that space right now. As a brand we have always used our rich history, culture and traditions as a reference point and have been at the forefront of creating a renewed interest in African traditional hand craft skills in the fashion industry.
(VC) ) In your quiet or noisy moments how do you get inspired. What makes Nkwo create the work she does. Are you in any form religious or spiritual like many creatives for muses?

(Nkwo) I find inspiration all around me, all the time… but it all comes together in those quiet moments when I go into a place inside my head where my curiosity and creativity live in perfect harmony.
(VC) You lived in the United Kingdom a place of four changing seasons, now that you reside a metropolis of the sub-Sahara what is your favorite style or garment of choice to wear?
(Nkwo) My favorite style is called 'anything comfortable'. The general misconception is that it is always extremely hot here .We have changing seasons too and sometimes it gets quite cold! Other than that, I tend to spend a lot of time working so a pair of jeans and a loose top are some of my favorite things to wear.
(VC) At this stage of your collective accomplishments, considering your present commitments If you can work alongside any curator, global personality or business enterprise. Who would it be and why?
(Nkwo) I would love to work alongside the Yeh Group who have developed a textile dyeing method that requires absolutely no water at all. If we could harness the capabilities of this technology, it would be revolutionary! As a developing country, we are going to be at the front line of the adverse effects of climate change with water scarcity as one of our biggest challenges – we could eliminate water waste and the use of toxic chemical dyes which in turn contaminate the water ways. It would also mean that we are able to save our traditional craft skills, many of which are in the danger of becoming a thing of the past?
(VC) Tell us about your current projects and what the world can expect from Nkwo Onwuka within the next 5 years?
(Nkwo) We are currently in the developmental stages of a new textile waste reduction project – unable to talk about specifics now – and within the next 5 years, we hope to have fully integrated technology into our production processes as a way of preserving our traditional craft skills.