Interview by Visual Collaborative
July 2019 8 min read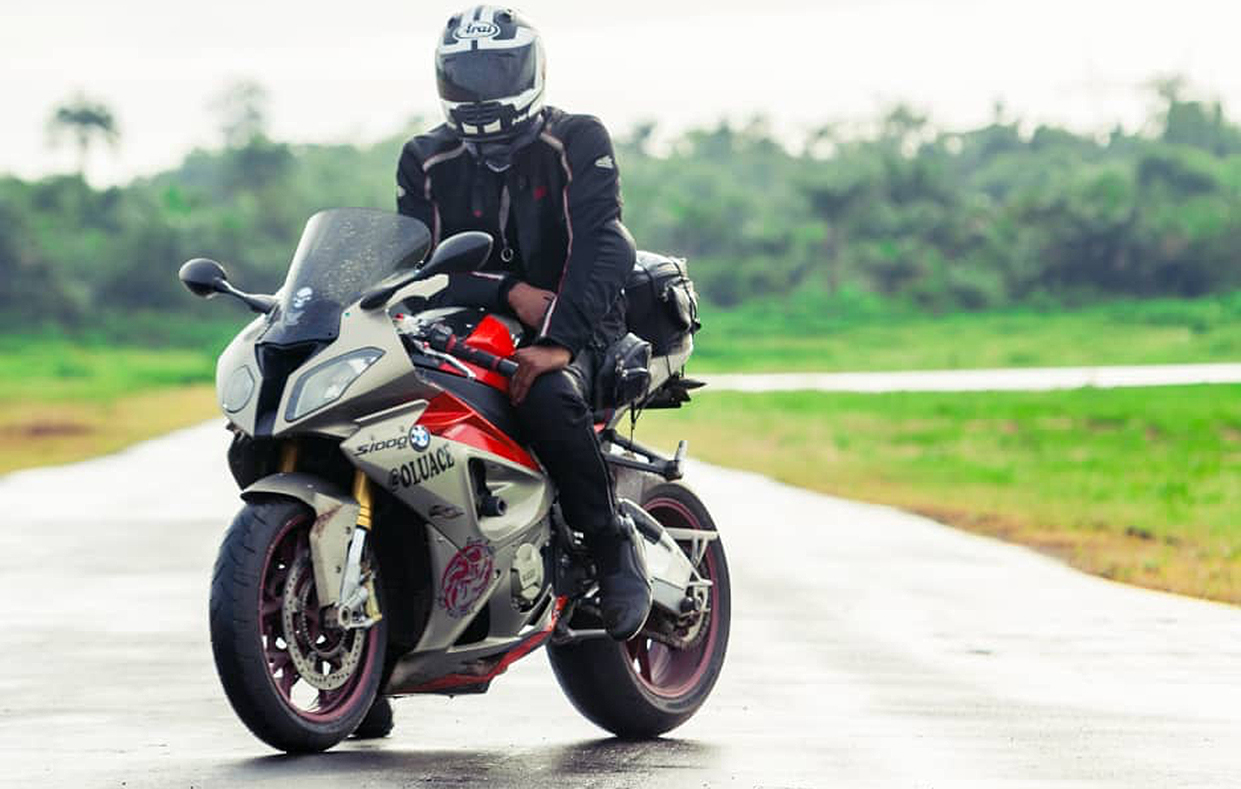 Photo courtesy Olugbenga Egunjobi

Gbenga Egunjobi's enthusiasm goes beyond conquering racing routes or one of a kind tracks. The application of his business background while being an avid motorbike rider showcases his pivotal role in the development of motor sports in his home country Nigeria. In our "Vivencias" interview series, Gbenga joins us to talk about his experiences riding and keen industry observations while educating the masses in the process.
(VC) As a rider in motor sports who started recreationally, what does an
adrenaline surge look or feel like to you?
(Gbenga) Ooh, that's a tricky question. Even though, I have been riding for quite a long time, I still get that adrenaline surge just thinking about jumping on the bike. Once I am kitted up, and ready to go out on the bike, whether on the open road or closed-circuit track, my heart always skips a beat as I am about to mount my machine. My heart beats a little faster in anticipation, almost like going to battle – me and my bike against the elements and road [Gbenga laughs out loud]. When I am on my bike, it's a different kind of feeling. Exhilarating will be an understatement. There is something with the immediateness of consequences. The higher the speed the more certain and immediate a bad outcome would be. At above 200 kph (124 mph) there is literally no room for error. Not for amateur riders at least. The slightest miscalculation can be fatal. Still it gave me the same excitement, the same exhilaration. Mihaly Csikszentmihalyi talks about a "flow state". Where a rider will find themselves in a pure tunnel vision state where nothing else matters and you can't feel or see anything else but the ride. No back pain, no thirst, no hunger, no problems. All that matters, at that point, is the ride.
Your mind adjusts to the speed at which things are flying past you. This provides the sensation of entering another dimension.
Right now I feel alive. My focus will be at 100%. My whole body is in complete readiness. Fully alert of everything around me. Time simply slows down for 2 seconds that feels more like 2 minutes. Your mind adjusts to the speed at which things are flying past you. This provides the sensation of entering another dimension. The wind is absolutely loud and insane – if you lift your hand off the bars it will try to rip your entire arm away. No matter how often you've broken into this rarefied zone, you will feel a rush of euphoria, time slowing down, and a frenzied calm. There also the adrenaline surge experienced in the development of motorsport in Nigeria. For instance, I am co-Team Principal of a Racing Team (BKG Racing) participating in a motorcycle racing and car racing series, on a closed-circuit track at the Motorsport Raceway, Evbuobanosa, Edo State. Every year the awareness and external involvement increases. This exciting development always leads to a major adrenaline rush for me and my co team principals ( Babataunde Ladipo and Seun Olawore), when we get close to the next major event that will showcase some of Nigerian talent.
(VC) How long does it take you to learn a track, road or a way of passage when riding your motorbike?
(Gbenga) I think this differs for everyone. It really depends on a few things like; are you new to riding, or are you a seasoned pro? Is the road or way of passage on your commute to work, or are you blasting down an empty freeway or curvy mountain road or a track? – to state a few. I personally would like to believe that you never fully learn a road passage or track 100%, as there is always room for improvement (for example, adjustment on entry speeds or line if you want to take the corner quicker or tighter etc). There are tracks I have ridden on a number of occasions that I don't think I have or will come close to learning 100%.
(VC) Many people in your country may not know the size or dynamics of the industry, does your group's interest tell a collective backstory or every one's experience is a subjective case by case situation?
(Gbenga) I think it is a little bit of both. Whilst case by case situations may not have as high an impact as we would like, it does form an important part of the collective backstory. We push our teams, clubs and associations interests through various outlets, in order to increase the awareness, with all the current racing teams working together as one body, to present the case for racing as a sports and means of outreach for companies and organizations. This in turn will also have a spill over effect on awareness of superbikes and performance vehicles in Nigeria. We have an umbrella body that is registered and charts the common path for all the racing teams, Automobile Racers Association of Nigeria (ARAN). We also have umbrella bodies that work together to form a common path for the clubs, associations, general motorbike riders and enthusiasts, like Bikers Association of Nigeria, Bikers IN Nigeria (BIN), Superbiker Clubs Association of Nigeria (SCAN) to name a few.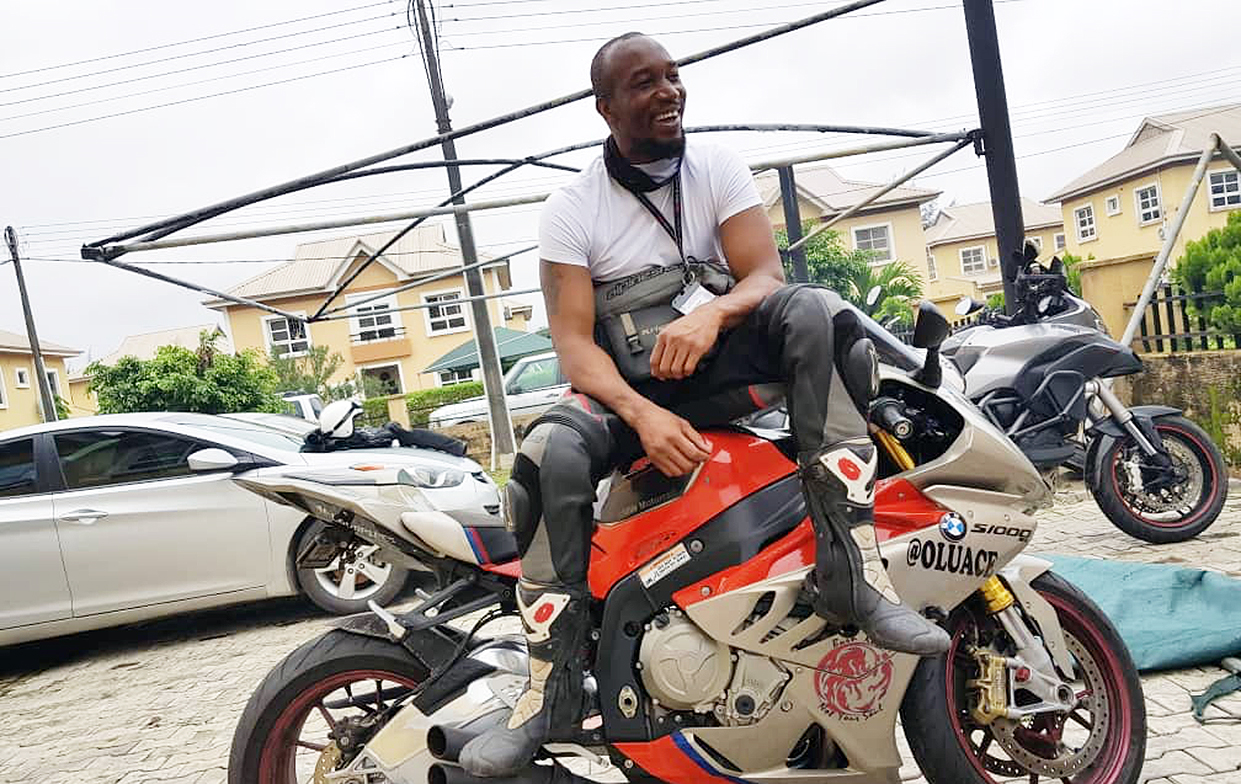 Photo courtesy Olugbenga Egunjobi
(VC) What was your own training like? Did you learn riding on your own and which countries have you ridden in?
(Gbenga) So, I initially started riding when I was about 10/11 years old, with my cousins dirt bike. No initial training to be honest, just watched what the older ones did and tried and mimic them [Gbenga laughs]. Thankfully nothing drastic happened during that period. I stopped riding when I was thirteen and did not pick it up for 6years. It was at this point I had formal training to add to my existing, self-taught, possibly hazardous skill [Gbenga laughs]. I have ridden in Nigeria, in the United Kingdom (where I honed most of my riding ability), Germany and Ghana.
(VC) ) It maybe argued that the motorsports industry is still in its infancy stages in your region. Are there any local or international laws the govern the ecosystem?

(Gbenga) Yes it is very much in its infancy stages, however it has gathered some momentum in recent years. Motorsport Racing in Nigeria falls under different categories, such as drag racing, street racing, off-road racing, drift racing and track racing. For the "track racing" there are laid out rules and regulations. The current series is guided by documented rules which were formulated by the owners of the track along with a committee which included participating team's Principals. There is a new series under a new sanctioning body coming up that will also have its rules and regulations that we will be subscribing to when we start racing in that series. In addition, the FIA, which is the International Automobile Federation (The Fédération Internationale de l'Automobile) is represented in Nigeria and several races have been done under FIA sanction.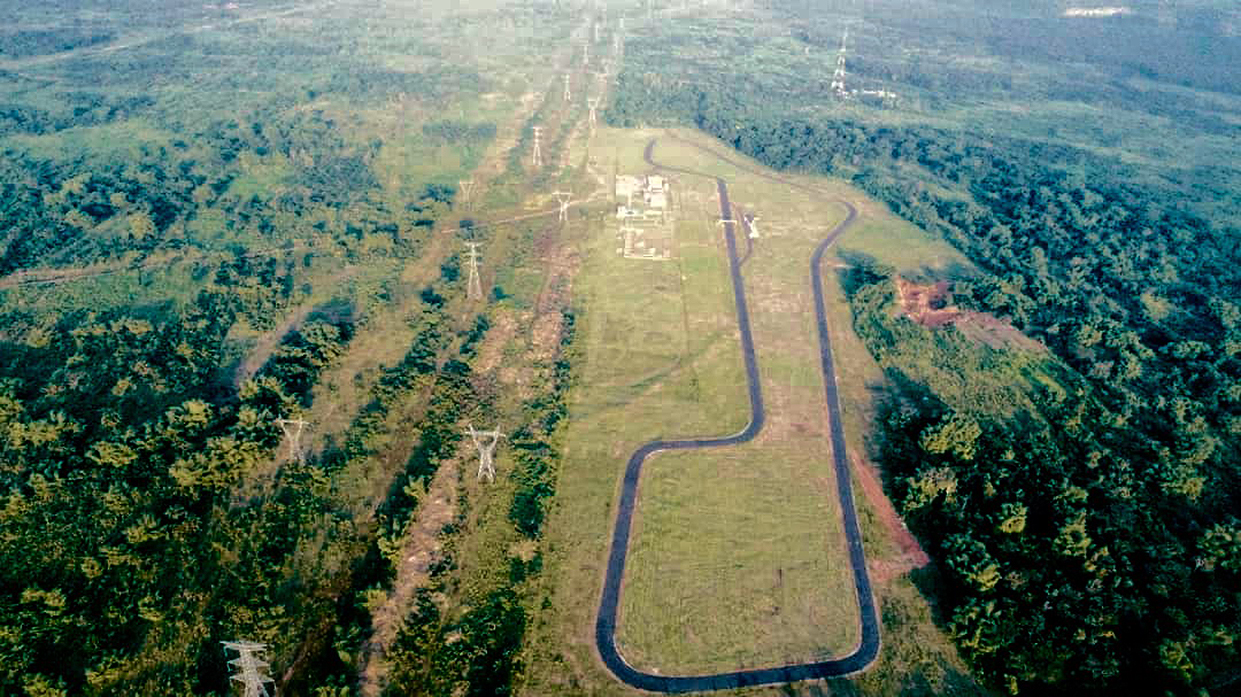 Aerial view of racetrack in Edo, Photo courtesy of Egunjobi
(VC) Outside bikes you indulge adrenaline through a other toys like Jet Skis and boats. Apart from being able to steer and drive these Vehicles, can you take them apart and re-assemble all?
(Gbenga) I would describe myself as an enthusiast when it comes to mechanical and technical side of the bike. It is good (and advisable especially in Nigeria) to have a little over basic knowledge on a motorcycle. I can take it apart and re-assemble etc, however the engine is a completely different story [Gbenga laughs]. I might have an idea of what is wrong or know what to do, but how to do it is a little different. I usually run to the teams technical principal, Seun, whenever things go beyond my understanding. With the jetskis and boats, my knowledge is very basic there. However, I wont be totally lost at sea.
There is the Female Bikers Initiative (FBI), a group of female riders that came together and championed the provision of free breast cancer and cervical screening to thousands of women last year – a significant undertaking in a country where many lack access to proper healthcare.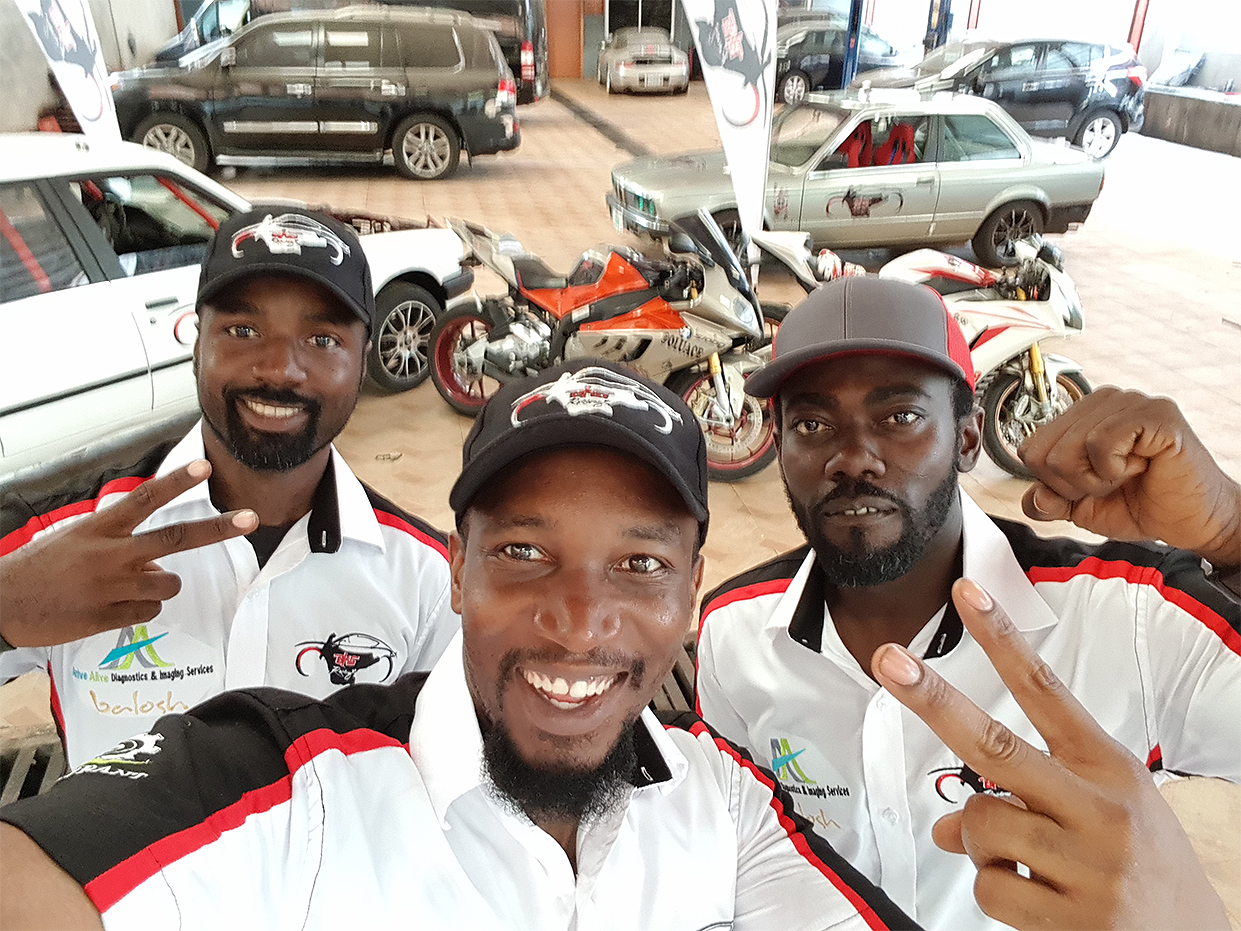 Photo L-R Babataunde Ladipo, Gbenga Egunjobi and Seun Olawore
(VC) Thank you for taking time. Before we conclude our conversation, what can the communities expect of the biking industry in your country and are you going to champion a pivotal role through its partnerships?
(Gbenga) Biking is front and centre and a fantastic way of passing any message to a very wide audience. So far, bike clubs, bike race teams and racers have championed several initiatives that now have a life of their own. The motorcycle club I belong to have been involved in a few charitable events to raise funds and items for the less fortunate. We recently assisted a young girl who went through a procedure for a hole in her heart. There is the Female Bikers Initiative (FBI), a group of female riders that came together and championed the provision of free breast cancer and cervical screening to thousands of women last year – a significant undertaking in a country where many lack access to proper healthcare. And many others involved in orphanage upgrades, scholarship for less fortunate and many more.
The Biking community in Nigeria is growing rapidly, which drives the need for us in the country to improve on our knowledge and awareness of this industry, in terms of safety, research and development, technical prowess, investment, employment opportunities, and also tourism opportunities. Improvement in these areas will help develop the industry, which will in turn boosts the economy of the country by stimulating consumer spending and creating new opportunities in the secondary and tertiary sectors of the economy.