Interview by Visual Collaborative
July 2019 5 min read
Melissa Treviño Berendzen is Program and Project Management Associate Manager at Accenture Interactive. She has done work in both the public and commercial sectors. As a feature in our "Vivencias" interview series Melissa talks to us about her career, forthcoming work and the charities she and her family supports.
(VC) Outside all your accomplishments and an impressive career in Corporate. Who is Melissa Treviño Berendzen?
(Melissa) I'm a proud mother, wife, Christian, Latina who is ambitiously pursuing goals that extend beyond my day to day career. I have a passion for helping others, especially those in need. My husband and I support Corazon de Vida (CDV), a non-profit based out of Irvine, California, that supports over 10 orphanages in Baja California. In the past 25 years, they have provided over $15M in aid. We began as volunteers, visiting the various orphanages every few months for over 8 years during our stint in Los Angeles. To this date, our children on their own, have opted for raising funds to benefit CDV in lieu of gifts. Locally, we also volunteer with local organizations providing food for those in need. We strive to instill in our children, the importance in assisting those in our community. In addition to charity work, I have an entrepreneurial spirit and have multiple business ideas I am looking to develop. I am also working on a children's book series that educates children about indigenous cultures all over the world as I found a need for it when researching for similar topics for my own children.
When I eventually left government work, I dove into the entertainment industry and worked my way from a business analyst to a project manager
(VC) You have done loads of project management work in mass media, working with Fortune or stock exchange listed companies and have grown impressively from there. Was this a natural career progression or all part of a plan?
(Melissa) This was a natural career progression. I initially wanted to make an impact on the environment through a career as an Environmental Engineer. However, during my courses at the University of Notre Dame, I realized that the engineering field didn't interest me as much as my programming and business courses. I shifted my focus to Management Information Systems with a minor in Management and International Business. During my junior year, I was introduced to a recruiter from the Central Intelligence Agency. My Dean worked with me in creating a plan to allow me to take a semester off to work for the C.I.A. and stay on course to graduate with my class. Working at the C.I.A. was the best decision I could have made as it opened multiple doors for me. I networked while I was there and served on a committee that focused on diversity and another in recruitment from recent grads. I continued to work for them through contractors such as Lockheed Martin and Keane Federal Systems utilizing my skills as a Software Engineer. The security clearance was a hot commodity and I quickly realized the opportunities that were available to me from having it. I then accepted an offer from Northrop Grumman and worked on the Space Tracking and Surveillance System project. These satellites conduct birth-to-death tracking of ballistic missiles and other cold objects in space. All cool projects right? With each new job opportunity, the role started to encompass project management. When I eventually left government work, I dove into the entertainment industry and worked my way from a business analyst to a project manager. Since then I've stayed within my project management field as it does vary from employer to employer and naturally I'm a project manager at heart, enjoy it and look forward to expanding the role based on the client engagements that fill my roster.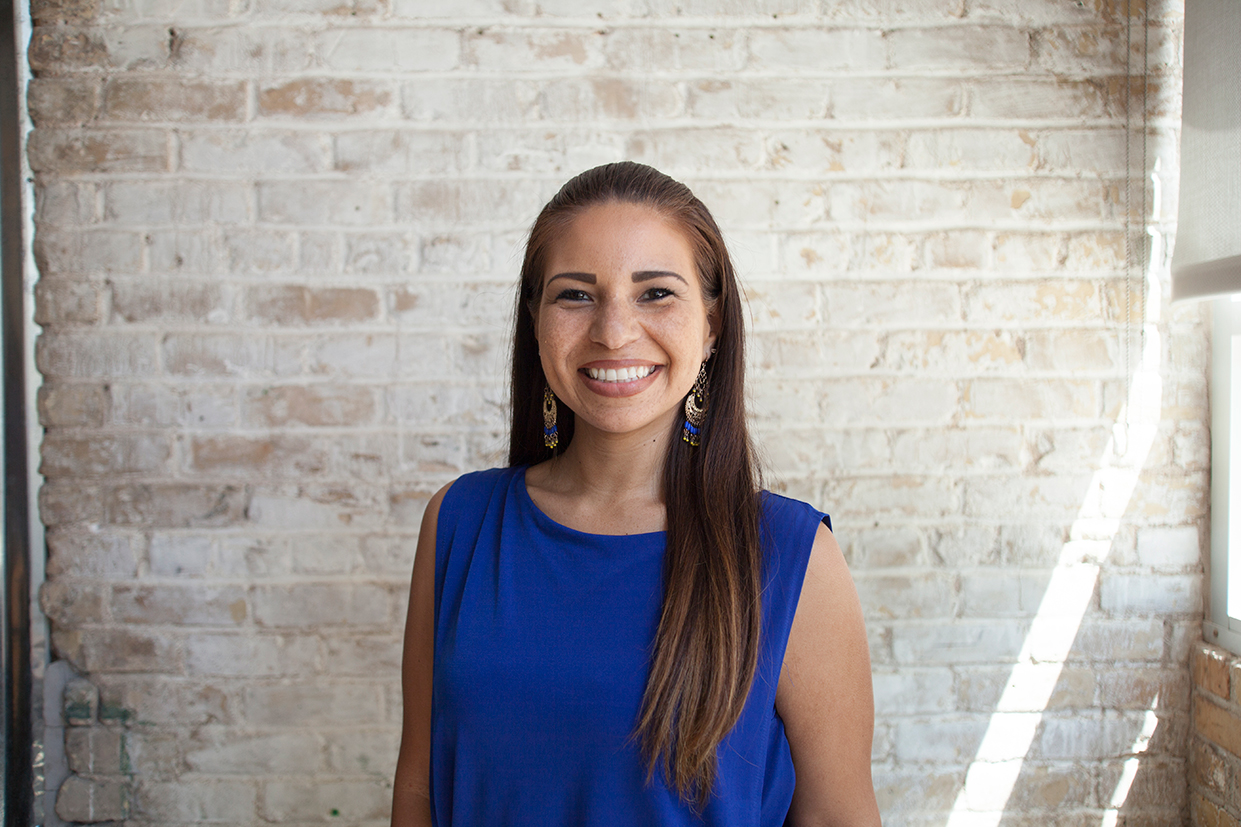 Photo courtesy of Melissa Treviño-Berendzen
(VC) You are an associate program and project manager at Accenture Interactive a firm with an international presence. Do you manage any region or statewide creative projects or you have assumed a more different role compared to your previous jobs?
(Melissa) Yes! Unfortunately due to contracts I cannot disclose our client names but I continue to work with world wide brands in various industries. Our company offers multiple products ranging from data driven consulting, data driven experience design, data driven optimization, and market optimization, to name a few.
(VC) Outside the political scene in the Western hemisphere especially in the United States, there are several movements making room for women entrepreneurs and progressive woman rights all over. Do you personally feel the impact of these movements or you are focused on something much more?
(Melissa) I do and am grateful for the women that are paving the way and providing these opportunities for the rest of us. It's on us to pay it forward to continue the movement.
(VC) Does your latina heritage play a significant part in your business decisions or would you consider yourself more of an mexican-American with a western outlook?
(Melissa) I identify myself as Mexican American with a western outlook given my upbringing in Texas, although I do feel it plays a part into all of my decisions whether business or personal.
(VC) At this stage of your professional milestones and accomplishments, If you could collaborate with any brand or public figure in business who would it be and why?
(Melissa) I am a fan of Robert F. Smith's philanthropy. If people didn't know him already, they may have heard of him most recently after his donation to the Class of 2019 Morehouse College graduates to forgive their student debt. However, he's been silently giving millions of dollars for years. A few years ago I worked on a fundraising event for the National Museum of African American History and Culture and noticed he gave $20 million dollars. I recently saw his name at our local children's museum as a donor. Who knows all of the organizations he's given to and he does it genuinely. I would love to work with him on an effort to help the orphanages we support through CDV.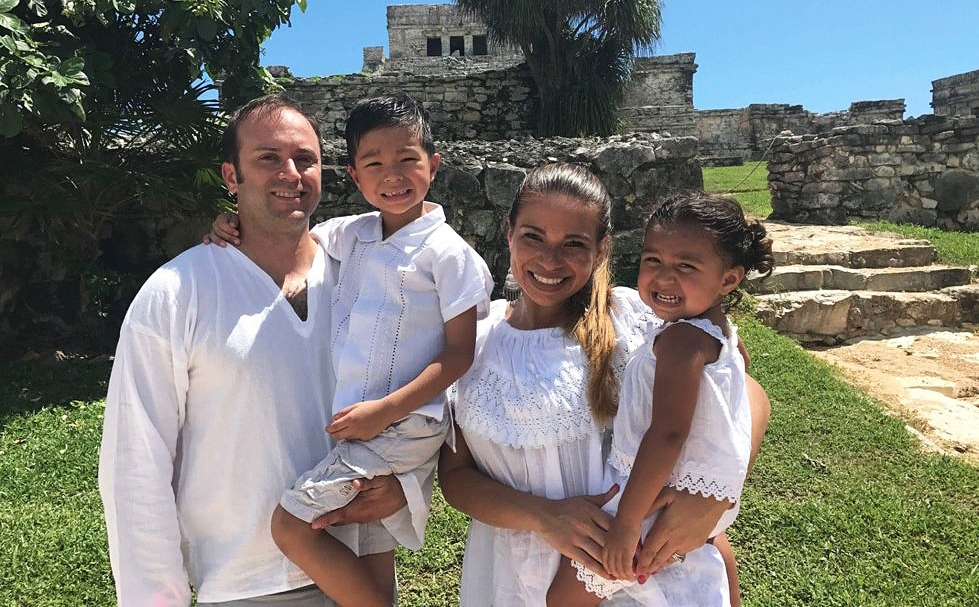 Melissa with family Courtesty Melissa Treviño-Berendzen
(VC) What kind of enterprise or personal work can the world expect from Melissa Treviño Berendzen within the next 24 months?
(Melissa) A children's book about indigenous cultures beginning with the Mayans, development of leadership opportunities for underprivileged students in my community, and entering the health and wellness food space by helping my 8 year old son launch his gluten free, nut free, vegan protein bites.