Interview by Visual Collaborative
July 2019 7 min read
Kristy Jones Cooper is a multi-Emmy award winning producer, writer, project manager, media and lifestyle marketing expert based in Southern California. Following a seasoned career in mass media She co-founded Team Cooper Entertainment, a boutique production company specializing in "lifestyle" marketing, television show production, and experiential events. As a feature in our "Vivencias" interview series, Kristy discusses her growth in media, her experiences, influences and media proprietorship.
(VC) Outside all your accomplishments with an impressive career in media. Who is Kristy Cooper?
(Kristy) All my associates would say I'm a "Boss Lady," but I just like to get things done. I like doing my best and to bring out the best in everyone I work with.
(VC) As a professional connected to pivotal networks in your industry, are you a connoisseur of fashion and a style influencer, Is there some truth to this?
(Kristy) Well, I consider myself a retired fashion blogger. Ha! So, there's definitely some truth to "connoisseur of fashion." However, my recent energy has been devoted to the style of my show hosts. I take great pride in making sure they have the right makeup, stylist and hair teams to create the appropriate look for each episode. Oh – and I style my four-year-old. I have to laugh at this. People have been asking me to start a kid fashion IG for him. But I digress, my most recent style project has been thefancymom.com where mothers can share "mom to mom" advice and I offer small ever-changing curated fashionable finds.
It really comes down to the right team, because none of this can be achieved without a collaborative support network.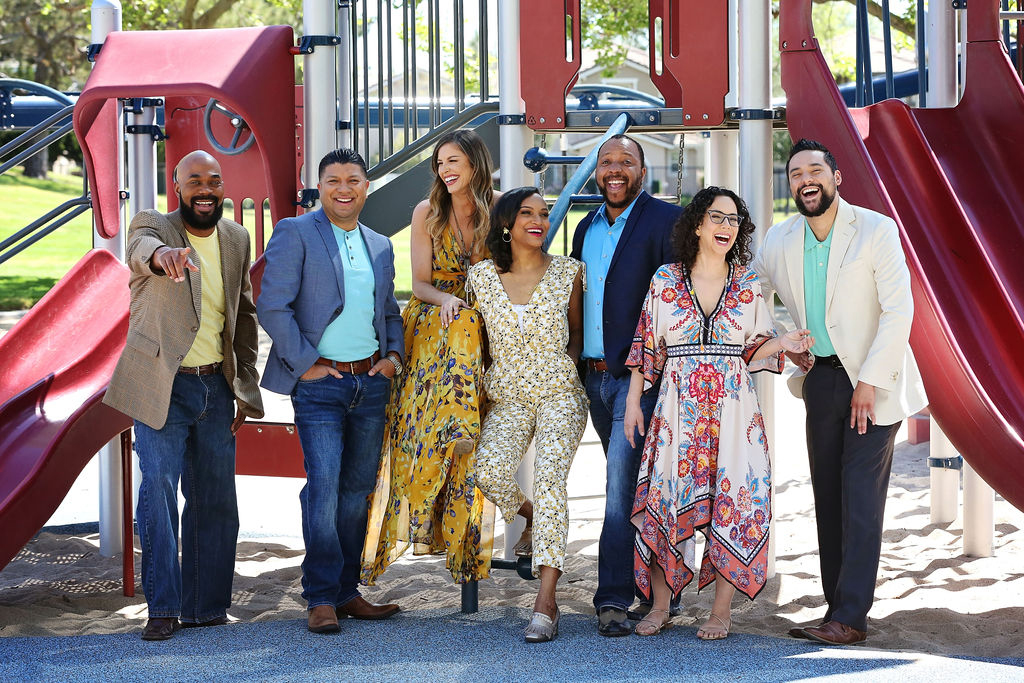 Photo courtesy of Team Cooper Entertainment
(VC) Congratulations on the multiple Emmy Awards. Getting one is quite a feat for some people or teams. You and another feature from our first volume, Bobby Yan share that Emmy celebrated class.
(Kristy) Thanks so much! This story makes me chuckle. Someone asked my husband Ralph, "Is this your first Emmy?" He said, "Yes, contrary to how Kristy makes it appear – getting these are not easy." I have been blessed to be awarded six Emmy awards starting with my time at CNN for September 11th coverage to an Emmy for SportsCenter on ESPN to my work last year for PBS. One of the biggest philosophies that I push at Team Cooper Entertainment is that it takes a village. It really comes down to the right team, because none of this can be achieved without a collaborative support network. I've been fortunate to lead not only creative, but the kind of people with a likeminded vision.
(VC) You have done loads of public sector work, working with the U.S. Department of Defense's Radio, Television and Production Office. Was this a natural career progression or all part of a plan?
(Kristy) The funny part is that absolutely none of my career, except for my early work at CNN, had been planned. I was a pre-med and dietetics major (at Virginia Tech) who was advised by a CNN health reporter to participate in an internship after graduation. During my time at the CNN Center several producers suggested I apply to a competitive entry level video journalist program where I could hone my new communications skills. Of course, this was a total detour from anything I ever imagined, since my career ambition had always been in the medical field.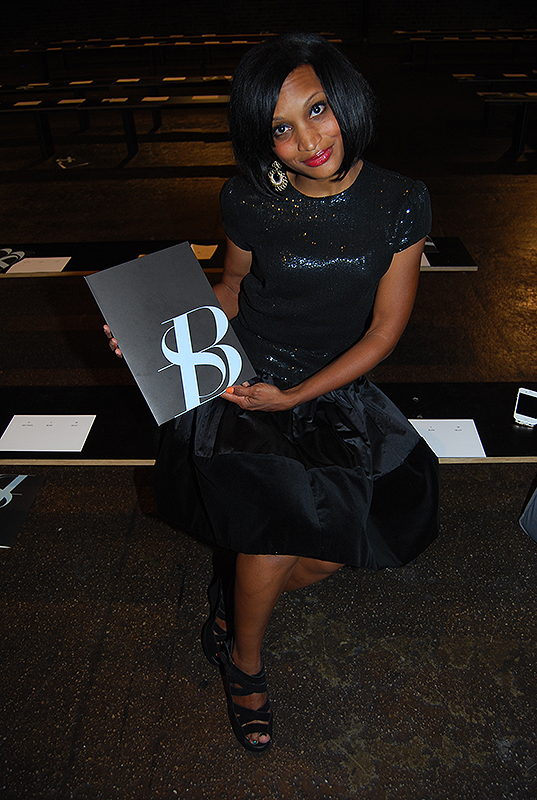 Kristy at NYFW courtesy of Team Cooper Entertainment
I was hired by CNN (domestic news), later ESPN, back to CNN as a special projects producer, next the Department of Defense working alongside the U.S. military, followed by a strategic communications firm that focused mainly on nonprofits, a PBS station with heavy community involvement and now my own boutique production company. I grew immensely from my experiences at each of these vastly different companies. I think that has helped me to adapt and be comfortable in any media environment. It was challenging at times, but they each became layers upon which the next phase of my career could stand upon.
(VC) You have spent quite sometime in the melting pot of New York City at numerous fashion weeks, the fashion culture must have some effect on your own wardrobe. Is this still the case since you started Team Cooper Entertainment?
(Kristy) I feel honored to say that I attended New York Fashion Week for well over a decade straight. It literally was my favorite bi-annual vacation, work project and friend reunion all rolled into one. I was excited to observe extensive runway show production and the fabulous fashions worn by fellow show attendees. I was always mentally taking notes.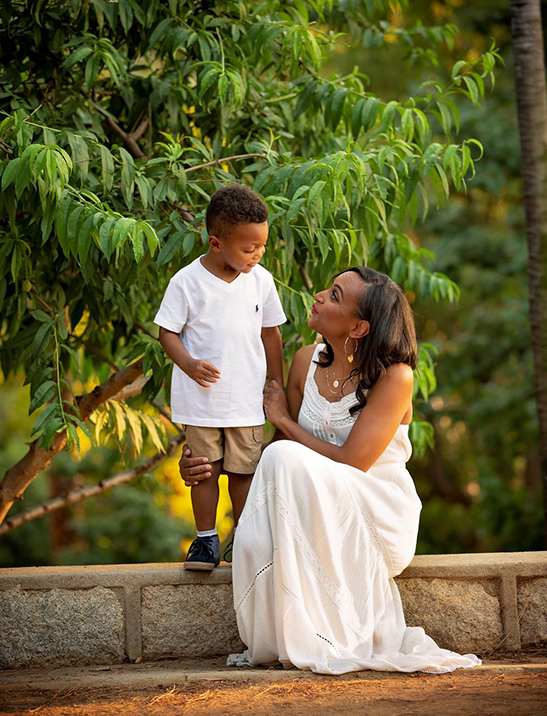 Kristy and Son courtesy of Team Cooper Entertainment
I watched in amazement how a photographer could make the not-so-simple black tee, black leather motorcycle jacket and denim uniform look utterly cool OR how a style blogger could pair unimaginably beautiful frocks with the perfect accessories. Me: "WHERE did you get that?" Person: "I made it."
I'd been attending fashion weeks before the heavy advent of blogging. One of my first runway shows was Diane von Furstenberg's empowering 2006 ready to wear Working Girl collection, which alternated between sexy forties suits and pioneering frontier women wares. The runway was electric as the models strutted down to Dolly Parton's "9 to 5" and Irene Cara's "What a Feeling." My cousin, a makeup artist, had gotten me in backstage where he did the faces of the likes of Alek Wek. In short – I was blown away AND hooked. As a journalist I began attending (and covering) the shows on my own making relationships with fashion publicists, designers and the like. I became inspired by both traditional fashion editors and new bloggers. In fact, I would start a blog based on my experiences at NYFW and in Washington, D.C. where I lived at that time called kristysamone.com

So, my long answer is yes, my wardrobe has been altered by the fashion culture in a major way. NYFW helped me to develop an aesthetic about what looks good and why it looks good. I have carried this with me even in television production, marketing events and styling. With NYFW, you cannot unsee what has been seen.
I believe my success is the result of the numerous pioneering women before me and I pray that I can have the same impact on later generations.
(VC) Outside the political scene in the Western hemisphere especially in the United States, there are several movements making room for women entrepreneurs and progressive woman rights all over. Do you personally feel the impact of these movements or you are focused on something much more?
(Kristy) As a female executive in media, whether I'm political or not, my life has still been part of the struggle. I believe my success is the result of the numerous pioneering women before me and I pray that I can have the same impact on later generations. During my twenties I worked for a woman who owned a boutique entertainment production house in Atlanta. I remember thinking I wanted to head a similar outfit one day. The only reason that I had that idea is because of seeing what she achieved.
(VC) Among the four changing seasons, what is your favorite style garment of choice to wear?

(Kristy) Ooh this is a tough one because literally I'm in love with every season. I moved to Southern California nearly three years ago, so my daily wardrobe consists of mainly spring and summer looks. My favorite style garment would most likely be a whimsical ladylike dress. I'm a fan of lace, embroidery, sequins, peter pan collars, tulle and statement accessories. They all can do no wrong in my book.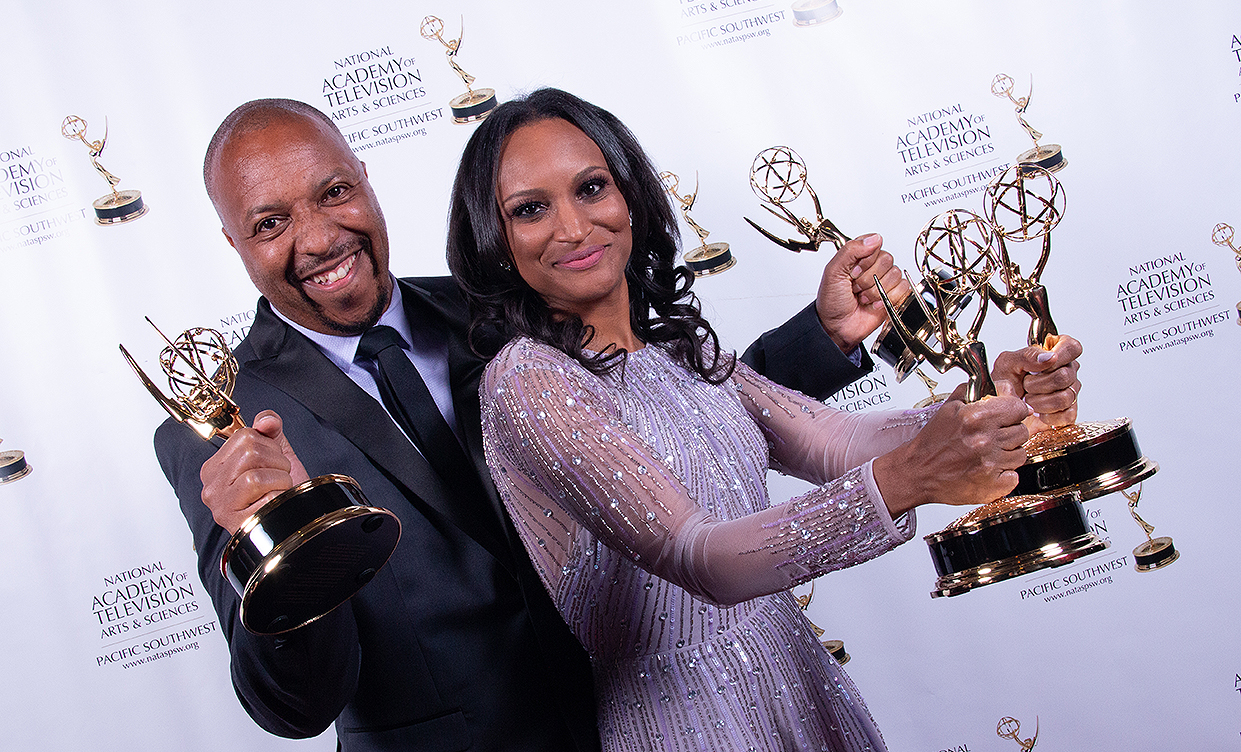 L-R; Ralph Cooper, Kristy Jones-Cooper, courtesy of Team Cooper Entertainment
(VC) What can the world expect from Kristy Cooper within the next 5 years?
(Kristy) More TV production. More experiential events. More retail – especially an aspirational style and spa collection.