Interview by Chief Editor
May 2020 5 min read
Kevin Chaja currently contracts as a Senior Prototype Engineer at The Walt Disney Company. His independently developed augmented reality app Moment AR, received critical reception before it was acquired, then eventually becoming the sole owner of the value-add solution. As one of the features in our Oxygen interview series, Chaja discusses his work's creative process today, partnerships, and views on the world pandemic.
(VC) Your augmented reality solution "Moment AR" is quite impressive. Over time, has the response your team anticipated come to fruition?
(Kevin) I don't think I could have ever imagined the success I have received from "Moment AR." The team was pretty much just my wife and I. My wife is a school psychologist and I literally built the app to help her and her fellow workers with an assessment. What I did I didn't anticipate was that it would be acquired by another company literally months after launch. Although not all business transitions work out swimmingly, I acquired everything back a year later. Now with all the patent-pending research, it has opened new avenues of studies and business ventures. To sum it up, it exceeded anticipated expectations.
(VC) You presently work as a Senior Prototype Engineer for Walt Disney, For the audience in the creative sector who does not know what that is means, how can you explain it?
(Kevin) This answer is funny as it derives from my "exceeded anticipation" answer from above. Companies like Disney reach out to me for the exact experience I got from "Moment AR," where I created an app/company from an idea and saw it all the way through to acquisition. This skillset took the fundamentals of project/product management, engineering, software development, prototyping, etc. This kind of "jack of all trades" approach along with that entrepreneur experience opened up opportunities like being a Senior Prototype Engineer for Walt Disney Studios, where I am pretty much doing the same thing, but on multiple projects.
Obviously, COVID-19 has put a big wrench in that workflow, which spawns new forms of innovation in how I can branch that app or research into a telepresence setting
(VC) Your industry like many others was inevitably affected by COVID-19, what kind of long term impacts do you see with the consumer market?
(Kevin) We are seeing the impact now and the foreseeable future. Take for instance "Moment AR" where the ideal use case for the app is with the User and the subject being next to each other in the same room. Obviously, COVID-19 has put a big wrench in that workflow, which spawns new forms of innovation in how I can branch that app or research into a telepresence setting. I am just one example of adjusting to new workflows based on the market situation, so although there is a promising outcome, more work is definitely needed.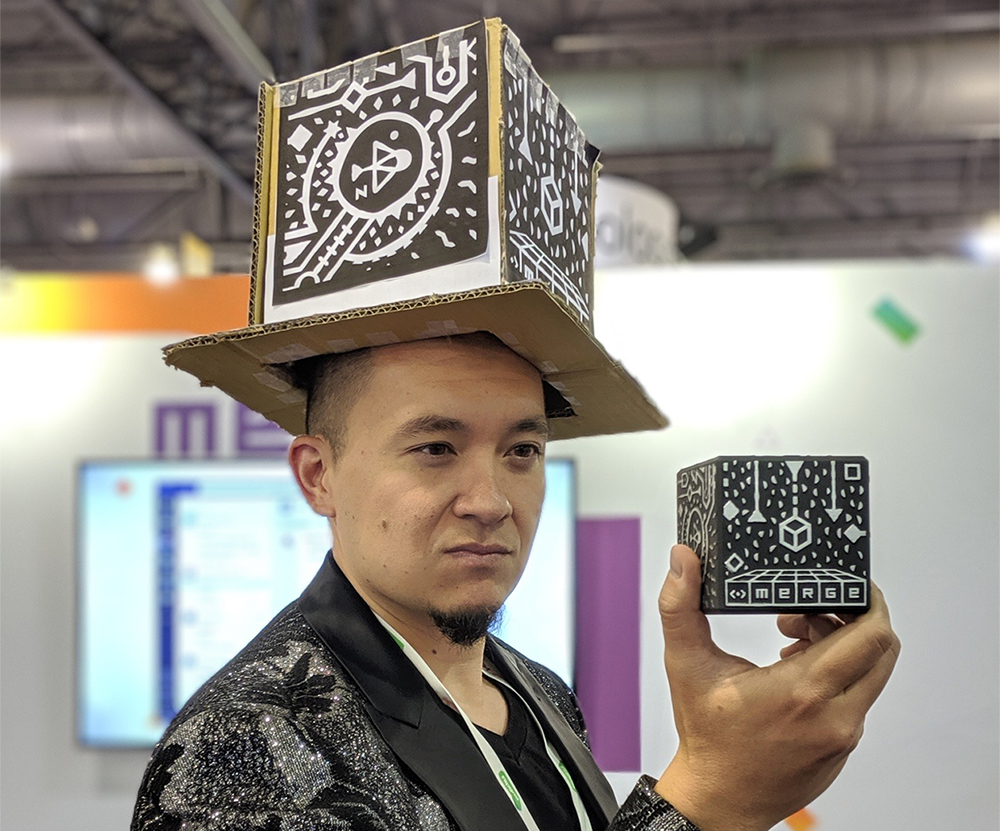 Photo of Kevin Chaja at ISTE conference show floor, showcasing Moment AR
(VC) What is your go-to approach or practice today in terms of claiming your creative power of inspiration and imagination?
(Kevin) "Talking about my ideas out loud," such an easy and complicated answer to my creative power. Some people might draw their ideas on paper or on the whiteboard, but that doesn't work for me. I talk, maybe too much, but I love the feedback I get from people and their expressions. When I feel I have gathered enough feedback, I go on a run outside. From a weird creative power aspect, I feel with my mind trying to sort out all the notes it's collected mixed with the physical exhaustion from cardio, everything comes together and sorts itself out.
(VC) In our present times and in industries such as yours, AI and Big Data are no longer buzzwords but a reality. What are your thoughts on Transhumanism?
(Kevin) Reading that question, the first thing I thought of was Ross from Friends. There is an episode where he discussed that in the "future" you might be able to download your thoughts, and if you can do that, you can possibly live forever. Mix this with movies/shows like Johnny Mnemonic, Ex Machina, and Westworld, and your mind really starts swimming around the idea of Transhumanism. I feel empathy really drives the scope of what being a human is and I'm not sure AI or Big Data is there yet, at least to what I perceive as close to being human.
(VC) Some mention different historical times as a period they admire for affluence or culture If you can time-warp to any era to collaborate with its culture, what time would it be and why?
(Kevin) So many answers, but one that creates a ton of questions for me would be the Ancient Mayans. I would probably go to before 900AD where the start of the supposed collapse of the civilization started. I would be highly interested to see why such an advanced civilization in mathematics and astronomy, took a turn for the worse. There is information out there regarding speculation on the "Lost Mayan civilization," but their history and culture leading to that point and post "collapse" I would be interested to visit.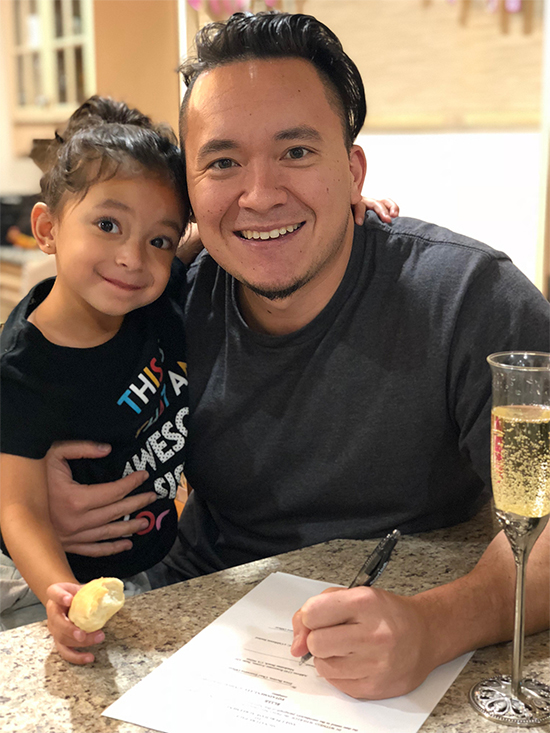 Photo of Kevin Chaja and daughter courtesy Kevin Chaja
(VC) At this stage of your collective accomplishments, If you can work alongside any public figure, brand, or enterprise. Who would it or they be and why?
(Kevin) Dwayne Johnson aka "The Rock." The dude straight up hustles, everyone loves him, and he must have one crazy chaotic life. I would love to sit with him behind the scenes and just see how he is behind the camera. On top of all that, he was my favorite wrestler growing up, so there is also the personal hero aspect of that.