Interview by Visual Collaborative
April 2020 12 min read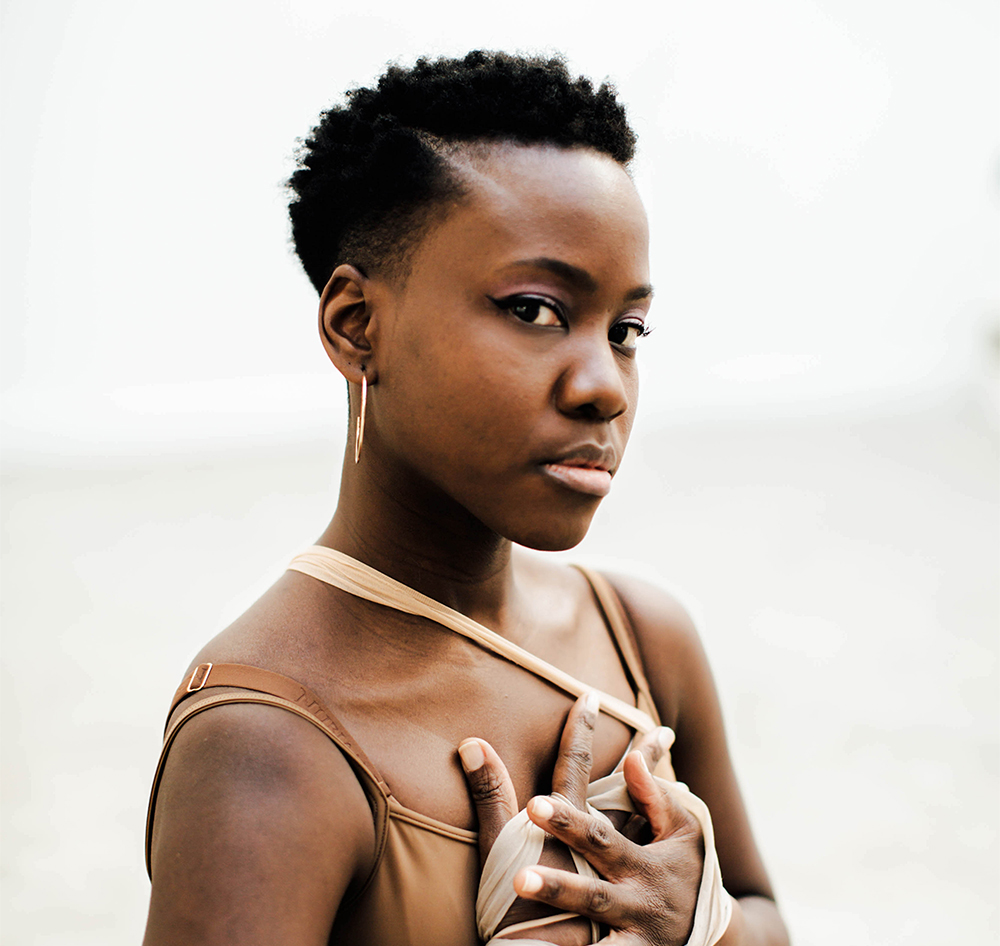 Enam Gbewonyo is a textile and performance artist based in the United Kingdom. She is also the founder of Black British Female Artist (BBFA) Collective. As a special feature in our TwentyEightyFour interview series, Enam speaks with us about her artistic origins, and what inspires the massive body of her work, which includes its material processes. She also talks about her heritage and link to the Ewe Ghanaian people.
(VC) Your work occasionally makes reference and draws comparisons with that of spider's web. Please tell our readers how this inspires your process?
(Enam) In all honesty, I was and still am obsessed with spider webs. I think they are one of the single most magical creations of the natural world there is. They look so delicate and yet have such tensile strength and then there's their functionality. Just pure genius!
Yes, they have inspired a lot of my work in the past. In fact, my whole final year BA project was centred on spider webs, fairy tale and the notion of the white wedding. My interest was in how they were positioned as an element of darkness or evil in fairy tales, how anything bad in those stories was always equated with black and how little girls are groomed to believe in Prince Charming, the fairy tale wedding and a happily ever after. From the perspective of a little black girl reading these tales as I did I was interested in the effects this has on the psyche of the black child. I've also done a few sculptural pieces using wire and crystal beads, which were placed in natural environments to evoke the feel of spider webs.
And so imagine the feeling of serendipity when I learnt a few years ago of the myth in my tribe that Ewes were taught how to weave by spiders! Thinking of my journey to become a textile artist and then learning this a few years ago it was as if the ancestors were anointing my purpose.
I would say that I'm heavily inspired by the natural world in general. I believe there is much we as humans can learn much from the intuitive way nature works in alignment with itself. Something we have lost the ability to do and in my opinion, this is what lies at the heart of a lot of the issues we face as a global society.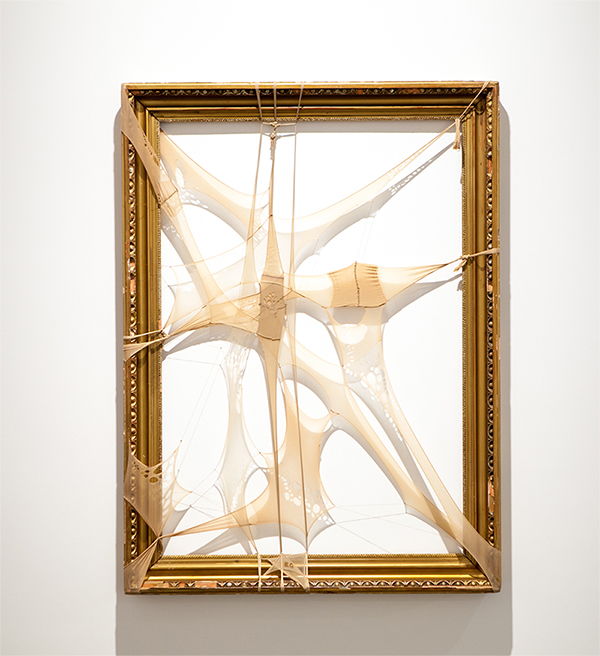 Enam Gbewonyo, Bigger than the picture they framed us to see, 2019 © Umut Gunduz
(VC) Tell us about your upbringing and how it relates to your creative perspectives and daily life as an artist in the United Kingdom?
(Enam) I grew up both in the UK and Ghana – my family moved to Ghana when I was 7 and I moved back to the UK when I was 11. I struggled with my dual heritage for the longest time and it's actually through my artistic practice that I've been able to work through some of those issues. My practice has also provided space for me to learn more about my heritage and like the myth I mentioned earlier I've realised there is so much that connects me. Ewe people are known for being weavers and storytellers and so it seems this lay inherently within me whether I knew it or not. I also recently realised that my enchantment with the art of craft stems for a trip my mother took me on as a little girl, to a small weaving community somewhere in Eweland, Ghana. So the fact that I'm a textile and performance artist is more like destiny, it took me a while to realize the truth of who I am. Since I did, it's been an exciting (if somewhat daunting) journey towards becoming more and more sure in my sense of self. It's truly empowering.
It's also given me the opportunity to learn more about my family history particularly relating to my mother and matrilineal ancestry. Again this has helped me understand more about myself and deepened the relationship I have with my mother.
(VC) In performance, you utilize hosiery and wardrobes for a delivery method or a vehicle to convey a history that's not mainstream. Can you tell us more about this?

(Enam) I believe you're referring to my Christie's performance last year, 'Nude Me/ Under the Skin: The Awakening of Black Women's Visibility one Pantyhose at a time, Part II' where through ballet-inspired movement I created a live artwork using used black tights and a vintage shop mirror frame.
That performance is actually part of my wider body of work 'Nude Me/ Under the Skin' which investigates hosiery. My interest is in where the history of hosiery (from its first iterations as stockings to present) intersects with the black woman. It uncovers intersections across Empire and Slavery, 1920s-60s advertising, the Black National Health Service (NHS) nurses in the UK and the ballet industry to name a few. It illustrates how even in this simple garment societal constructs transform it to become another mode of marginalisation, ostracisation, and female castration for the black woman. Further, it uncovers the effects of such a history on the black woman – the generational trauma manifesting in our bodies. For me, the performances became a vehicle to address this trauma and our collective history as a means to bring black women and wider society to a place of healing.
With the physical artworks, I employ the tights directly as the main material. Their capabilities are manipulated and expanded to create new, peculiar objects. I repurpose them into single forms, yarn and canvas, then experiment further by knitting, plaiting, embroidering, burning, trapping, printing (etching) and painting with and on them. There are no limits to what you can do with tights, which is why I love working with it as a material. As my work progresses I am continuing to experiment and stretch the parameters of this material. I am also working more and more with used tights and recycled/ used material in general as I also explore the issues around sustainability that the manufacture and consumption of hosiery produces.
Now confident and assured in my own shade of nude, I boldly break through the mirror, emerging to rightly take up my space. It is an emotional farewell to an object that helped black women survive, its worn used material bears the weight of our scars and pain
Going back to the Christie's performance, this served as an enactment of a rite of passing. As the title of the artwork I created 'In the Wake of Barely Black' suggests, it was a laying to rest of the discrimination, subjugation, and invisibility black women face on a daily basis. No longer needing to find resourceful ways of coping such as wearing black tights where no nudes once existed, the tights are laid to rest on the mirror frame. The mirror frame represents the place where the black woman feels most constricted, for the reflection much like the fairy tale never lied. No matter how often we look in the mirror our skin remains our shades of brown and hair our varied forms of Afro. We cannot morph into what the West deems acceptable, 'the feminine ideal' – white skin, blond hair, blue eyes, the ideal in fact that surrounds me as a backdrop in the many portraits within the gallery space, framing me as I perform. By winding the tights around the mirror frame I unbind black women from the many forces that once constricted us into a form not our own. Now confident and assured in my own shade of nude, I boldly break through the mirror, emerging to rightly take up my space. It is an emotional farewell to an object that helped black women survive, its worn used material bears the weight of our scars and pain. It was our shield and now we can lay that self to rest.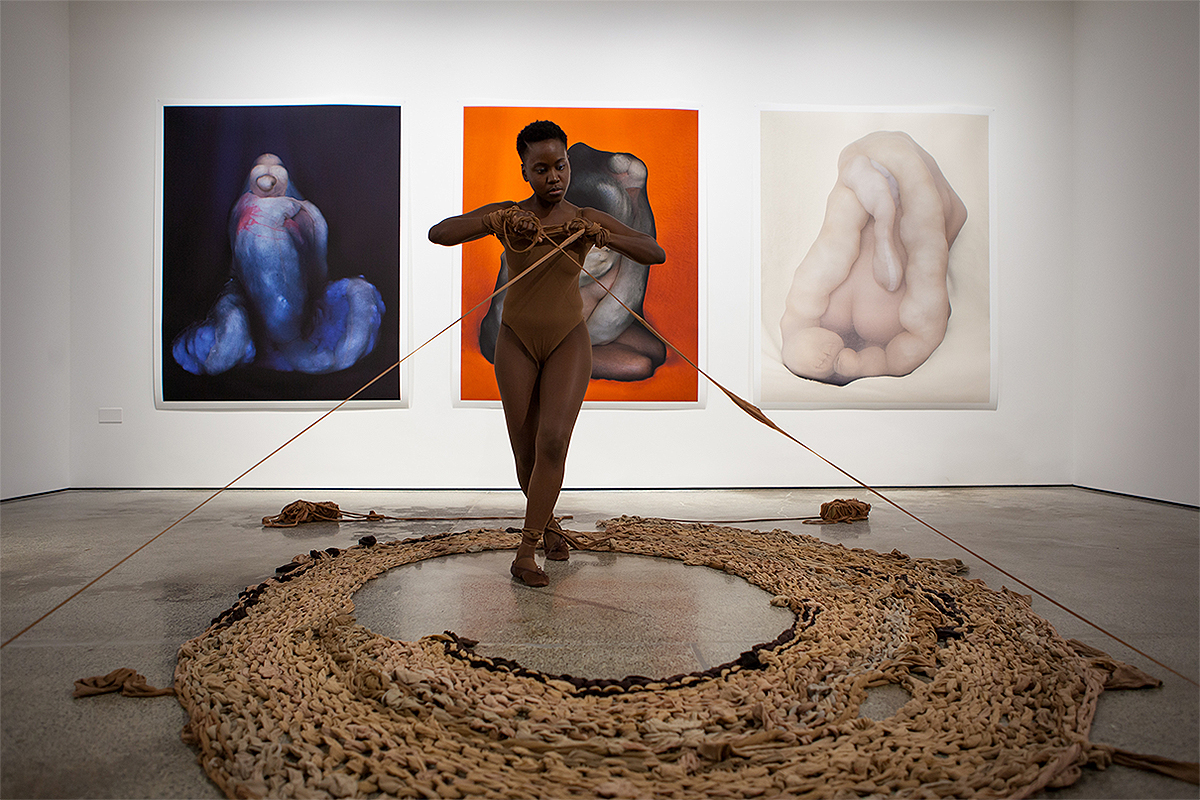 Enam Gbewonyo in performance © Umut Gunduz
(VC) What makes Enam create the work she does. Are you in any form spiritual or psychological driven like many artists for muses?
(Enam) I guess it's a combination of many things but at the centre is my own life experience and yes spirituality also plays a key role in my work. For one, I believe the craft of the handmade is a very spiritual process. In itself, it is a meditative act. Further, the kinetic energy formed by the maker in creating something stays with it and becomes part of that thing. I believe it is that which speaks to the audience and those that truly connect to it experience a transference of this energy to them. For instance, another reason why I use used tights in my work, especially those of black women is because in that way it tells their story. These are garments that lay on their skin as they experienced daily life and absorbed the vibrations and energy of their emotions. Therefore by using these tights in my work their stories live on and are now given a voice.
Find ways to stay passionate about your practice and the arts industry – search for art or critical texts that can keep you inspired, be resilient, find your tribe if you can – having that support system is invaluable and really work on your artistic voice
(VC) What can you candidly tell young aspiring entrepreneurs about success and risk in the arts?
(Enam) Well, that really depends on what their definition of success looks likes and that differs for every individual. What I will say is to remember to enjoy the journey, we're often so focused on achieving that success that we don't take time to celebrate the small or big wins and even the failures that get you there. Every single step or misstep in the journey prepares you for the success that lies ahead. I'd also say be flexible in what that vision is and be open to change.
In terms of risk, choosing to be an artist in itself is a risk, especially if you are black and a woman. There is no security in terms of income and it often takes time and dedication before that career shift occurs. The barriers of race, gender, age, class, and sexuality that dominate the art world make the road that much more difficult for those of us who tick any or all of those boxes. That being said don't get disillusioned. Find ways to stay passionate about your practice and the arts industry – search for art or critical texts that can keep you inspired, be resilient, find your tribe if you can – having that support system is invaluable and really work on your artistic voice. But if you find that you need to step back from this space to centre on your own peace of mind and well being, do it and don't beat yourself up about it. As much as art can be a healing activity like anything sometimes you need a break from it to be able to find your passion for it once more.
(VC) Some mention different historical times as a period they admire for artistic affluence or culture If you can time-warp to any era to collaborate with its culture, what time would it be and why?
(Enam) Now that's a difficult question. I'm going to have to select two, the first being the Harlem Renaissance era. I always think just how inspiring it would have been to be an artist creating in that time and space. Counting the jazz greats and most exciting writers and thinkers, like Langston Hughes as your contemporaries.
The second would be pre-colonial Eweland, predictable given my current deep dive into family history. There's so much about my heritage and my people that are unknown and without our oral traditions have sadly been lost. Much of what has been documented was by the hand of the 'colonial master' and I can't help but think so much would have been lost in translation not to mention colored in their racial bias.
(VC) At this stage of your career considering your commitments, if you could collaborate with a specific enterprise, curator or individual, who would it be and why?
(Enam) Another difficult question as there are so many I would absolutely love to work with. My first pick is the Nubuke Foundation in Accra, Ghana. While I've already had the pleasure of working with them, I would love to again especially in their beautiful new building. I think it would be interesting to deliver a performance piece in that space. I also really admire the ethos and vision behind Nubuke Foundation, they have such a passion for supporting the arts infrastructure in Ghana and I'm excited to see the continued development of the space as a real lynchpin for art in Ghana. To be able to contribute to this in any way would be an honor.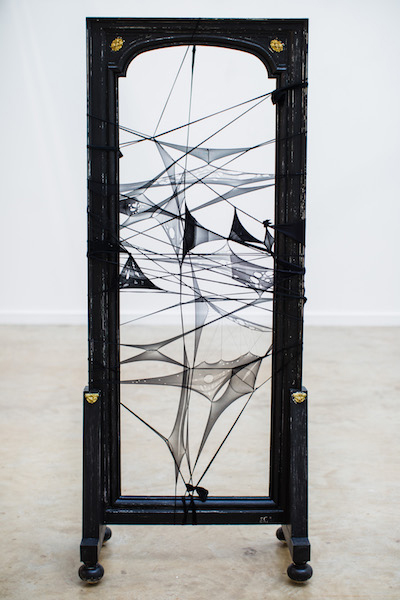 Enam Gbewonyo, In the Wake of Barely
In terms of curators, there's a long list of people I'd like to work with but I'll start close to home with the fantastic Adelaide Bannerman. Adelaide is one of those people whose work comes from a place of pure authenticity. Her work is a reflection of who she is as a person. I always come away from conversations with her having found a new depth to my work that I didn't see myself. She also has a way of seeing the potential in you as an artist that you have yet to realize. I'm excited just at the thought of what we could create together!