Interview by Visual Collaborative
July 2020 7 min read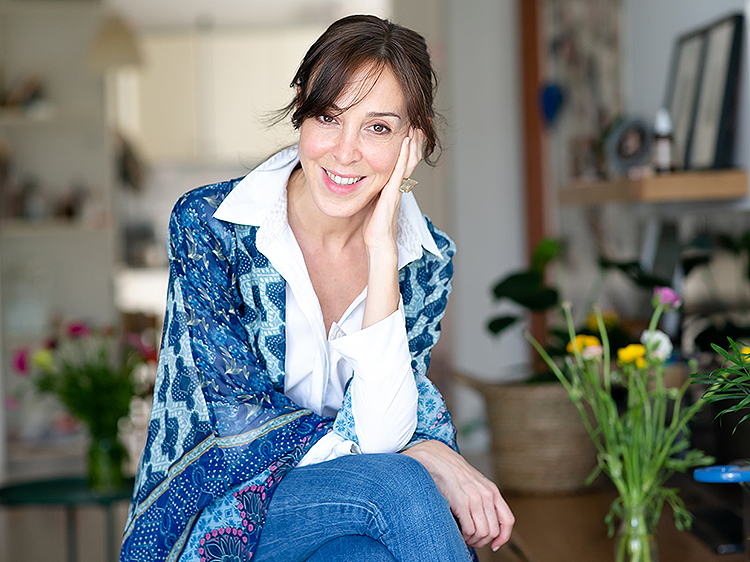 Photo courtesy Dana Regev
Dana Regev is an entrepreneur with an extensive business experience who develops innovative approaches such as the Rebirthing technique to treating the wellbeing of many individuals. She has also worked in the tourism industry, establishing a real estate portfolio in Israel, the US, and Poland. Today she coaches executives, entrepreneurs, and managers, in Israel and abroad by focusing on their paradigm. As a feature in our Amplified series, Dana talks to us about her work, Jewish heritage, among other collaborative subjects.
(VC) In the world of entrepreneurship, opportunities and challenges create a world of many paths, being a futurist, how do you clarify your collaborations in a capitalist world?
(Dana) The new era is characterized mainly by its constant change. Thus, the only permanent anchor is, in my perception, me. I believe that being connected to my inner passion and understanding my "Why," my unique purpose is the only path I should take. I believe that we should all follow our will, and vision and success or money will follow. I examine opportunities in their relation to my vision.
As for the capitalist world, I'm not sure that we are living in a capitalist world, Neo-Feudalism is more accurate to describe our economic game. However, I'm optimistic and believe that we are heading for a significant change, in which our economic model will have its moral ground.
(VC) You use the term Rebirthing in your work. How would you describe it to the non-intellectual audience or a consumer market hearing it for the first time?
(Dana) Rebirthing is a breathing technique, which involves inhaling and exhaling fast and with no pause. During the breathing session, one enters a new mode of consciousness, where he/she is aware of his/her subconscious patterns or thoughts. The body is in a deep meditative phase, and the person's breath feels connected to his/her inner core. As it is an experimental work rather than a rational one, it's challenging to describe it in words. People who experience Rebirthing report relief of stress and deep insights. When I first experienced the technique, I was so overwhelmed. I did not realize our body has so many answers and wisdom in it. For two years, I've learned Rebirthing, and now it's another tool in my toolbox, which helps my clients bypass their conscious thoughts.
(VC) In our present world of in-country tensions, racial divisions, and on a lighter note, equality transformation, how has your role as a catalyst in the sectors of your focus changed? 
(Dana) My agenda and belief inequality goes beyond the equality related to race, religion, and such. I believe in individuals' rights to pave their own path in life and the moral obligation of organizations to support it. This is touching the professional life, including work hours, self-branding and new occupation methods, and personal life, including child education methods and community activities. More broadly, questioning paradigms across all life domains.
My personal transformation led me to feel I am part of something bigger. It can be referred to as universal wisdom or consciousness or as our inner self. I do not define spiritualism as I do not know how to define it. However, I do feel that reality itself as it appears to us is not the only dimension.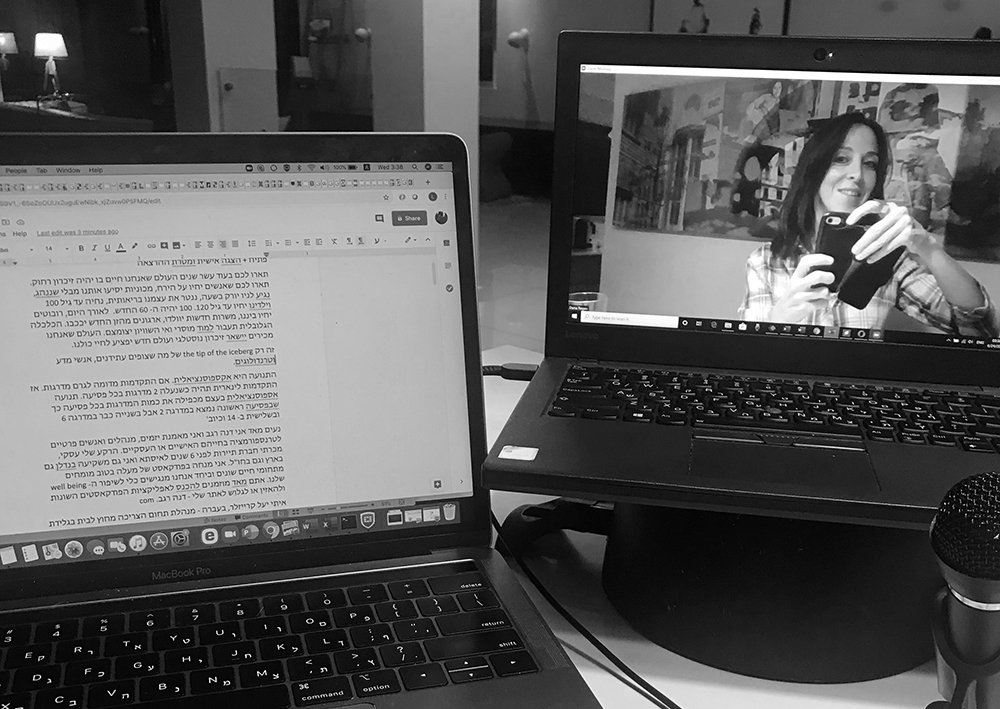 Dana Regev in a Zoom lecture
(VC) Tell our audience, what makes you create the work you do. Are you in any form spiritual or religious driven like others doing very relevant work like yours?
(Dana) Thank you for this question. I used to be in love with reality; in other words, I used to believe only what I can see and sense. My personal transformation led me to feel I am part of something bigger. It can be referred to as universal wisdom or consciousness or as our inner self. I do not define spiritualism as I do not know how to define it. However, I do feel that reality itself as it appears to us is not the only dimension. I think that being spiritual means being well connected to my will and passion and paying attention to signs I get from my body or from the external world. For example, if I initiate a project and feel stressed or anxious, I will ask myself what makes me feel so. I believe that once converging to activities aligned to my will it should feel almost effortless. When one is on his/her genuine path, he/she should not fight anything. We are in the peace business. [Dana smiles]
(VC) while you have worked in diverse markets such as the United States, Poland, and Israel, does your Jewish heritage play a significant part in approaching all your projects, or would you say you move with topics of our current times?
(Dana) My work in Poland started with operating Israelis students' delegations pursuing the Jewish heritage, and visiting the Holocaust's memorial sites. So being a Jew myself has a lot to do with this specific activity, even though I genuinely believe that the Holocaust left a universal lesson for all human beings. My real estate investments in Poland, in the USA and Israel, have nothing to do with my Jewish background. However, it's interesting to explore whether people who belong to persecuted nations are more likely to ensure their survival by spreading risks. You made me wonder.
(VC) Some mention different historical times as a period they admire for artistic affluence or culture. If you can time-warp to any era to collaborate with its culture, what time would it be?
(Dana) I enjoy living in the modern world, but the gatherer and the hunter period fascinates me, as it seems humanity was still part of nature. It seems like people did not look to gain control over resources and were satisfied with the world's abundance. Moreover, it seems their lifestyle was aligned with their physical needs and capacity. They ate natural ingredients; they slept during night time and had time to wonder and rest during the daytime. According to Prof. Noah Harari, they lived in communities, and the average life span was 70-80 years.
This era in history might seem undeveloped; however, sometimes, I wonder if it was so. Can we count our current lifestyle as advanced? Do we really enjoy well-being and comfort with our modern life?
(VC) At this stage of your professional accomplishments and milestones, If you could collaborate with any brand or public figure in business or a Creative sector, who would it be and why?
(Dana) I find organizations that deliver happiness to their employees interesting. I want to create a business model supporting businesses, firms, and organizations that are focused not only on revenues and profit but also on making the world better. Such organizations usually give up hierarchical structure in favor of flattish structures nurturing their wisdom and strengths. I want to help Israelis start-ups adopting different approaches when it comes to work-life balance.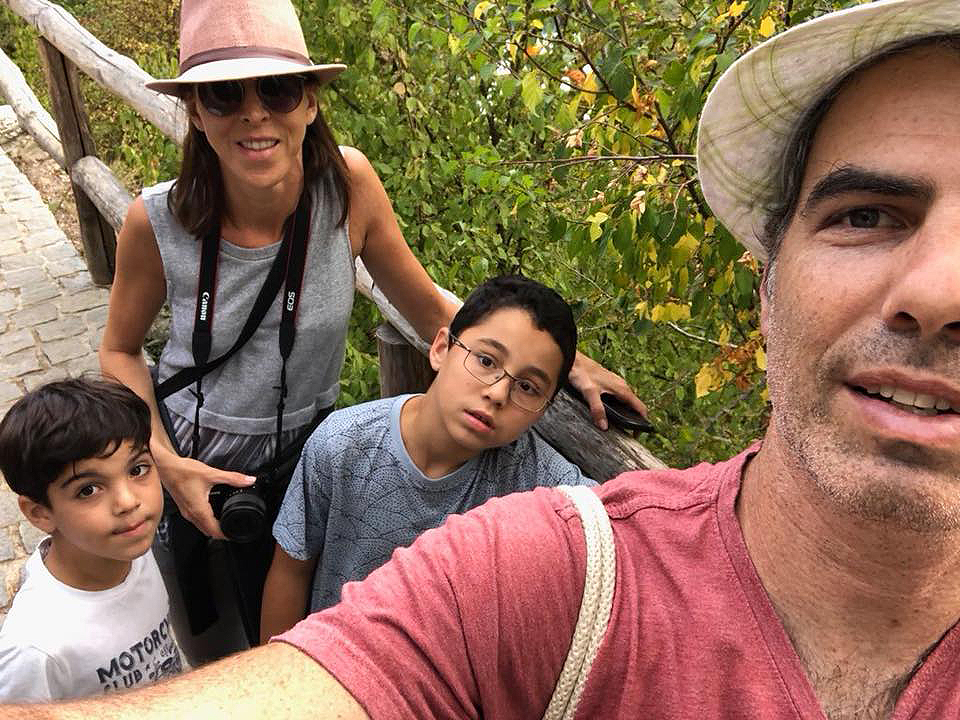 When it comes to public figures, I admire Brene Brown's work. I'm curious to learn more about Jacinda Ardern, New Zealand's Prime Minister, who displays an inspiring example of a mindful, authentic, responsible leadership. I believe this new era will bring feminine qualities to the front.
(VC) thanks for your time Dana, is there anything else about yourself many do not you which you would like to share?
(Dana) Thank you for the opportunity to share my thoughts and ideas. I believe that we are all entrepreneurs by nature and that we're all born curious, and we are all achievers. In my Hebrew Podcast and in my Facebook community, I spread these ideas and tools supporting that. On top of this, I coach people to find their Why's, connect to their genuine will and vision, and help them execute their original ideas and make them happen. I believe that the new era will lead us all to reconnect to our inner selves. American Hebrew speaking people are most invited to a new course I'm about to give, in cooperation with the IAC. I encourage each and everyone to take this COVID 19 break as an opportunity for a transformation.