Interview by Chief Editor
Originally published in Vivencias July 2019 17 min read
Dakore Egbuson-Akande is an accomplished and highly regarded multiple award-winning Film/Stage Actor, TV personality, Vocalist, Dancer, and Humanitarian. She has appeared in many Nollywood films such as Isoken (2017) and Chief Daddy (2018). As one of the main features in ourTwentyEightyFour interview series, we republish our discussion with Akande, she talks to us about her roots, career growth, and evolution beyond Nollywood.
(VC) What is the earliest acting memory you have?
(Dakore) My earliest acting memory would be on stage when I was in primary school, I played the recorder to sheet music and represented my school at recitals. So I think definitely my first memories of acting would be during my childhood, from the age of five. I was doing a lot of music and music theatre and plays. I was a very artistic child. I loved to play dress-up and listen to music. Music, Film and Television were and still are my passions. It definitely was a welcome development at school and I was very prominent in the arts side of things. I thrived at academics especially English but I really shone in the arts, I even went as far as winning the prize for best in music in primary five. Performing was definitely a big part of my childhood. I went to Corona Primary school. One of the oldest private primary schools in Nigeria.
(VC) Congratulations on being a recipient on numerous awards. You are an ambassador with Amnesty International and OxfamAmerica, can you tell us how that came about and what it means for others who are socially aware in your country?

(Dakore) Thank you so much. Its been quite an honor to have been a recipient of many of the top awards in Nigeria. For instance, I'm currently Best Actress in Africa 2018. I won an AMAA (Africa Movie Academy Awards) for one of my most recent films, Isoken and I also won at the Nigerian Entertainment awards in Maryland, USA. Awards started coming earlier in my career, so I'm very blessed and I accept the validation that comes with this and I wouldn't trade it for anything. I started to question what my purpose was and so in one of my morning prayers, I put it to the Creator, I said "Lord, what's the point of this path that I'm on" and I got a confirmation that it was for the need to shine light on the issues that no one really wanted to talk about.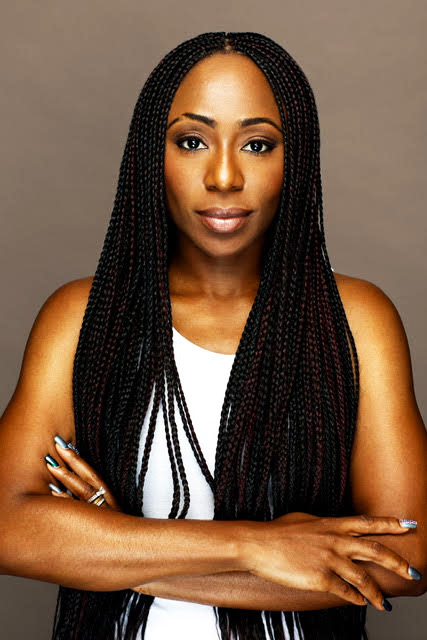 Photo courtesy of  Dakore Akande

Prior to that, those were the things I'd naturally be drawn to, even in films. The kind of stories I wanted to be part of were stories of the underdogs, people who never really got a chance to let their voices be heard. So it just made sense. And I said " if this is really what it is then I would love for the opportunity to be able to support those causes and allow those hidden things to be brought to light. I was always drawn to humanitarian work and a year later, in November of 2005 I got approached by a friend of mine, Mr Dayo Ogunyemi, a respected film lover and critic, he told me that Amnesty International or Oxfam America were trying to reach me and that was how we got talking. I visited Oxfam America's office in Senegal and that became my journey. That particular project was about the control of arms and ammunition to make sure that guns and other light weapons were not put in the wrong hands. That was the beginning of my journey with international organizations. I've gone on to work with the U.N. (United Nations) on girl child education and gender based violence. I've worked with the E.U (European Union)  on the same subject, I'm currently an ambassador for ActionAid Nigeria which is another N.G.O  that seeks to raise funding for rural communities in Nigeria that are underserved so it's a huge part of my path and I love it. I really enjoy helping others and giving of my time and my energy. I'm also a patron of the Little Saints Orphanage, one of the oldest orphanages in Lagos, Nigeria. I go there from time to time to encourage the children. I really relish the opportunity to serve.
Those are the things that draw me to projects. My fame definitely helps to create a buzz and to get my fans excited because at the end of the day I'm not making the films for myself, I'm making them for people to see and hopefully appreciate.
(VC) Some actors and actresses in film rely on their body language to convey subtle messages. In most of your own roles, the delivery in scenes are impactful through your impressive choice of words. Did you go to training to work on your diction or it all came about naturally?
(Dakore) Interesting observation. Yeah I believe that as actors we all pull on our different strengths and tricks out of our bags. I definitely use impactful words in my process but I also use body language at times although I don't rely on it too much, It's actually very instinctive. I didn't have much training per se with my diction, although my primary school were really sticklers for pronunciation and making sure we were speaking properly. I also trained myself by watching newscasters like Ruth Benemaisia-Opia, and Siene Allwell-Brown, these were the news readers of the day when I was growing up and they were very elegant and well spoken. I was also lucky to have had some public speaking coaching in primary school. So yes I definitely had a mix of self training and training from primary school.
(VC) Most forward-thinking societies or cultures would agree that language is the key of integration. When it comes to acting and the selection of roles, do you lean more on your established fame or you go by contextual instincts?
(Dakore) I agree that language is absolutely key to integration and that's a major tool that I use. I try to make sure I'm always speaking very clearly and in a way that people can understand. I don't lean on my established fame at all. I'm purely contextual and instinctive and I go based on how I feel and the story's narrative. Those are the things that draw me to projects. My fame definitely helps to create a buzz and to get my fans excited because at the end of the day I'm not making the films for myself, I'm making them for people to see and hopefully appreciate. I definitely go by my instinct in choosing roles and we are very blessed being that we're an English speaking country, so we don't really have a language barrier. Sometimes when it comes to accents, there's a slight difference but that's a good thing in my opinion.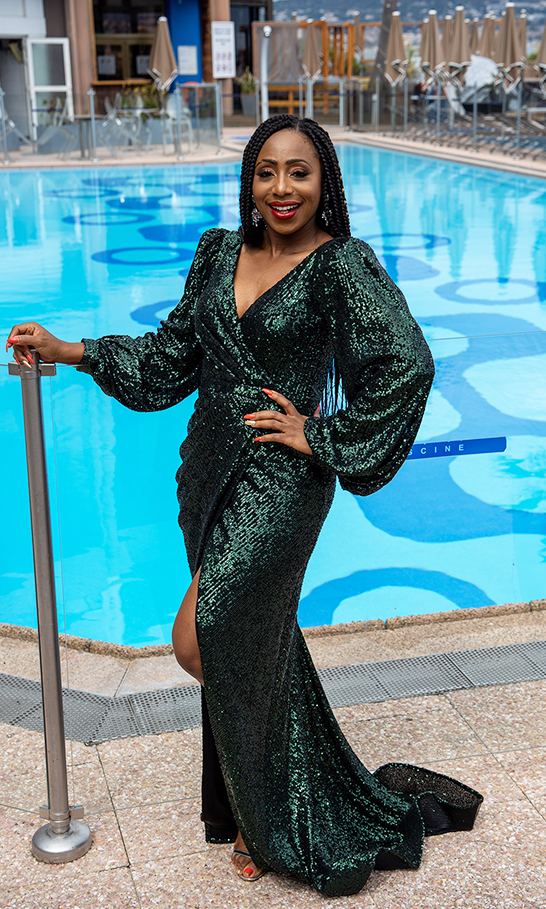 Photo courtesy of  Dakore Akande
(VC) As a woman in the creative arts with close to 20 years in the industry, based on your experiences, what can you candidly tell the aspiring young female actress or actor about success and risk?
(Dakore) The advice that I would give an actor about success, would be to first of all identify what it is that makes them tick, to know who they are, to be interested in the world around them, because I think those are all things that create great artists.
If you really want to succeed in the arts you have really to put in the work. Don't get carried away by the glamour because it's a very small part of the greater picture
It can't be all about wanting fame and fortune, it has to be a passion, because the film industry in general is not an easy one, you need a lot of belief in yourself, principles that you go by and then success through talent and a strong work ethic can be earned. In this day and age because of social media, things have kind of changed, someone could just become an overnight success, whereas when I started, there was a lot of work and we really had to put in the hours. I do think that is still respected today and will always be that way. If you really want to succeed in the arts you have really to put in the work. Don't get carried away by the glamour because it's a very small part of the greater picture. There are a lot of sleepless nights, things that come with being in the public eye which people sometimes aren't ready for until they're thrust into the spotlight. So keep your head down, remain humble, because this industry will humble you, stay kind as well, try not to lose your humanity. You have to take risks as well, because you get stuck in a box if you play safe and it's no fun. Be bold, be fearless, don't sensor yourself so much because as artists we need to have a sense of freedom within ourselves. Also, don't take yourself too seriously and don't believe your own hype.
(VC) You had a moving performance in the movie FIFTY which was well received by Africans on the continent and in her diaspora. Was it difficult for you to fit into the character?
(Dakore) Yes my character in Fifty, Tola, I loved! I actually felt very protective of her because of what she had been through. My heart broke when I read the script the first time, I was overwhelmed with this sense of empathy for her. I was a little terrified to be honest because I wondered how am I going to tackle this character? She didn't come easy. I was playing a woman that was almost 15 years older than I was and that came with it's own reservations, like "will I be able to pull this off?" Just the fact that she had gone through something like that, and it's sort of a taboo. The issue of incest is not something that's usually portrayed in films. She was a very multi layered character and I really wanted to do justice and do right by her and all the women that have experienced that kind of situation. I wanted to be as true to her as I could be and the great thing is that she was also a diva so I got to explore her through that side and the facade of her "Diva-dom". And it was a hit, it was such a wonderful present that kept on giving, we went on to make "Fifty the series". It was amazing. It remains one of the most pivotal characters I've ever played and for it to be received, it was humbling and validating. This goes to show that we are all connected and it was a nice balance between the story and the production value, and that's something that Africans here and in the diaspora have really been wanting and I'm so glad to be part of the new Nollywood that is really taking these things into consideration. Being on Netflix definitely brought the movie to a much wider audience as well. I feel blessed to have been able to play her and bring her to the big screen.
(VC) Given the trajectory that you are already on, would it be far fetched to say you might be the first Nigerian woman to be an EGOT recipient?
(Emmy, Grammy, Oscar and Tony).
(Dakore) You know what, from your lips to God's ears! who knows right? all I know is that i'm just going to keep on working in whatever capacity it presents itself to me. I've been blessed to be multi talented in the fact that I'm a musician and an actor and a television host and i've worked in theatre and done voice over work, I also work with various brands, shooting commercials and shorts so I've really run the whole gamut of the entertainment industry experience. As long as it's art and it's creative and it's expressive, I'm going to be there so I don't say no to the likelihood that (EGOT) it would happen. It would be awesome to be the first one! But for now, that's not really what drives me, what drives me are the opportunities and I'm blessed that I can take them on as they come. It's great to be versatile and work across these many disciplines, I also have a background in mass communication because that's what I studied in university so I consider myself a journalist as well. I'm an all around communication through art individual, that's how I express myself. So I won't say never, I'm just going to keep working and keep at it.
I have a lot of designers I've supported over the years, I've actually been such a great fan and observer of the fashion industry because it was growing alongside the music and film industry.
(VC) Your fashion style is considerably "Visual Collaborative" with certain African fabrics. Are there any brands or style houses you patronize?
(Dakore) Oh I love fashion, fashion is fun, it's another form of expression for me, I love our African prints, I'm a huge fan of Ankara, as long as it catches my eye, I love the beauty in all the colors. I have a lot of designers I've supported over the years, I've actually been such a great fan and observer of the fashion industry because it was growing alongside the music and film industry. We're really experiencing a renaissance experience in terms of our art forms and how they're just exploding.
I do have lots of favs, Lisa Folawaiyo, Lanre Da  Silva, I'm also into a lot of new designers like Melia by Jade, MMakamba and I support all Nigerians designers as long as it catches my eye, Moofa, Funke Adeopoju and many others. I wear these designers to major events. I was just at the Cannes film festival and all the designers I wore were Nigerian. I really believe in everyone growing together and it takes us carrying each other along. 
We're just at such a pivotal time and I'm glad I get to be in the mix and whatever I can do to move the fashion industry forward through my art and the way I dress, then so be it.
(VC) In your quiet or noisy moments how do you get inspired. What makes Dakore create the work she does. Are you religious or spiritual like many creatives for muses?
(Dakore) I cherish my quiet moments, but I do get inspired even in my noisy ones. I think it's just to be able to identify the beauty in everything that's around me. It might just be a sunset or a bird flying in the sky at the perfect time, a song on the radio, or I could be in an art gallery or I could be at a concert, even at my kids' school, I just try to receive inspiration from everything that's around me. I also meditate and pray a lot. I'm not religious, I'm spiritual and I've been on this path for a while. I grew up in the church so I have a very Christian foundation but I'm also open to other forms of worship and I don't discriminate against anyone with their religious beliefs. I've actually studied other religions like Buddhism and Islam, even African traditional religion being that it's my root as an African, I take it all in because at the end of the day, we may call God different names but He's the same CREATOR. I believe in karma and sewing good seeds, I believe in using my art for good. These are the things I believe in and I receive lot of inspiration for doing those things. I've been a Yoga practitioner for about 15 years and I think that also really helps me get centered and focused and helps me heal myself from within.
(VC) At this stage of your professional career and accomplishments, If you could work alongside any movie director or partner with any organization in the context of your current commitments, who would they be and why?
(Dakore) At this stage, I'm actually beginning to wear the producer hat and I have been for a while now, I'm currently working on my first feature film. My wish for a director right now would be Andrew Dosunmu. He's brilliant and I love his work. I met him when he was working with Fader Magazine, he's someone I would love to work with as a director. I think what I would love to do is, partner with Hollywood or Bollywood in the sense that we can collaborate on co-productions, I think that the Nigerian film industry would have a lot to gain from this. And because of diversity and the fact that people want to see and hear stories from different parts of the world I think it would be great to be able to do that. I've actually started talking with a few like minded people about this. Like what happened with Crazy Rich Asians for example. I think this is what has to happen now especially at this crucial time in the world so we can begin to understand each other, not based on how one wants to present the other but in their real authentic form. That's really what I would love to see. More collaborations between the film industries, I think that's where we need to be headed.
(VC) Many creatives glamorize the renaissance period. But If you could time-warp back to any era, what time would it be and why?
(Dakore) Well, we're actually living in a renaissance period over here in Nigeria because of what I said earlier. But if there was a time warp I would love to have been in the 70s. I was born in the late 70s but I wish I was born in the mid 60s to the early 70s. I think that was a very interesting time. I would just love to be a fly on the wall. You know the flower power, funk, the protests and Afrobeat of course! because I love Fela Kuti. He's one of my heroes and I would've loved to be have met him and had the original shrine experience.
(VC) Is there anything else you would like the readers to know?
(Dakore) The one thing I would love the Visual Collaborative global audience to know is that 99.9 percent of everything you hear about Africa is wrong! One of the many great sayings by Fela Kuti and it's true. We've been cast in such a negative light in the western media for too long. It's done a lot of damage, and through Nollywood we're showing the world that it's time for people to accept that as Africans we have our own style and our own customs. I'd love if we had a more receptive audience that accepts us the way we are rather than the way they would like to portray us. I would also like people to be more open minded to other forms of expression and to not look down on the African way or dismiss it as inferior. If we accept things from Asia and America, why is there a question mark when it comes to accepting things from Africa? Yes we have our challenges and we deal with corruption and other vices but these are not different from what other continents have dealt with at different times. We just need to stop the division and realize that we're all one people trying to figure it all out.
Dakore Egbuson-Akande features in the film Isoken on Amazon Prime. She also can be seen in the movie Fifty which can be accessed on Netflix.