Interview by Visual Collaborative
July 2019 5 min read

Photo courtesy of Paper Monday
Cynthia Edorh is a Togolese Canadian Photographer and Filmmaker based in New York City. Her work has been published by numerous publications such as TEEN Vogue, The Cut and The New York Times and institutions such as the National Gallery of Canada. Cynthia's commercial work is represented by Getty Images where she also serves as a Business Development Executive. As a feature in our "Vivencias" interview series, Cynthia talks about her creative process, aspiration to film and her six-year old daughter Chloe.
(VC) As expected, New York is where all the action is. Do you ever make it back to your birth city Montreal?
(Cynthia) Yes I go back to Montreal often, a few times per year, I miss it so very much, especially during this challenging political climate in America.
(VC) Outside the realm of imagery and film including all the elements that surround it. Who is Cynthia Edorh?
(Cynthia) I am the mother of a wonderful six-year-old girl, she is the absolute best gift. Becoming a mother has given me so much clarity on my life, my career and priorities.
(VC) Your work has appeared in numerous reputable publications and shown by institutions including The Canadian Museum of Contemporary Photography (MCPC) and Observatoire 4. How excited or nervous were you knowing numerous people would see your work?
(Cynthia) I always get extremely nervous, I look forward to sharing very soon a documentary photography project I've been working on for a few years on single mothers in the city.
It's devastating and fascinating to witness the shift from print to digital and the overall changing industry. The rapid rise of mobile and other technologies has completely reshaped the way the world creates and consumes information.
(VC) Getty Images is a big engine, what innovative projects are you a part of, or better yet what can photographers in the consumer market expect from Getty?
(Cynthia) I've been working for Getty Images for 14 years, I currently hold a position in business development after a few years in photo research. My team manages the relationship with Getty's top partners and clients in North America. I, myself work directly with the New York Times and The Washington Post among others. It's devastating yet fascinating to witness the shift from print to digital and the overall changing industry. The rapid rise of mobile and other technologies has completely reshaped the way the world creates and consumes information. Good news for us, visual content reaches one's brain in a much faster and more understandable way then textual information.
(VC) You are considered Togolese Canadian. Do you speak french fluently and does your combined heritage influence important decisions in your life?

(Cynthia) French is my first language. Growing up, French was the only language spoken at home, I learned English later on as a teenager. My mother is French Canadian and my father from Togo, my parents met at Université de Sherbrooke, he had received a full scholarship to complete his MBA in Canada and my mother was starting Medical School. My heritage is what shapes me, it influences everything I do, being biracial informs my art practice. My work explores themes of identity and self-representation for that exact reason. The decision to live in New York is directly connected to this as well.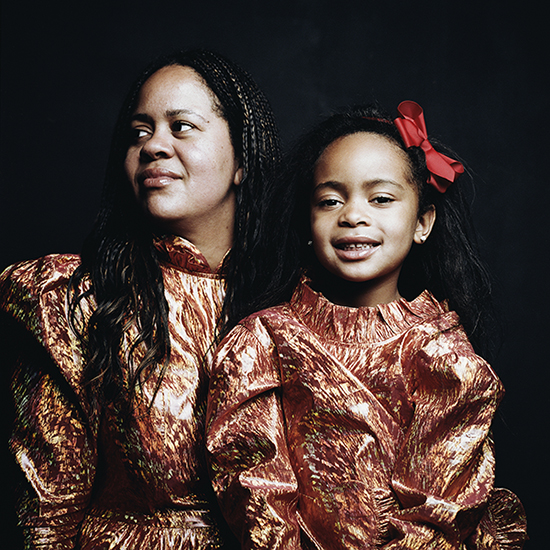 Photo courtesy of Paper Monday
(VC) The present moment is probably the most powerful of times, but If you can time warp back to any era what  time would it be and why?
(Cynthia) Difficult to choose only one era but I'm most curious about the Eighteenth Dynasty of Egypt, the era in which Ancient Egypt achieved the peak of its power.  I love astronomy and I'm obsessed with Pharaoh Hatshepsut after traveling to Egypt in 2010, she was the longest reigning woman pharaoh, she reigned over Egypt for over 20 years, and is regarded as one of the most prolific builders and most innovative rulers of ancient Egypt. The Eighteenth Dynasty is unique among Egyptian dynasties in that it had two women who ruled as sole pharaoh: Hatshepsut and Nefertiti.
(VC)  What does self-awareness mean to Cynthia?

(Cynthia) In the context of living in New York, it means to have a conscious knowledge of who I am, my character, motives and desires in any situation. It is hard to stay focused here and extremely hard to survive as an artist, self-awareness helps. I've had to turn to the business side of the industry to have some stability.
(VC) What are some of the things you are doing in Film?
(Cynthia) My first love is Photography. I started making short films in undergrad at Concordia University in Montreal and then fell in love with filmmaking during a Sight and Sound class at NYU Tisch when I first moved to New York, it is my ultimate dream and goal to direct a feature length film. I have one film project on immigration currently in development.
(VC) In your quiet or noisy moments how do you get inspired to inspire others. What ultimately motivates you to do the work you do? New York City, though changing, is not the most calm of places.
(Cynthia) I spend a lot of time connecting and supporting fellow artists in New York, it is where collaborations are born but ironically I'm most productive creatively when I'm away from New York. My daughter is my muse, my motivation. I'm inspired by mothers, women and girls mostly. Teenagers are extremely fascinating, I love this transition period from dependence to autonomy and the perception of invulnerability. Social injustice is infuriating and a source of inspiration to make work that is a catalyst for change.