Interview by Visual Collaborative
September 2019 8 min read
Anthony Armendariz is the CEO and Head of Design at Funsize, a digital service and product design agency located in Austin Texas, that works with design and engineering teams of fortune 500 companies. Anthony's work and viewpoints have been featured in multiple books and publications such as ID Magazine, TechCrunch and How Magazine. As a feature in our "Supernova" interview series, Armendariz talks to us about his passion for working with leaders and teams towards healthy design cultures.
(VC) You spent some of time in the design and technology scene in New York City. You relocated to Austin at some point and transitioned to Chief Executive at Funsize. How was founding the startup, its overall adjustment, and experience for you?
(AA) That's a loaded question. I've actually spent the majority of my career being self-employed. It's been harder for me to work for others than it has been to start companies. Growing up, my dad was self-employed. He always told me that happiness was being your own boss and I've always valued control over money. I don't particularly like being told how to do things — particularly when people give orders that make people work harder than smarter. I prefer to do things my way. Most of the time I've been employed, it's been in organizations that are chaotic. That's why things aren't chaotic here. If you want to get technical, Funsize is the fourth time I've been self-employed as a designer. It's the second agency I've owned. The biggest transition has been from someone who does all the (design) work as an independent contributor to someone who does none of the work.
It's hard to let other people do the design work. At the beginning at Funsize, I wished I was doing the work. Then it became, "what should I do? What's best for the growing company?" As we kept growing, the issue then was: "I can't be doing this anymore. I have to figure out how not to design. How can I ensure that everything these 21 designers do, meet our standards?"
(VC) Some product designers outside of work hours of the corporate industry are unable to switch off, due to obsessive-compulsive sorting habits, do you find yourself arranging things and spaces in your regular life as an executive?
(AA) Sure, I'm a designer. Everything in my life is designed — from my closet to furniture, to my schedules and routines. I subscribe to the Bill Gates methodology here. People say he's a workaholic. But to him, it's his passion. If you have a job you love, then you're never really working. I'm so passionate about this stuff, I don't find it necessary to turn off. I know how to live a balanced life. Having a baby did change routine though. I have to do all my work between work hours now because I want to be with the baby.
I don't want work and family time to bleed over. When my wife, Natalie, and I started the company seven years ago, we were sensitive to that because we knew that we had to create boundaries. So, we've had seven years of practice figuring that out.
(VC) The rapid re-emergence of AI and now the trending of IoT is a mixed bag of reality and a saturation of buzzwords. What is one educative approach you use to justify these services to older and seasoned clientele?
(AA) I'm not a technologist so I can't speak to anything technology-related on a deep level. What I can say is that AI is baked into a lot of products whether people realize it or not. There are elements of machine learning in a lot of different places. My outlook on any kind of technology — whatever it is — is that you should be using it for the good of others.
I try to encourage designers to look at how those technologies can add value to people's lives. With clients, some people like to jump to the buzzwords, but sometimes you have to help them answer the question: "Is the problem we're trying to solve going to actually benefit from using this technology? Is there a real reason that something like this deserves to be considered?"
If you can be smart about the way you mitigate that risk – if you do things the right way you can cut down on that time doing business development, but you need a clear vision of how to do that
(VC) As someone with over 20 years of experience who has a grasp on the concept of the 4th digital revolution, what can you candidly tell aspiring young entrepreneurs or creatives about success and risk in business?
(AA) It's different for everyone. Everyone has different backgrounds and role models, different financial situations. Most of my experience in creating businesses is in design services. I think a lot of young designers want to start thinking about being self-employed when they're really young. Being someone who was self-employed young, I don't recommend it. However, I do believe most designers will spend a solid chunk of time being self-employed in their careers. I believe it is a risk to be self-employed too early in your career. The reason being: you're not really great at anything, you don't have the connections yet, you don't understand business yet. You're really just setting yourself up for lesson-learning time. The businesses I owned when I was young suffered because of this.
One of the reasons Funsize succeeded is because I had significant experience, I knew verticals, I had client recommendations, I knew how to work with people. A lot of designers may quit their jobs because they think they'll be able to do things their way. But what they don't realize is that as soon as you become a freelancer, you'll spend 50% of your time as a salesperson. If you can be smart about the way you mitigate that risk – if you do things the right way you can cut down on that time doing business development, but you need a clear vision of how to do that.
(VC) ) Some mention the Renaissance as an art period they admire. If you can time-warp back to any era, what time would it be and why?

(AA) As an individual, I'd time-warp back to World War 1 to see what trench warfare was really like. Industry-wise, I'd go back to somewhere between 1997 and the early 2000s, when every website was unique and they were like pieces of art. It was a place where people could design things the way they wanted to whether they were usable or not — before the world of usability and patterns made all the websites look the same.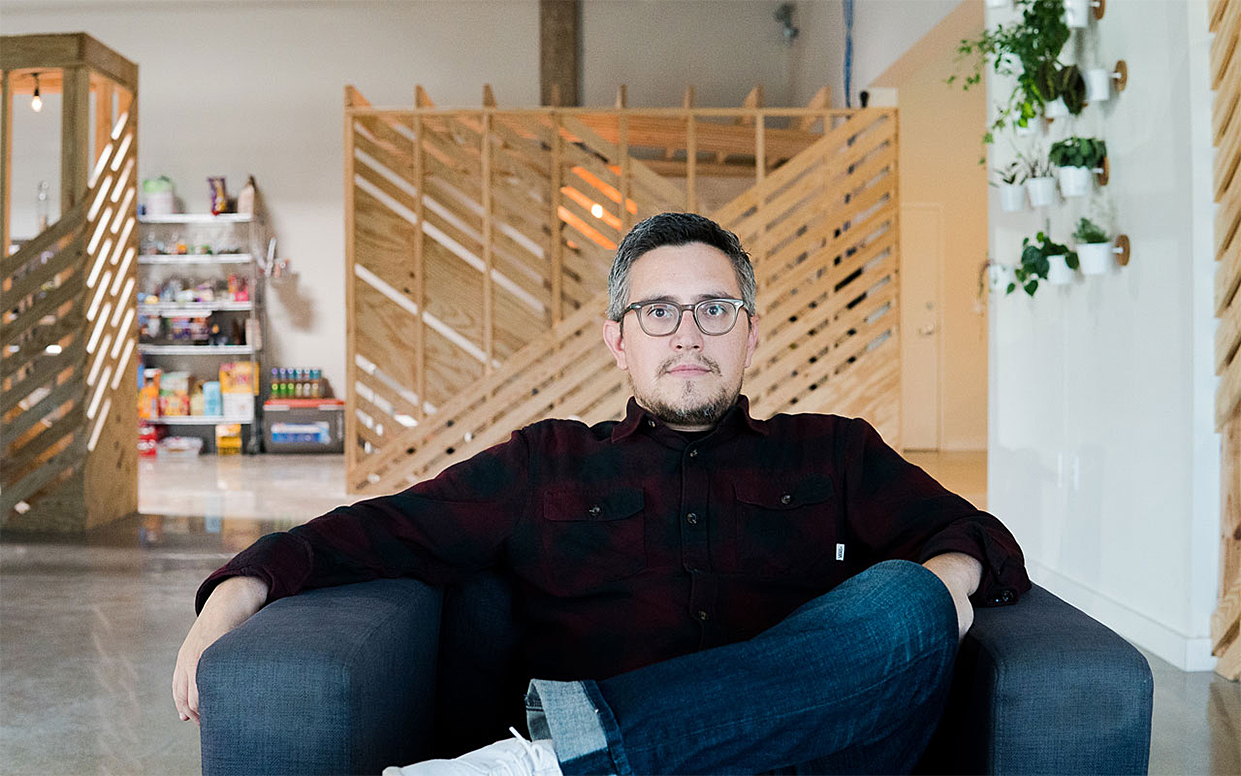 Photo courtesy Ben Murray
(VC) At this stage of your career considering your executive commitments, If you could collaborate with a specific enterprise or individual. Who would it be and why?
(AA) The short answer is: We are fortunate enough to already be working with the companies we want to work with. Personally, I would like to do more work in automotive or work with a big airline. Airlines are interesting because of the numerous service problems they get to solve. Their massive customer journey goes from building brand awareness to booking a flight to showing up at the airport to boarding a plane to ordering food and movies to finding lost baggage. I think large-scale health work would be awesome too.
(VC) In your quiet or noisy moments, how does Anthony get inspired? What ultimately motivates you to work the way you do. Are you religious or in a state of wit and will with life?
(AA) My world is pretty chaotic. I work with Natalie on running the business, I work with Mari on operations and sales, I work with Ben on marketing, I work with the design team. I'm constantly busy. Every minute is accounted for and I don't have free time. I think what has helped me and inspired me are the coaches I work with. I have a leadership coach, a design leadership coach and an assistant who all help me prioritize the things in my world that matter. This is hard because everything is exciting to me. The interactions I have with the people I work with inspire me as well. 
I love getting to work in so many industry verticals (automotive, fintech, cybersecurity, travel/hospitality). I'm constantly learning new things. Because we work closely with our clients, we get to see how all these companies work. That keeps us tied to the future and we have the capability to create a company that's always ready for what's coming. That excites me, knowing that we have the ability to make a difference in the space. I'm also fired up to be able to provide an environment for like-minded people to do really awesome work in a small-market city with big brands. I love being able to help people with their careers. Behind all of that, this is a family business. All of our eggs are in this basket. We depend on it for our livelihood and our son depends on it to create a future for him.