Interview by Visual Collaborative
July 2019 7 min read

Photo by Ibrahim Sule for SyrusPhotos
Andrea Kamara-Dunbar is a rural development entrepreneur and restaurateur of Liberian descent. In 2012, she visited Nigeria, and expanded her business there opening restaurants and building a tech-enabled healthy food delivery company called The Balance Bowl. As a feature in our Visual Collaborative "Vivencias" interview series, this Forbes Under 30 Global Fellow shares her experience building businesses in several emerging markets, she also discusses her love for the African continent.
(VC) Outside enterprise and your rise among your female executive peers, who is Andrea Kamara?
(Andrea) In three words, I'd describe Andrea as a foodie, mother, and traveler. I enjoy spending time cooking for friends and family. I made a goal to travel to at least 30 countries over the next five years, so I spend a lot of time traveling to new places, many of which I do with my amazing daughter.
(VC) In the present work world of patriarchal microaggressions, there seems to be a decrease of empathy as the use of social media rises, please tell us about the work you are doing and how it may relate?
(Andrea) When I moved to Nigeria at 22 years old, it was definitely a struggle navigating the cut throat business world. I have had to deal with harassment, and getting men to respect me. However, I find it easier to deal with these microaggressions when you are dealing with them from a place of confidence, and women and men are more confident when they are empowered. A big part of my work with these rural women in Liberia is about giving them something to be confident about and fight back or stand up to the men in society who abuse their strength.
I take my contributions and responsibility to society very serious and ensure that whatever knowledge I have I share with as many young people as I can, because they will be the ones to move Africa forward.
(VC) Given the rising despondency of political movements in Africa, as a female founder of Liberian descent are you more critical about your own businesses or more optimistic now given the trajectory of the continent's leadership and its intra-trade?
(Andrea) I am extremely optimistic about the growth of Africa and have a lot of hope in the current and future leadership. I believe the youth will soon be forced to take the continent back from our fathers and build a modern developed continent. Africa is the last frontier in the world, so the development will definitely happen, and soon, and I just want to position myself to be in the right place to take advantage of the opportunities that will arise. I just hope that our leaders will begin to realize we hold the bargaining chips when negotiating with foreign partners and investors so we begin to empower our youth and create more economic stability. As a business owner, I take my contributions and responsibility to society very serious and ensure that whatever knowledge I have I share with as many young people as I can, because they will be the ones to move Africa forward.
(VC) Congratulations on being a recipient Forbes Under 30 Global Fellow and others, can you tell us how that came about and what it means for others looking to enter the African market and its diverse continent?
(Andrea) I would first want to say that Africans, or anyone for that matter, shouldn't get into business for the recognition. Find a way to solve a problem doing what you love. In doing that, you are bound to do it well and people will notice. Forbes is one of my favorite publications and it commands prestige and respect for those featured, so I applied for Forbes Africa Under 30 list. The list was announced last month and I wasn't listed, however, Forbes Women took notice and invited me to their first ever Forbes Women Global Summit. Only 250 women were selected from around the world and across different industries, so needless to say I am still very honored to have been selected. I attended the Forbes Women Under 30 Summit and learned so much, networked, and got to visit Tel Aviv, Israel which is termed the Start Up nation. We got to meet and work with so many amazing startups and investors and it was just an overall great experience. I would encourage people to go out and apply for things like this but not to get too hung up on winning or losing. Enjoy the process and the experience that comes out of it.
(VC) As a female professional in Africa who is well traveled and perhaps a little privileged with a background as yours, what do you tell the aspiring young woman or man entrepreneur about success and risk?

(Andrea) I believe that success is objective and different for everyone. Therefore, my perception of my success may be different from the next entrepreneur, just like our journeys are different. I will tell aspiring entrepreneurs to not measure their success by others successes and to measure their risks based on their specific circumstances. In this age of social media, one can easily become depressed comparing their lives and entrepreneurial journeys to that influencer online with millions of followers. You will never know the whole story or what they had to do or sacrifice to get where they are. I would encourage young entrepreneurs to put their heads down and focus and prepare themselves for when opportunities come. Many times people whether privileged or not, miss opportunities because they aren't prepared.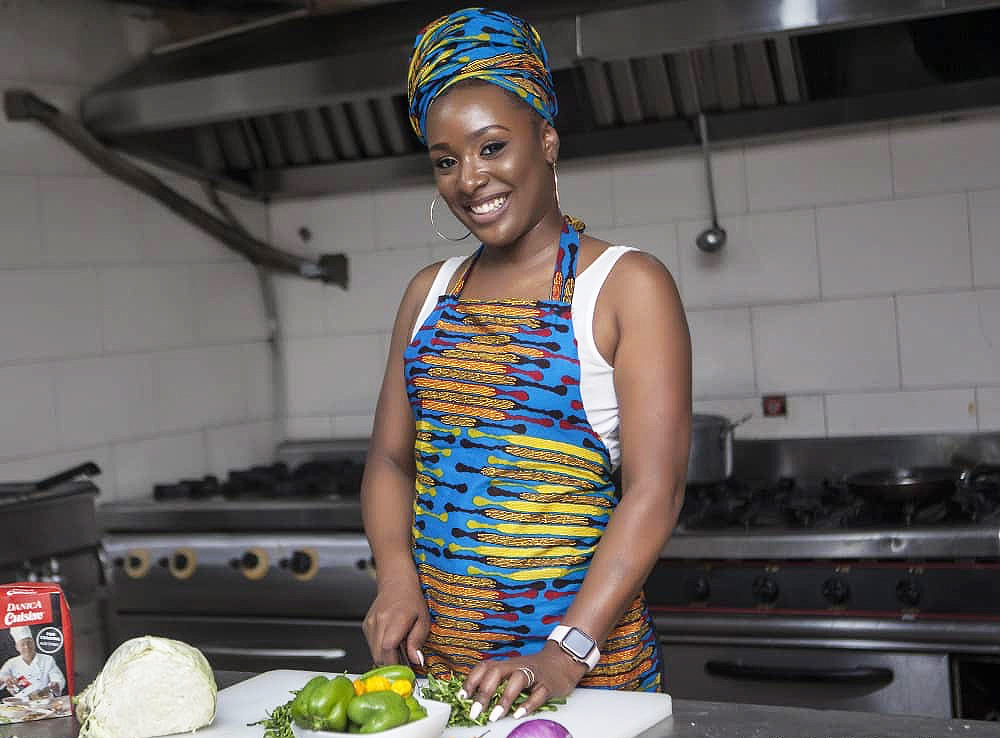 Photo by Ibrahim Sule for SyrusPhotos
(VC) At this stage of your professional career and accomplishments, If you could collaborate with any brand or public figure in business who would it be and why?
(Andrea) Richard Branson! He is a genius to me and believe we share the same brain. I would love to collaborate with him on ANYTHING. He understands that the bottom line in business is people, not necessarily money, and he can connect with consumers and build and motivate his teams. I feel I would learn so much working with him.
(VC) What can the world expect for Andrea Kamara within the next 24 months?

(Andrea) Balance Bowl take over! My newest venture is a tech enabled healthy food delivery company. Balance Bowl offers low calorie portioned meals delivered to the desks and doors of busy Africans. We are currently building a mobile app that will not only streamline the delivery process but also but also allow subscribers to get access to licensed dietitians, fitness coaches, recommendations for eating out as well as a health food store, all from the convenience of your smartphone. We are currently operating in Liberia, with operations set to kick off in Lagos soon with the launch of the app. Accra and Kigali are up next.
(VC) Is there anything else you would like our audience to know about you?

(Andrea) I'm very passionate about the development of Africa. African problems need African solutions, created and implemented by AFRICANS! I like to use every platform I can to encourage young Africans to find a way to contribute to the development of Africa in some way. Whether you are an entrepreneur with a small business creating jobs for your community, or a professional providing much needed professional services, Africa needs us now more than ever. It will be uncomfortable as we are still going through growing pains in much of Africa, but together we can create a continent that will embrace us and be suitable for our next generation to live comfortably. I implore young Africans whether home or abroad to find a problem in their community and create a solution it is the only way forward.