Interview by Visual Collaborative
April 2020 6 min read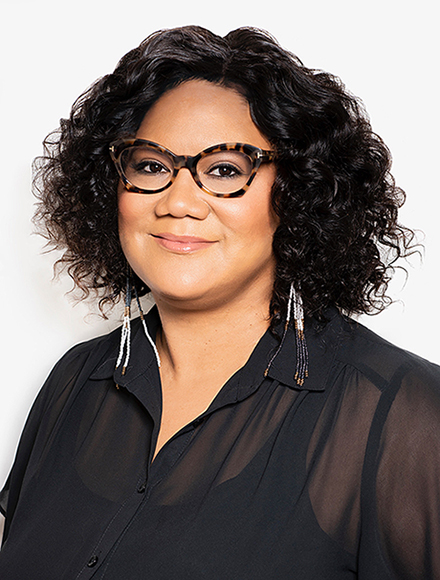 Theda Sandiford
Theda Sandiford is a Mixed Media and Installation Artist, who also serves as a Senior Executive in the music industry in New York City. As a feature in our TwentyEightyFour interview series, Theda talks to us about her background in creative arts, life, and her recent exhibition; I Am My Hair. She also touches on possible future work and showings for the year 2021 beyond.
(VC) Outside all your accomplishments and the impressive rise of your career in the creative sector. Who is Theda Sandiford?
(Theda) I am curious. I have always found enrichment in the exploration of the unknown and the acquisition skills to navigate these uncharted waters. I'm interested in uncovering what motivates people. In my head, everything is always: "What if?" What if I said this? What if I tried something I'd never done before? What if they're not responding to me? Is it really something going on with them? What would happen if I tried? And what if I didn't? Curiosity drives these questions.
(VC) Your work as an artist utilizes strong metaphors for expression. Conveying stories mass audiences inevitably find intriguing. Does this kind of feedback make you experiment in themes organic or according to some structured plan?
(Theda) I am a process person, so my work is definitely structured. Once I pick a topic, I spend inordinate amounts of time researching, reading, journaling, watching YouTube, and cataloging images on Pinterest as part of my sketchbook process. I allow for serendipity by inviting others to join me and work with me on the I Am My Hair ropes. Adding a sense of community into the mix influences the work in directions I could never have anticipated despite my exhaustive research.
(VC) Tell us about your current exhibition I Am My Hair is this part of a series and how did the titles come about?
(Theda) I Am My Hair started with people touching my hair without asking for permission. For those who don't already know, this is not okay! It begs the question, what is YOUR reasoning for touching me? It seems you are asking – how are we different? My question in return- how are we the same? With I Am My Hair series, I have created a bridge on which to discuss identity in a way that is non-confrontational. Through the ropes, I am telling my Hair story and sharing the stories of the participants of my workshops.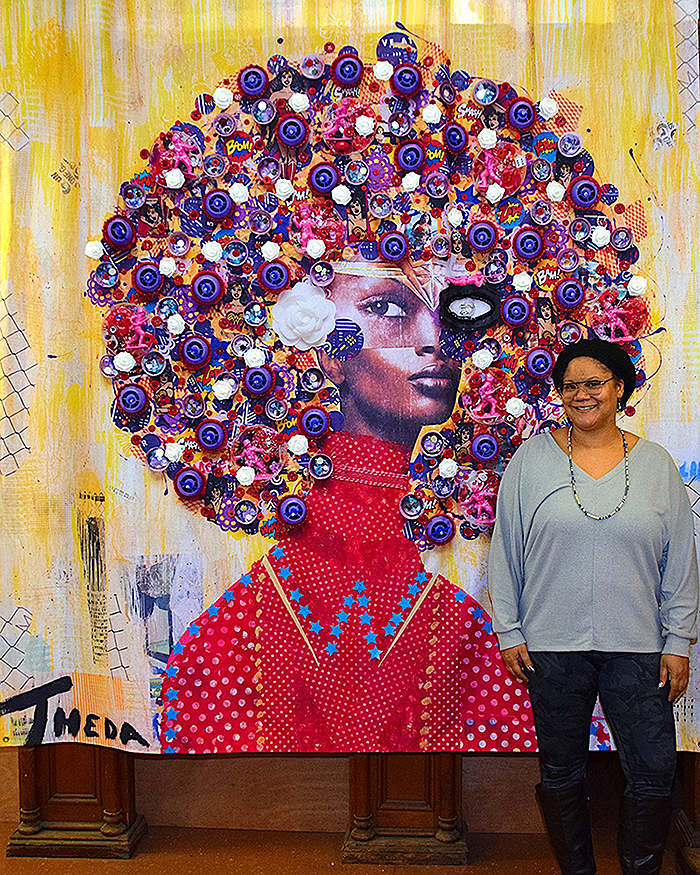 Theda Sandiford with Wonder Woman Mixed Media Work
(VC) Observing the rising despondency of political movements in parts of the United States, as a female leader in the music industry are you more critical about your own career or more optimistic given the trajectory of the present times?
(Theda) My life's work is creating an opportunity for people to be heard, including myself. When I stay focused on this objective and use integrity as my moral compass, I remain optimistic about the future. The trick is to live each day with purpose and be in the driver's seat of my own life. Many circumstances are out of my control. However I choose to react to these things, is in my control. I try to make good choices and then choose again when I'm wrong.
I have a photographic memory and heightened sensory perception. I need only to see something once to recall the smallest details. I can smell or taste anything and recall the ingredients or remember the exact detail of having had the same experience prior
(VC) Being diagnosed or being made aware of dyslexia comes with its own challenges, what was the most important lesson about accepting the reality and the process of educating a society full of biases?
(Theda) Being dyslexic can be looked at as either a disability or an alternate ability. Sure, I can't spell, I invert numbers and read words incorrectly but on the flip side, I have a photographic memory and heightened sensory perception. I need only to see something once to recall the smallest details. I can smell or taste anything and recall the ingredients or remember the exact detail of having had the same experience prior. Life is about how well you play with the cards you have been dealt with. Dyslexia ended up in my deck. It doesn't define me, but it does keep me on my toes.
(VC) Some mention the renaissance as an art period they admire. If you can time warp back to any era what time would it be and why?
(Theda) I wish I had been old enough and cool enough to be a denizen of Andy Warhol's Factory. To spend the day shadowing him and watching his process would be an amazing opportunity to learn from a master of self-invention and reinvention. Warhol and his menagerie of friends were the internet of its time before the internet became a thing.
(VC) At this stage of your career considering your present commitments, if you could work alongside any notable personality or creative enterprise, who would it be and why?
(Theda) I would love to offer I Am My Hair workshops in a museum environment. My first choices would be the Museum of Art and Design (NYC), Newark Museum of Art and Brooklyn Museum. Interacting with the community supporting these cultural institutions would be exhilarating. Just thinking about imprinting their collective stories on my ropes gives me life.
(VC) In your quiet or noisy moments, how does Theda stay inspired? What ultimately motivates you to work the way you do. Are you religious or spiritual like many artists for muses?
(Theda) Music is a vibe. I love all kinds of music. I can always find inspiration in music. When I'm in my art studio I prefer listening to Jazz, Dub, Roots and Alternative R&B. At other times, when I want to get hype, I listen to Hip Hop, Funk and Alternative. There is a song or playlist for every moment in the day. And then there is silence. When sitting quietly, listening to my breath while watching the sunrise, my mind becomes entirely absorbed in the light and I forget myself. Time slows down, and my mind becomes fluid, with a heightened awareness of the here and now.
(VC) What kind of art, or commercial collaborations can the world expect from Theda within the next 24 months?
(Theda) Our whole world will be different after the Co-Vid 19 pandemic. People will likely no longer shake hands, air kiss or hug. People will either crave or shun community. Telecommuting and home delivery of EVERYTHING will be normalized. The ripple effects will be felt for years.
I was supposed to spend July 2020 in Nairobi, Kenya for the Now Friends Artist Residency but now that is on hold. I'm still researching and making work inspired by my preparation.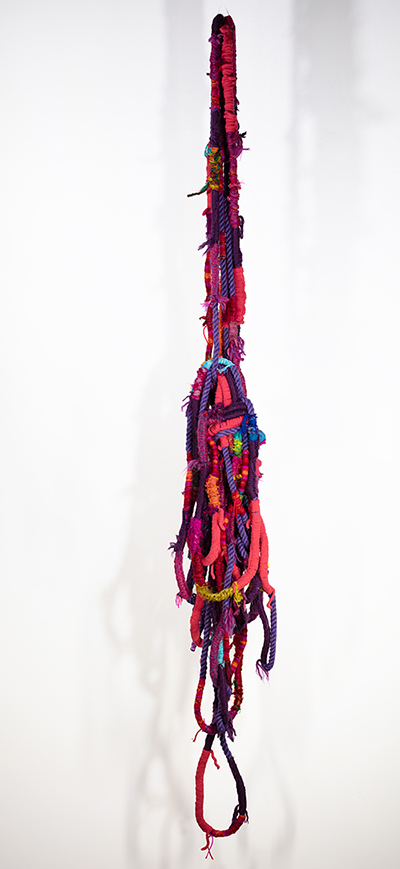 Twilight of the Bow by Theda Sandiford
I am focused on expanding I Am My Hair  body of work to include a written curriculum and multimedia documentation of the process and participant stories. I published a book in February 2020 and I'm working on version 2 right now. I recently started working with a sculptor friend, Robert Koch to build understructures to drape and display my rope works. I am only just discovering what is possible with this collaboration, SO many ideas pushing my work in new directions. In 2021, I already have a show at MoCADA in Brooklyn on the docket and I am planning to apprentice on a sheep farm in Scotland to learn how to make and dye natural yarns.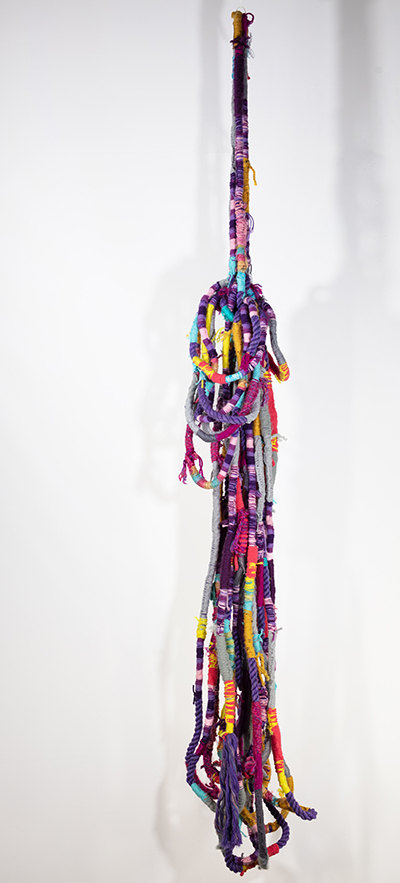 Caribbean Friendship Bracelet by Theda Sandiford