Interview by Visual Collaborative
May 2019 7 min read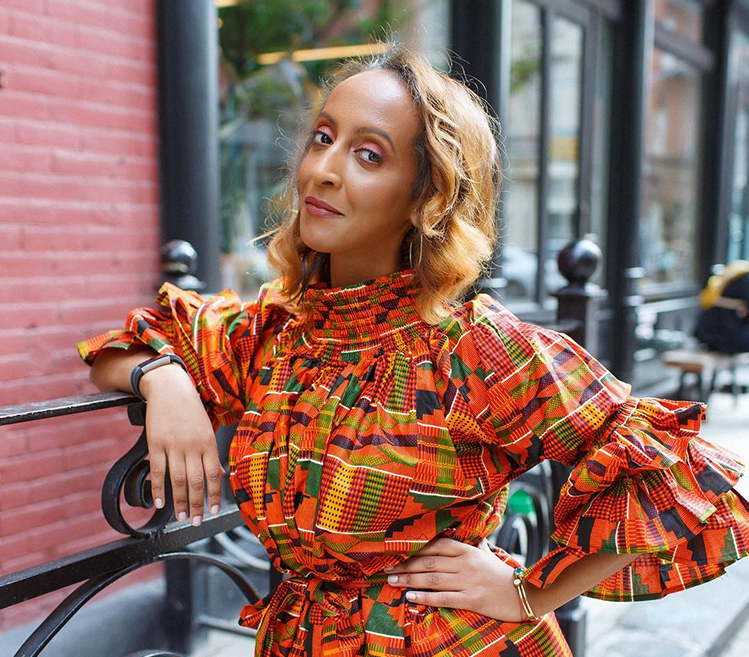 Photo courtesy @jardena_kifle
Jardena Jordan Kifle born in Asmara Eritrea, is a Harlem, New York based Businesswoman. As a feature in our Voyager interview series, we discuss her influences, a transition from Germany and delve into her combined experience of over two decades in Entertainment, Innovation, Technology, and the Public Authorities industry.
(VC) Tell us about your upbringing in Germany and how it compares to your new home in Harlem New York. How did this transition all come out?
(Jardena) My upbringing in Germany was different, fruitful and challenging at times. I grew up in a small town with a population of 250.000 in West-Germany. There were barely other people of color in that town. In total, there might have been 150 people living back then. It was quite homogenous, especially in comparison to Harlem, which is clearly a melting pot of people of color as well as other nationalities. I got the chance to experience two different sides of living as an Eritrean woman. While I was constantly reminded that I am different in Germany, in Harlem it only matters what I do.
People, who don't grow up according to the norm, often develop a certain sensitivity, thinking and empathy for everything that is different, which enables them to become some sort of special ambassadors and communicators.
For the first time, I could exhale and explore the woman inside of me beyond my skin color. It was healing for the woman and my inner child. It's the greatest gift for me, to live among kings and queens from ancient tribes. Some people think that I romanticize, but I really feel that way. When I walk through Harlem, I see history, potential, beauty, strength, and future in the demeanor, faces, hairstyles, fashion designs, art, music, and businesses in real-time. And most importantly, I feel home.
Still, I'm adapting to cultural differences but with every obstacle that I overcome, I am growing more and more, and understand better. Being raised with many different cultures has equipped me to move on and dive into new cultures without fear. People, who don't grow up according to the norm, often develop a certain sensitivity, thinking, and empathy for everything that is different, which enables them to become some sort of special ambassadors and communicators. It's an advantage and a gift that I learned to appreciate very much as an adult.
(VC) You studied business, security policies, cultural studies and sociology and have a very impressive background working across many industries. Was this a natural career progression for you or it all happened according to a specific plan?
(Jardena) It was a natural career path, and my mother was not a fan of it [Jardena smiles] My entire path always contained a natural golden thread for me which was more intuitive and less planned. From my perspective, all the areas and even more are connected with each other. Every time I worked in one industry, it led me to the next one, and I had to dive in and understand the connections and impact onto each other. From my perspective, that's a way to always create and identify new and unknown possibilities. No area and no entity can remain isolated and continue growing. It's like building a house. I feel like we are trained to focus only on one aspect e.g. building the windows when there is so much more discover that could improve building better windows. Once I understood how a window is built and what it's used for, I moved on to the doors, walls, ceiling, garden, inhabits, wirings and so on. That's the only way for me to learn, create and keep on going. Giving up is not an option, and failure is natural, when babies learn to walk, they fall a million times and get up every time focused on the walking and not on the falling until they succeed. That is also an essential part of life, entrepreneurship and leading, which we hopefully learn to embrace more and be thankful for.
(VC) At this stage of your career considering your present commitments, if you could work alongside any notable personality or enterprise. Who would it be and why?
(Jardena) Too many to mention, yet I would love to work alongside Michelle Obama, Jay Z, the late Love B. Woods, and the late Nipsey Hussle. All these impressive individuals overcame obstacles, remained focus and continuously gave something back while acknowledging and cherishing their roots. They gathered the right people around them, who helped them to build a legacy, not only for the culture. They kept their composure under pressure while working long-term. Many people are eager to pursue their goals by themselves, although it takes a village. And even more, many people never learned to stay patient and avoid emotional over-reactions. These remarkable figures besides so many women and men in my daily life. have left a mark on me and keep me on my feet.
(VC) As a beautiful African woman in America who maybe considered privileged, based on your professional experiences, what can you candidly tell aspiring young women or entrepreneurs about success and risk in business?
(Jardena) Thank you for the compliment. I am still getting used to compliments to like that. It was quite different and rare in Germany.
Well, don't wait for permission or acknowledgment. The universe has given you talents, joys and purposes, please embrace these and listen to yourself. Ask for help and surround yourself with the right people. Be aware, that you will lose people along the way. I didn't believe it in the beginning, but then I learned it the hard way. Some people will not be able to understand you, your vision, ambition, beauty, and decisions, and that is ok. They don't have to and don't need to. You'll find the right members for your village eventually.
Many people will share their opinion, even if you don't ask for it. They might argue to opt for a secure path.
It's so important to know your worth and be kind to yourself. Last but not least, be respectful but make sure to keep your boundaries, also within your family. Many people will share their opinion, even if you don't ask for it. They might argue to opt for a secure path. From my perspective, there is no such thing as security, if it means that you have to unfollow yourself and your talents. There is success in doing the things that you were meant to do.
(VC) Observing the rising despondency of political movements in parts of the United States, as a female leader in innovation are you more critical about your own career as a woman or more optimistic given the trajectory of the present times?
(Jardena) I am optimistic. Since the media only covers a small portion, I refuse to get distracted by it. Even if it seems sometimes, that things are going backward, I am in awe of all the progress by women, men, and children in our daily lives. I honestly believe, that there is no way back, no matter how much the media wants to convince us. I see the evidence in the faces on the streets, and that's my reality.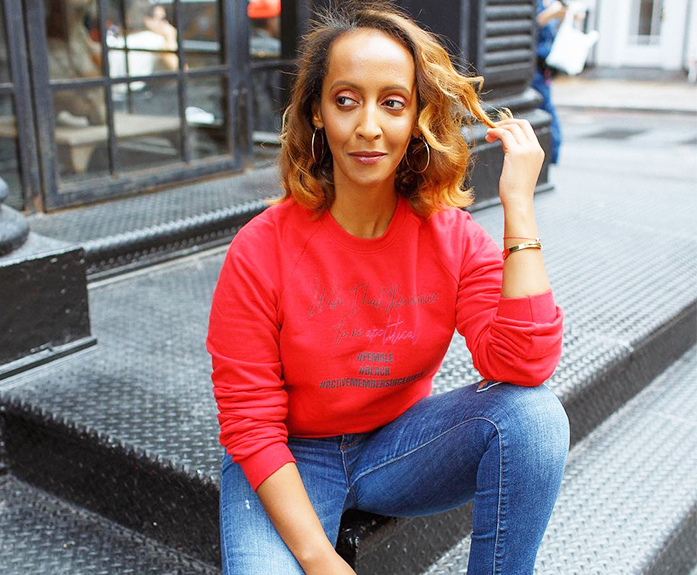 Photo courtesy @jardena_kifle
(VC) Some mention the Renaissance as an art period they admire. If you can time-warp back to any era, what time would it be and why?
(Jardena) I would love to travel back in time to Eritrea. To be exact, to the era when it was called the Land of Punt (25th B.C.) and experience my ancestors, life, art, food, and the country. I come from a very old culture, and we always had Eritrean Art in our homes like in every household, that I got to visit. Habeshas, that's how Eritreans and Ethiopians are called, have a sense of pride, wisdom, and dignity that seems to be directly connected to our ancestors. I would love to see where it all began and learn.
(VC) What kind of work, commercial or personal if any can the world expect from Jardena Kifle within the next 5 years?
(Jardena) I am working on a few projects which connect different genres like innovation, art, health, business, music, education, entertainment, cross-generational exchange, and ownership. You can expect openness, development of innovative grey zones and growth in different areas which will all include individuals from various generations and with different backgrounds.
(VC) Anything more you would like to share?
(Jardena) I read once that the chance being born is 1:400 Billion. That's when I chose to pursue my own path, stopped procrastinating and questioning myself. Who am I to doubt the universe? Thank you so much for interviewing me. I am deeply honored to be a part of this inspiring collective.