Interview by Visual Collaborative
August 2019 9 min read
Desdamona is a hip-hop and spoken word artist from Minneapolis, Minnesota. She is recipient of five Minnesota Music Awards for 'Best Spoken Word Artist. As a special feature i

n our "Vivencias" interview series, Desdamona talks to us about her emergence as an artist, the realities of arts today in the education sector, empowering women and an outlook on the future generation.

(VC) Outside of being a pioneering MC, a lecturer and having a very illustrious career influencing many in and outside the Twin Cities. Who is Desdamona?

(Desdamona) Who I am? I value freedom, community and the ability to express myself. I would say these values guide me on a daily basis. I enjoy creating, even if it's just for myself. I love to make people happy and I love to laugh. Although as a poet, I can be very melodramatic in my poetry, I try not to take myself too seriously. My goal is to enjoy life as much as possible and I don't care much about social norms. I notice the little things and have a strong sense of wonder which has been a great gift. I've always felt like an outsider but I'm comfortable with that because I think it has allowed me a strong sense of empathy for others.

(VC) How did the B-Girl Be festival come about and has it grown the way it was initially envisioned? 

(Desdamona) In 1999, I started co-curating a Hip Hop performance series with Jamaica Del Mar, Toki Wright and Larry Lucio at Intermedia Arts in Minneapolis. For our first year, we decided to feature different influences on Hip Hop culture. For one of the shows we focused on women's voices and it was our first sold out show in the series. The program continued and evolved over the years and went on until 2005 which was the year B-Girl Be was born.
I have noticed that we underestimate our youth and what they understand and value so this can make it hard to reach them. I've always wondered how we can expect students to take us seriously if we don't see any value in what they're interested in
had gotten a grant from the MN State Arts Board and travelled to Hawaii to attend a festival called GirlFest where I led a workshop and performed at the festival. Intermedia Arts had been super supportive of my growth as a curator and producer and asked me what I thought about the idea of expanding on the yearly show featuring all women and creating an all woman Hip Hop festival. My initial response was no but I came back later that day and said yes, as long as we involved other women in the community in the creation and development of the festival. They were already way ahead of me and had people in mind so we started to generate a list of women we wanted to invite to be the creative force behind the festival. The original crew of founders was Theresa Sweetland, DeAnna Cummings, Leah Nelson, Melisa Riviere, Rachel Raimist and myself and the festival ran from 2005 – 2011, incorporating the four base elements of Hip Hop (DJ, Breaking, Graffiti & MC) as well as film making, fashion, panels and workshops. It was a huge undertaking for everyone involved and the celebration became a haven for women who were Hip Hop practitioners. It helped to create a network of women from across the globe and birthed numerous collaborations and opportunities and also sparked similar festivals in other parts of the world.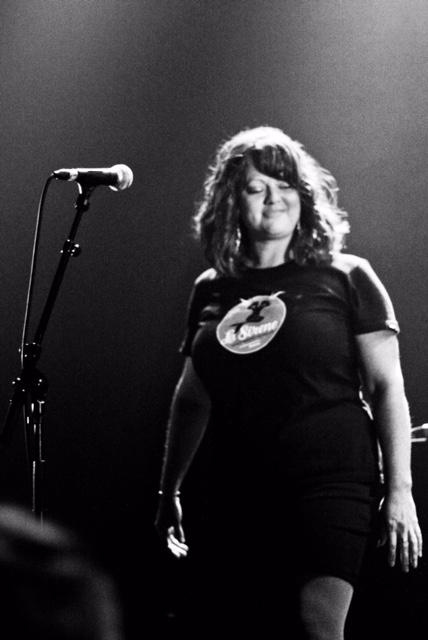 Photo courtesy of Desdamona
Though we don't have the yearly festival anymore, the work is still being done and the connections are still very much alive. For me, the festival helped me build a stronger foundation and broaden my support system as well as expose me to new artists in all the elements. It helped to shed light on women in the community and the history of women's contribution to Hip Hop culture as a whole.
(VC) As a spoken word artist you have been an advocate bringing hiphop literacy into schools. Has the American school system been receptive, or its a steep learning curve for both administrators and students?
(Desdamona) In Minneapolis and Saint Paul, schools have been bringing in Hip Hop artists for at least 20 years. There is a strong community of artists in the Twin Cities and I think many of the teachers and administrators want to reach their students and know that art and creativity is one way to do that.
I have noticed that we underestimate our youth and what they understand and value so this can make it hard to reach them. I've always wondered how we can expect students to take us seriously if we don't see any value in what they're interested in. I've witnessed adults tell students that what they like is garbage but I prefer to come from a different perspective, one that doesn't assume so much. I want to know what they like and why they like it. I want to discuss the value in what they like. Every time, they will surprise you with their own critique of the things they love. They are not one dimensional or oblivious to the problematic themes that exist. I think a lot of us forget what it was like to be their age and I think it's harder to make an impact when you are coming from a perspective that your ideas and knowledge are superior because of your experience.
(VC) Leading workshops and residencies in Shakopee Women's Prison, Stillwater Prison and Oak Park Prison among many others has its own kind of experiences. Does it have any effect on newer material you put together?
(Desdamona) Teaching in prisons made me a better teacher in so many ways. The participants I have worked with have been so eager to learn and share through the process and it pushed me to go deeper and develop writing exercises and curriculum that was more than just a writing prompt. It has definitely influenced both my creative work and my approach in teaching. It can be a very restrictive environment and you're doing the work of liberation through the writing and creative process so it can be a delicate balance of following the rules and pushing the boundaries.
(VC) ) On your No man's land album, you collaborated with an illustrator Angel Hawari. Has there been other collaborations with other non spoken word artists?

(Desdamona) I have collaborated with dancers and musicians over the years and for the release of No Man's Land I had a more theatrical presentation of the album that included choreographed dance pieces, a DJ and image projection. I wanted to incorporate food as part of the night and have people tasting certain foods throughout the show but it was beyond our budget to make it happen. I wanted to create a multi-sensory experience which we were able to do with sight, sound and touch but I really wanted to incorporate that taste element. Hopefully, some day I will be able to do that.
There are still people who will try to take advantage or use their power to manipulate but if we can be unified, it's easier to push back on these unacceptable norms.
(VC) As women in America who maybe considered privileged based on your international exposure, what can you candidly tell aspiring young women or female artist about success and risk in business?
(Desdamona) I think it's important that we support each other, that we build networks and systems that uplift each other. There's still this lingering myth that women can't get along or can't work together and this idea has set us back. It is unspoken and we can get caught up in thinking that our uniqueness is being a woman in a male dominated art form but in reality, being a woman is not what is unique about us, so other women shouldn't be seen as competition. What is unique about us is what we have to say and how we say it.
I think this generation coming up already knows this and is putting this into practice. I also think that creating these networks can help us avoid some of the risks that come with touring and working in this industry. There are still people who will try to take advantage or use their power to manipulate but if we can be unified, it's easier to push back on these unacceptable norms.
I recently responded to a thread on social media where someone was expressing the way they were treated by sound men who assumed that since they were women they didn't know how to use their equipment. I suggested that we start requesting women sound techs and then gathered a small list who are based in the Twin Cities. We are the ones who have to start changing things. No one is going to do it for us.
(VC) The present moment is probably the most powerful of times, but If you can time warp back to any era what time would it be and why?

(Desdamona) In the present time, I have been dealing with some mysterious health issues and questions of whether or not I have MS or possibly another auto-immune disease as well as discovering that I have a cyst pushing on my brain stem. All of this is beyond overwhelming and has changed my life drastically in the past few years making things much harder than ever before so a time warp is just what I need right now.
I think I would travel back to the 70's – I was born in 73 so I think I would like to travel back to that time as an adult and try to absorb what was happening then with both the global events as well as the birth of Hip Hop. I'm always searching for deeper meaning which is exactly why I'd be going back.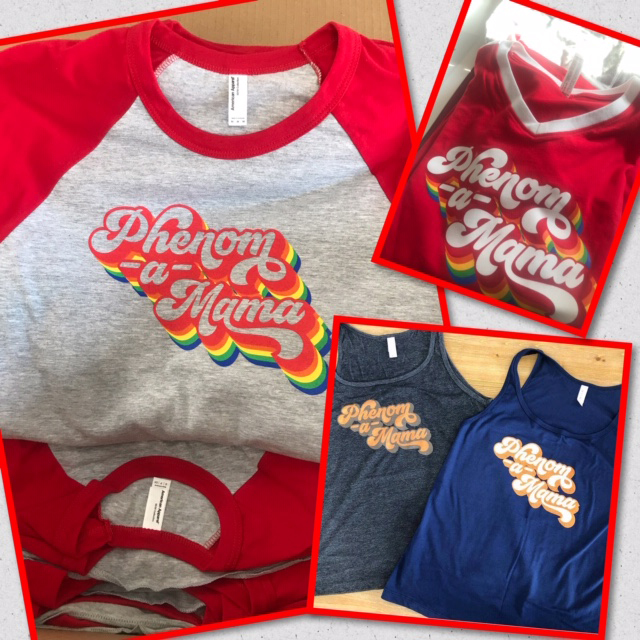 Shirt Styles of Phenom merchandize
(VC) What kind of commercial or personal work can the world expect from Desdamona within the next 24 months?
(Desdamona) I have the framework for a follow up project to No Man's Land in my mind but it needs a lot of development at this point so this won't come together in the next 24 months but one thing I have been working on for the past year or so is a line of t-shirts and other merchandise that is based on my artistic work. The most recent design is inspired by my song Phenom-a-mama and I have worked with a designer to create shirts, notebooks, patches and stickers. My plan is to expand and have a number of designs and styles, catering to women and girls.