Interview by Visual Collaborative
May 2019 8 min read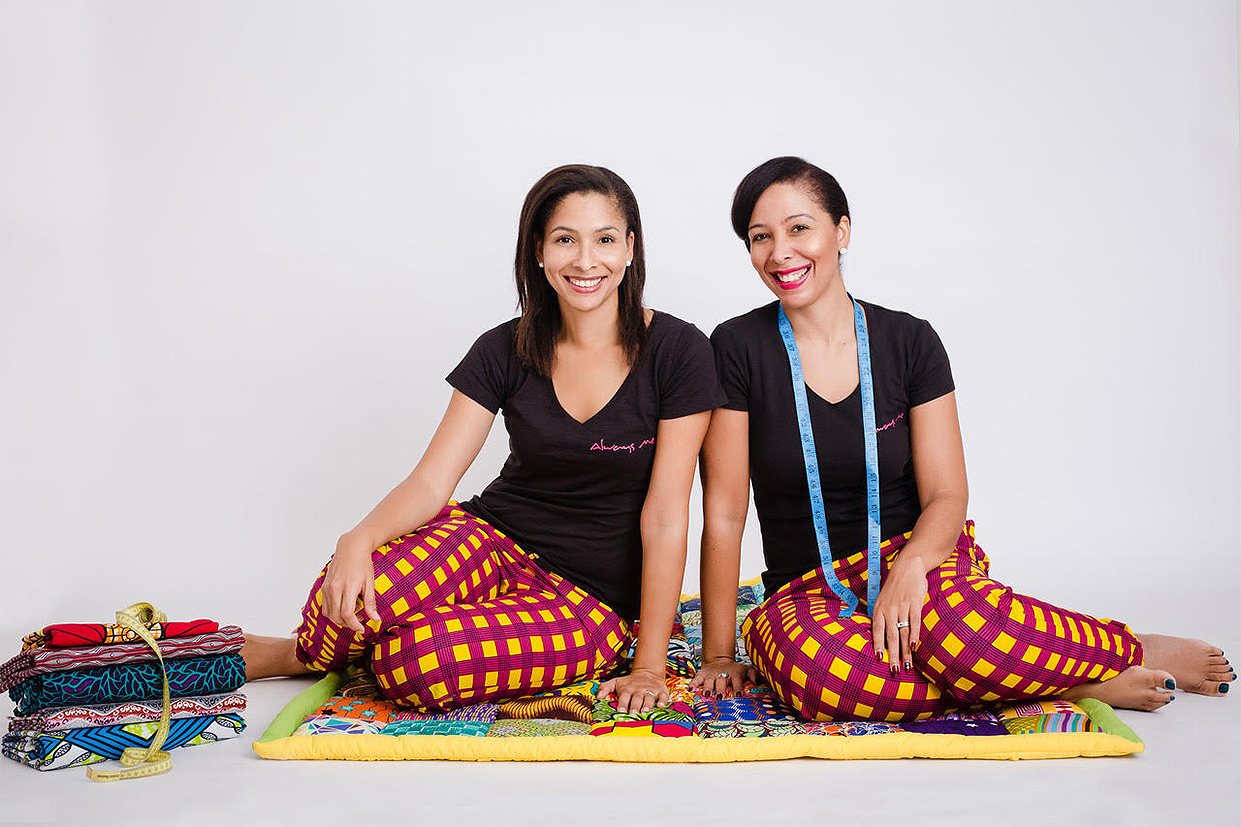 Photo courtesy of Always Me by Anne Li
Ashim Egunjobi and Kemdi Begho are sisters and co-founders of Nigerian-based establishment Always Me by Anne Li, an African inspired baby and lifestyle brand. In this interview of our Voyager issue, they share insights to what inspired the brand and then its probable trajectory and innovative future beyond the African continent.
(VC) Outside your professional fields, you both have a sibling/family run lifestyle company called Always Me by Anne Li that specializes in maternity & kids products, how did this all come bout?
(Kemdi) It all started with a dream – I had been searching for the perfect baby shower gift for my sister and co-founder Ash, but couldn't find anything that was unique and most of all African. I didn't want a regular off the shelf baby product for my niece, I wanted something truly special. One morning I woke up and remembered my dream of making an Ankara (African Print) Playmat out of old fabric I had. In the dream I made many playmats, but I didn't quite understand it at the time as I only needed one. I went on to sketch the very first piece and got fabric and went off to the market where I found a tailor patient enough to indulge my craziness. 7 hours later the first Playmat was done. I presented it at the baby shower and got orders immediately. Once the baby was born my sister and I decided to formalize the business and started Anne Li Unique Designs that produces Always Me By Anne Li. And as they say the rest is history. We now have 30 different products and have sold in over 22 countries globally and stock in Nigeria and South Africa. We haven't looked back ever since.
(Ashim) While expecting my daughter in 2013, my sister was looking for bespoke African inspired gifts for her first niece – the first baby in the family, so a big deal for us all. Her search efforts for this special gifts however yielded little so she decided to make it herself. Presenting to me, at my baby shower, the first ever patchwork quilt playmat with African fabrics, I was in love with the beauty as well as practicality of the gift. Of course, being business minded we immediately started researching the market and realized there was a big gap for such handmade and bespoke African inspired baby and kids products. The work began, and in 2014 we launched with about 12 products under the 'Always Me by Anne Li' Brand.
We draw most of our inspiration from the colorful landscape in Lagos, Nigeria and Africa as a whole but rely heavily on the structure and process driven culture that we most have imbibed living and learning in a German culture for many years – Ashim
(VC) Your home countries are Germany and the melting pot city of Lagos Nigeria, how much do both places influence the output of Always Me By Anne Li?
(Kemdi) Growing up in Nigeria we have always been surrounded with vibrant colors and amazing fabrics as well as the hustler spirit that teaches you to be business savvy and patient. Our German background has taught us to focus on quality, finishing and efficiency in everything we do. I would say we have the best of both worlds and that both worlds are reflected in our brand and have given us the ability to export the product to 22 countries around the globe.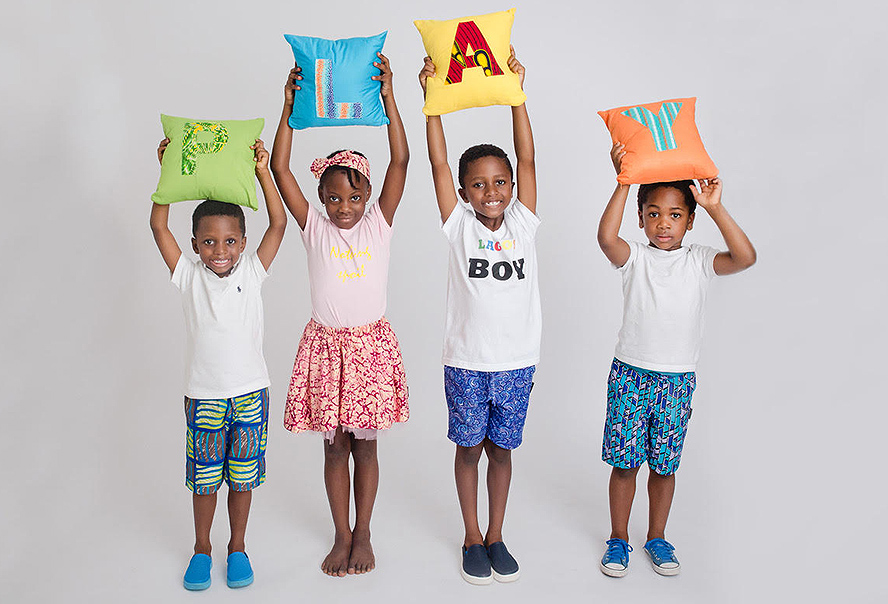 Photo courtesy of Always Me by Anne Li
(Ashim) Germany and Nigeria by virtue of their geographical location and cultural background are vastly different from each other. Germany is known for it's process driven structure, strong working middle class and innovation in technology (especially in the automobile industry). Nigeria on the other hand is Africa's most populous and dare I say, most colorful nation, it's focus and determination tangible as you walk the always buzzing streets of Lagos. In a nutshell, we draw most of our inspiration from the colorful landscape in Lagos, Nigeria and Africa as a whole but rely heavily on the structure and process driven culture that we most have imbibed living and learning in a German culture for many years. The biggest influence however, for both of us, is being mothers. We question the practicality of each product, tested them on our babies, used the nursing covers ourselves and made adjustments where we felt it was not yet good enough. We look for safe and sustainable raw materials because as mothers we both want only the best, not only for our kids, but for all children that play, use and wear Always Me products.
(VC) Observing the rising despondency of political movements in parts of Nigeria, as female leaders in your field, are you more critical about your own careers as women or more optimistic given the trajectory of the present times?
I think that this is a very unique time for women globally, but even more so in more traditional and patriarchal societies like ours – Kemdi
(Kemdi) I think that this is a very unique time for women globally, but even more so in more traditional and patriarchal societies like ours. I think being a successful woman in these times comes with a lot of responsibility and requires a lot of grit and most of all being true to ones self. I am very optimistic that women will shape the future of the continent in very positive ways.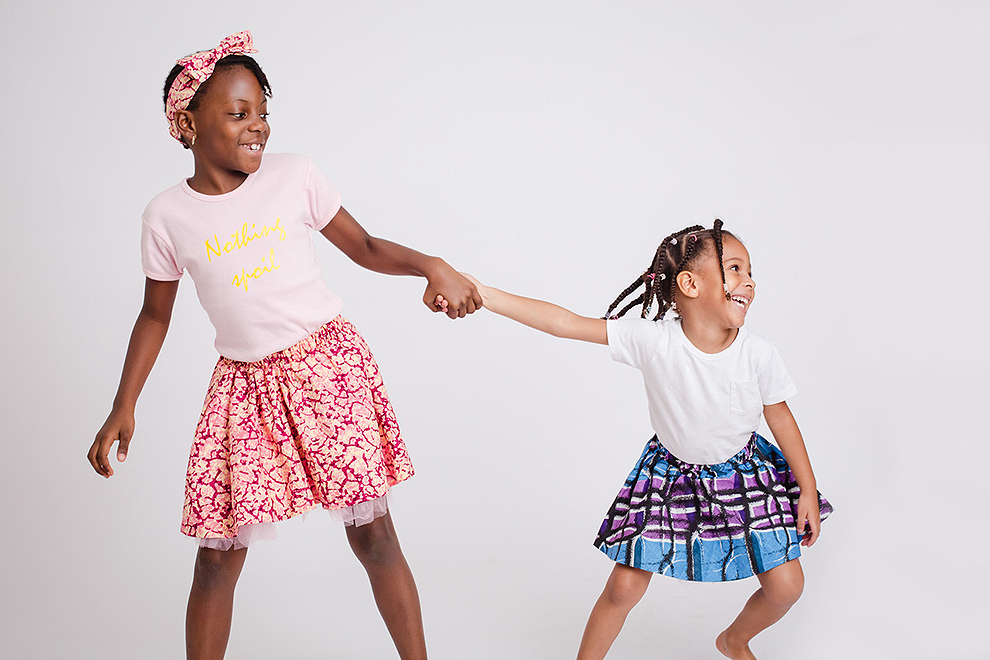 Photo courtesy of Always Me by Anne Li
(Ashim) Firstly, the way we were raised, we were raised to see no color or gender or other barriers. Our parents made it quite clear that the world could be our oyster, if only we worked hard, believed in ourselves and stayed humble. This has been the guiding principle throughout my career and business life. Having said that, female leaders in Nigeria (as elsewhere) carry a huge responsibility to ensure we empower future generations and extend our hands to share stories and open up minds. We do this in many ways, but at Always Me, we do this by being an equal opportunities employer and by continuously investing in our team (both men and women). To expand their minds and inspire them to aim for the stars. I am quietly optimistic about Nigeria, because of many privately driven efforts to make Nigeria a better, safer and saner please for our children, but also because slowly there is a growing diverse representation in policy of passionate leaders.
(VC) As of today, many economists will say that the economy of Nigeria has balanced out and that business is back to flowing as normal. Do you find this to be true in the business of making Nigerian products?
(Kemdi) I would say yes and no. Consumers have less disposable income, prices of raw materials are still very high and labour costs are increasing as well, which means that margins are thin and the sector isn't being supported adequately. I think that a lot of businesses are barely surviving and there is need for many many government interventions in various manufacturing sectors to promote and support Made in Nigeria Products.
(Ashim) Nigeria's economic outlook is around the 2% growth for GDP. In my view, while the economy has recovered from the recession, the devaluation of the currency a couple years ago is still felt deeply in people's pockets. Spending habits drastically have changed and purchasing power is not nearly where it used to be. For businesses making Nigerian products, the same is true, however we have the distinct advantage of the African renaissance and African inspired products being appreciated now more than ever – not only for their vibrant colors but moreover for their great quality and usability. We are able now to compete on an international landscape – and we do. Always Me, is one of the proud products that has been sold at Expos in Nigeria, South Africa and the UK as well as to households in over 22 countries.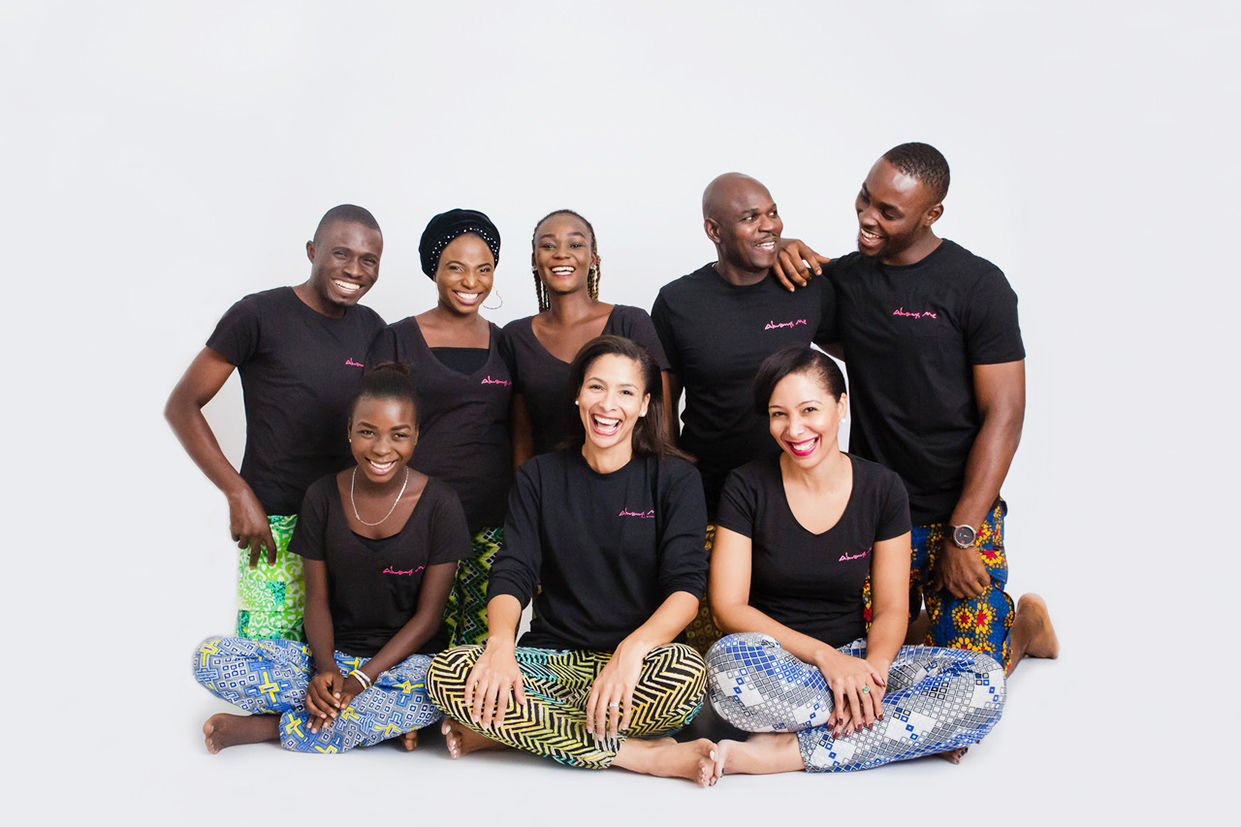 Photo courtesy of Always Me by Anne Li
(VC) If you both can work alongside any creative professional in any field or a business enterprise, who would it be and why?
(Kemdi) I would want to work along side Brandi Tysinger-Temple of Lolly Wolly Doodle as her business model before she sold her company was very similar to ours and her story has really inspired me. I think she could teach us a lot.
(Ashim) Personally, I am inspired by the creatives that have turned and idea to a business. I am inspired by the business that Jen Rubio and Steph Korey from the travel brand 'Away' have built. They plugged creative design and marketing and in a few years have built a business with a $700m venture valuation. There would be a multitude of lessons I could take away from working alongside this dynamic duo.
(VC) What can the world expect from you and Always Me By Anne Li within the next 5 years?
(Kemdi) I think the next 5 years will focus on growth and market expansion beyond Africa. We have tested our products at trade shows in the UK and got a lot of positive responses and made sales too, so we are looking to see how we can expand our production capacity and focus on the export market.
(Ashim) We are currently expanding our factory and production capacity and hope to be servicing 10x more customers by end of 2020. By 2025 we will have representation not only in Africa and Europe but also in the United States. The world after all is our oyster and we believe we have the tools to wrestle with the challenges ahead.