Interview by Visual Collaborative
March 2019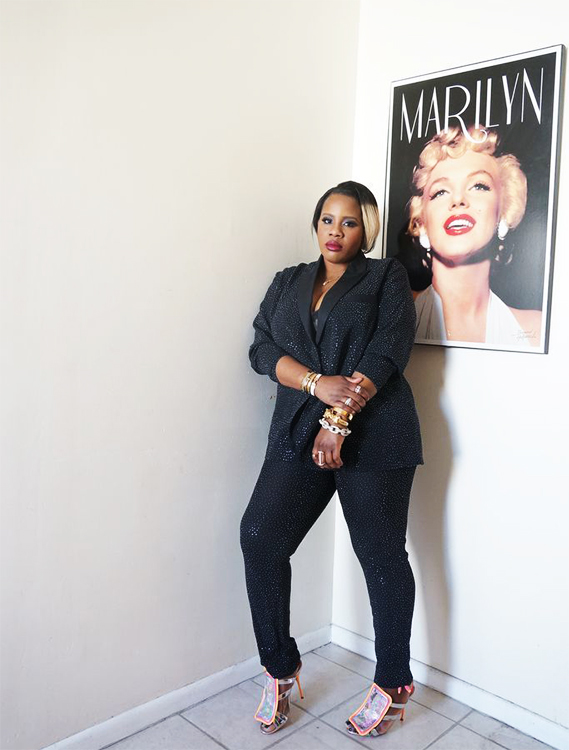 Photo courtesy of kachmeifyoucan
Kanayo Ebi is an Image and Brand consultant based in New York City. As a celebrity stylist and fashion curator, she has worked with numerous personalities, runways, lifestyle initiatives and has been featured on various media. In this interview she connects dots to her professional life and gives insights on future aspirations.
You would be considered a connoisseur of fashion or a stylist influencer, when did your passion in this area begin?
(Kanayo)  Well Thank you [Kanayo Laughs].  I have always loved fashion since I can remember. Being able to travel and experience different cultures helped fuel that love for fashion but it's always been some thing I've loved putting together outfits, creating concepts.  I've always had an overactive imagination, the wheels in my head I feel never stop turning, so fashion gives me that outlet to express myself and all those wild ideas and concepts.
You have spent quite sometime in the melting pot of New York City which has its own fashion culture and Avant-Garde attitude. Do you express some of this when you are in Lagos Nigeria which would be considered your other home?
I believe Fashion or Style is more of an attitude and its supposed to help compliment who you are and not Make you who you are.
(Kanayo)  One of the things I love most about New York is its cultural diversity and I believe thats the core construct of the fashion culture  I believe Fashion or Style is more of an attitude and its supposed to help compliment who you are and not Make you who you are. Its supposed to enhance and not define. So with that said if your style or sense of fashion is authentic to who you are, it will go with you wherever and you can't help but find your own way to define or interpret or express your style no matter what part of the world you go.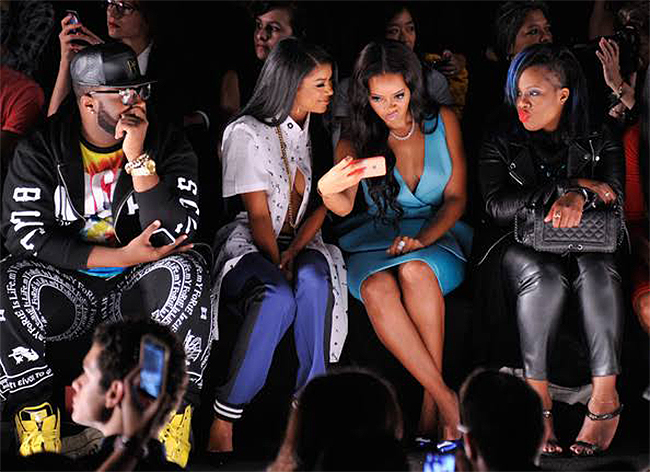 Front row with Simmons courtesy of kachmeifyoucan
Outside the political scene in the Western hemisphere especially  in the United States, there are several movements making room for  women entrepreneurs and progressive woman rights all over. Do you personally feel the impact of these movements or what more would you say can be done?
(Kanayo)  This is a catch 22 for me in the sense that I definitely see some improvements and inclusivity when it comes to women rights and other progressive movements, especially in the fashion scene with body positivity inclusivity and seeing more people of color walking the runways, as well as creative directors and editors for these big mainstream brands and magazines. You also see more Female entrepreneurs creating more opportunities for themselves, so yes there has been some progress. But is this the kind of progress I think we should have in 2019? definitely not! We are still so far behind and held back by different society standards with some limitations.  I still feel like we are still on an uneven playing field in so many ways. I think for true change to really occur, we have to work on our mindset and first unlearn all we have  learnt about our relationships with women ( men and women) and the expectations and limitations placed on them and then re-learn a fresh new perspective starting from the human or humane angle first!

You spoke at Social Media Week in Lagos (February 2019), sharing the stage with a few other panelists. How was the experience and was the audience receptive to what you and your co-panelists spoke about?

(Kanayo)  Yes I did! The KACH IT PROJECT curated the #SHOPAFRICA store with over eleven specially selected independent designers both locally (Nigeria) and in the African diaspora, I also participated in a Panel Discussion where we discussed the impact of Fashion Week across Africa.  For the panel discussion, I had some amazing and talented creatives and professionals; Bukky Karibi Whyte of Robert Taylor Media ( PR expert),  Taiwo Okunoren or the Okunoren twins ( designer),  Wonu Okoye ( business strategist) and Elizabeth Elinor ( Event Planner and Owner Beth Models). It was a very honest and in depth conversation and the audience were really engaged with genuine Interest in growing our fashion industry and pushing it forward. The audience had some interesting questions, as well as also contributing in ways to implement different solutions.  It was truly enlightening, even for us., the panelists.
In your field you work with a number of American celebrities and prominent figures, how does this affect your personal relationships, with friends easily star struck who were not previously aware of this?
(Kanayo)  I am extremely blessed to do what I love, which gives me a platform to meet and work with talented and Influential people but I never allow myself to be disillusioned by that aspect of my life, and I do not allow any of that affect my personal relationships.
I am extremely blessed to do what I love, which gives me a platform to meet and work with talented and Influential people ..
Most of the people in my life have known me for a while and have remained
consistent, while there are some that can't handle your life structure or some others looking for how to gain of you. Those people, you just know are not meant for you and you just wish them well and know what position to place them in your life, if at all. The only person I'm responsible for is me and as long as I stay true to who I am, not letting any of that ( the lifestyle) change me then I'm winning at my accountability to self.
Among the four changing seasons what is your favorite and what  is your style garment of choice to wear?
(Kanayo)  I am all about Fall fashion. I call it layering season. I just love the versatility of the looks you can put together and being able to work with more pieces.; Like I said earlier layering pieces sweatshirts with a skirt and boots with a cool fun jacket or a Maxi dress with sneakers and a hat and a fur coat, I mean the possibilities are endless and it also gives you a chance to have fun with your wardrobe.  I have a slight obsession with coats/Jackets; all sorts i.e Blazers, Leather Jackets, Fur coats, Denim, Aviator, Overcoat – I love them all.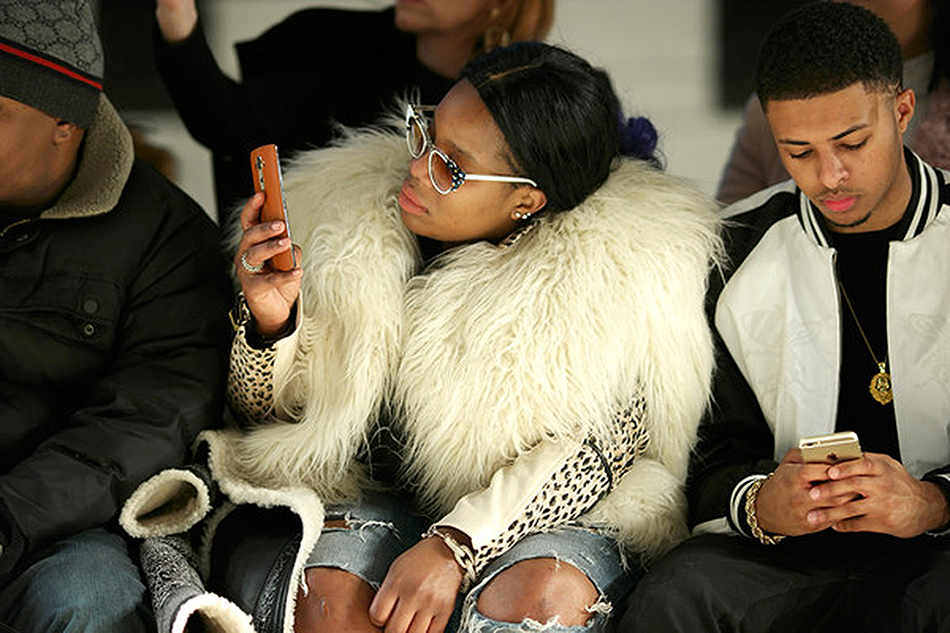 Kanayo and Diggy Simmons courtesy of kachmeifyoucan
If you could work alongside any creative professional in any field, who would it  be and why?
(Kanayo)  There are so many Rihanna, Kelis and Gwen Stefani, I love how daring they are with Fashion. Vivienne Westwood, I think she's a rockstar and I love her design aesthetic. Tracie Ellis Ross, Pharrell Williams, They are like my Style Twins, Ashley Longshore love her in your face attitude and pop-art . Iris Apfel because she is an entire mood and I can only hope to be as fabulous as her when I'm at her age. Annie Leibovitz and Carine Roitfeld because their creativity is amazing! The list could literally keep going but I'll stop there for now.
What can the world expect from Kanayo within the next 5 years? 

(Kanayo)  In the next 5 years the world can expect GROWTH. Growth that will have a major impact and influence in fashion across the world. I know that answer seems very vague or cliche but I have learnt life happens while you are busy making plans. The best part of my career journey is I didn't plan any of this, when I was in school or starting out in the work force fashion was not a career option for me. In as much as I loved it, I didn't really know about the possibilities of working in the fashion industry. But life happened and here I am! Since the beginning of my career till now I have found myself in different facets of fashion and the industry as a whole, I never thought I would explore or work in but all in all the one thing that definitely remained constant also was GROWTH. So in the next 5 years I would love another Evolution to making more of an impact in the Industry as a whole and empowering other creatives, especially the ones coming up after us to live out their dreams by multiplying their talents or gifts.
More about Kanayo Ebi can be found on kachmeifyoucan.com